Reading Time:
8
minutes
Offering a perfect amalgamation of art, culture and modernization, Ahmedabad has something for everyone. From a number of restaurants serving mouth-watering food to vibrant local markets, fascinating architectural marvels to awe-inspiring museums, you will find a number of places to visit in Ahmedabad. From being a city with huge historical significance to transforming into a bustling, fast-paced metropolitan, currently known as the Manchester of India, this place exudes a unique vibe. Whether you are a history buff or an art lover, thrill-seeker or a shopaholic, there are always a lot of things to do in Ahmedabad.
Enough about the charm and beauty of Ahmedabad! There is an endless list of reasons why you should consider this beautiful place as your next holiday destination. Now, let's talk about the most important part of planning a trip which is choosing the right type of accommodation. Finding the perfect place to stay on a trip is important as it contributes a lot to the overall experience. After all, choosing the perfect hotel/resort is as important as picking the right holiday destination.
If you are planning a trip to Ahmedabad sometime soon, then here is a list of the best hotels and resorts in Ahmedabad for your convenience: –
Palm Green Club
This is one of the best resorts in Ahmedabad with a 5-star rating. The best thing about this property is its location as it will spare you from the hassle of commuting without getting stuck in those incessant traffic jams and you get to witness the beauty of Ahmedabad firsthand.  There are a number of indoor and outdoor activities that make it a popular choice among tourists. The major attractions of this resort include a private movie theatre with the latest releases, an in-house water city and a rejuvenating spa. You can also enjoy a number of occasional concerts that take place every now and then.
Club Kensville Golf Resort
With spacious and tastefully-decorated rooms and a number of basic amenities, this is one of the top 10 resorts in Ahmedabad. This property features a total of 55 luxury rooms and 2 Suites that are classified into Golf View Rooms, Pool View Rooms, Kensville Club Rooms and Executive Suites. This resort has a few multi-purpose halls with varied seating capacities, and indoor and outdoor gaming facilities, including a golf course, squash court, cricket & tennis court, table tennis, badminton etc. Here, you can also find a number of recreational facilities, like a swimming pool, spa, fitness centre, ayurvedic therapy centre etc. Also, if you choose this property to stay, head out to their in-house multi-cuisine restaurant – The 19th Hole to devour a meal. Overlooking the golf course, this restaurant offers a stunning view that goes well with the mouthwatering Chinese, Continental and Indian food they serve. All in all, with a great number of offerings, this is definitely one of the best resorts in Ahmedabad for honeymooning couples as well as families.
WelcomHeritage Mani Mansion
This is a 94-years old mansion and has a unique and different charm of its own. The main aim of this property is to preserve the rich cultural heritage associated with the ancient house. This property offers a perfect combination of old and new in the most luxurious way. And, this is what makes it one of the top resorts in Ahmedabad. With a number of amenities like free Wi-Fi, parking, 24-hour front desk, swimming pool, gymnasium etc. this property is an option you can definitely choose to stay in on your Ahmedabad tour. Also, do not forget to enjoy a meal at their multi-cuisine restaurant.
The House of MG
Established in 1924, The House of MG is another addition to the list of most luxurious resorts in Ahmedabad. This beautiful heritage hotel is set in the heart of the city and is very popular among tourists who want to experience the real beauty of Ahmedabad without having to go through the hassle of travelling from one point to another. A number of major attractions and local markets are in close proximity to this hotel. Featuring a total of 38 rooms, this property offers a number of amenities like an indoor pool, beauty centre, free Wi-Fi etc. Other than this, they offer free private parking for tourists who are travelling by car. If your trip is relatively long and you want to take a break in between to relax, you can also head out to their wellness centre, Chakra Spa.
Greenwoods Lake Resort & Spa
Greenwoods Lake Resort & Spa in Ahmedabad is another great accommodation option. This property features a total of 72 rooms that are spacious and tastefully done. The amenities offered by this resort include a gym, business centre, free Wi-Fi and an in-house restaurant. Being in close proximity to Sabarmati Ashram, one of the major attractions in Ahmedabad, this is definitely one of the best resorts in Ahmedabad.
Double Tree by Hilton
Double Tree by Hilton is one of the most luxurious resorts in Ahmedabad. Featuring a total of 173 comfortable and beautiful rooms, this property has become an equally popular choice among leisure and work travellers. The best thing about this hotel is its close proximity to the ISKCON Temple. Other than this, you get a number of amenities like a well-designed rooftop pool, an on-site spa, a sun terrace, multiple dining venues etc. And, you can add an extra touch of luxury to your stay by enjoying the lavish buffet with Indian, continental, and Asian cuisine.
Courtyard by Marriott
With a refined modern decor, comfortable rooms and a large number of amenities, this is another great accommodation option. With well-maintained, sparkling pools, relaxing spas and the stylish in-house Momo Café, this property is sure to make your stay as memorable as your entire trip. And, you do not have to go through crowded roads and long traffic jams to explore some major local attractions as they are within the reach.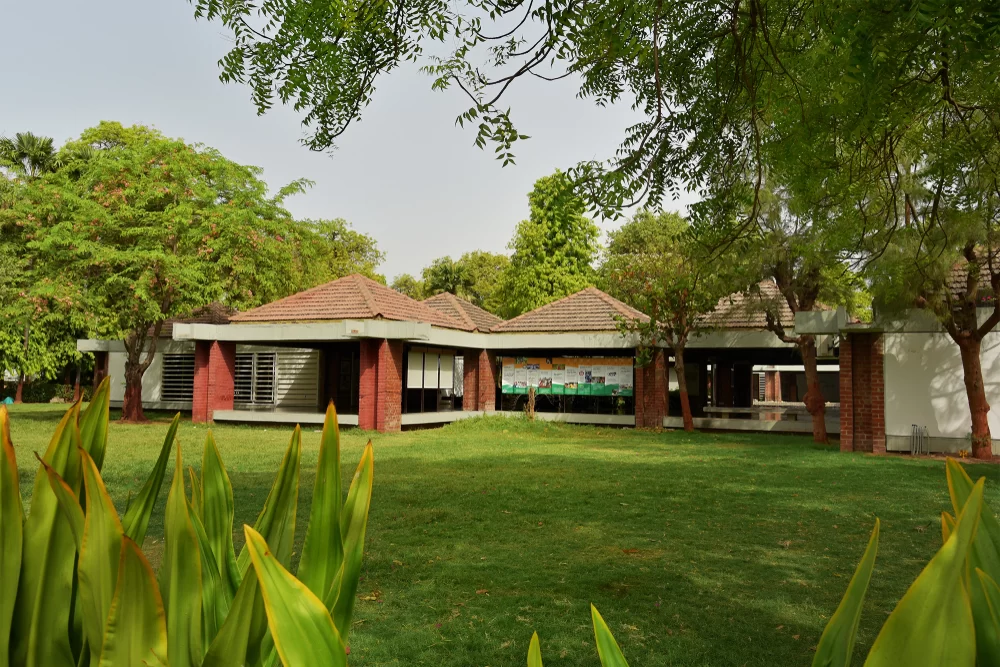 There is no denying the fact that Ahmedabad is just the ideal holiday destination, no matter what kind of vacation you are planning for. Whether you want a historical tour, a shipping trip or a rejuvenating vacation to admire the natural beauty, this place has it all. But sometimes, planning a trip can get exhausting, especially when you have to do everything on your own.
The best way is to book an all-inclusive tour package. You can explore the widest range of Ahmedabad tour packages offered by Veena World and choose one that suits your preferences. This way, you can enjoy the best in terms of accommodation and facilities without going overboard with the budget