Reading Time:
10
minutes
A honeymoon in Uttarakhand's serene hill towns is all you need to shake off the afterglow of your wedding and spend some good time with your partner. Uttarakhand, nestled in the Garhwal Himalayas, is a relaxing retreat for any newlywed couple.
There are awe-inspiring honeymoon places in Uttarakhand placed in mountainous terrains with the great Himalayas in the background. These honeymoon places to visit in Uttarakhand pamper the sweethearts with perfect weather and scenic vistas. They are dotted with dense alpines, wrapped in snow during the winters, and well embellished with blooming flowers during the summers.
Auli
While most of Uttarakhand basks in the brilliance of scenic views, Auli is best known in Uttarakhand for exciting adventure sports. A haven for adventurous couples, it includes winter skiing and a drive on the staggeringly beautiful road from Haridwar to Auli via Joshimath.
When you're tired, soothe your body and mind by spending some time in a cosy hotel room with a view of the majestic Himalayas. Auli is an ideal honeymoon destination in Uttarakhand for nature and adventure enthusiasts in all seasons, whether it's summer or winter. It is undeniably one of the best places to visit during your honeymoon in Uttarakhand.
Jim Corbett National Park
Jim Corbett National Park in Uttarakhand is located in the foothills of the Himalayas in the Northeastern part. A part of the larger Corbett Tiger Reserve, this place is known for being home to the endangered Bengal tiger.
Jim Corbett National Park is quite popular for its wildlife safaris and has a number of riverside resorts. It is a safe haven for bird watchers as it is home to over 650 species of rare and migratory birds. Dhikala, a forest inn located on the border of Patil Dun valley, is the most popular attraction in Corbett National Park that's encircled by rich biodiversity.
Dehradun
Dehradun, Uttarakhand's capital city, is located right in the heart of the Doon Valley. It is a true gem among honeymooners and one of the most popular honeymoon places in Uttarakhand. Dehradun genuinely justifies its status as a great place to visit, be it the year-round weather, scenic vistas of the Garhwal Himalayas, or romantic stays.
The top reasons why Dehradun is regarded as one of the best places in Uttarakhand for a honeymoon include a pleasant climate all-year-round, breathtaking views of the Garhwal Himalayas, a variety of romantic stays, and a flurry of interesting things to do.
Nainital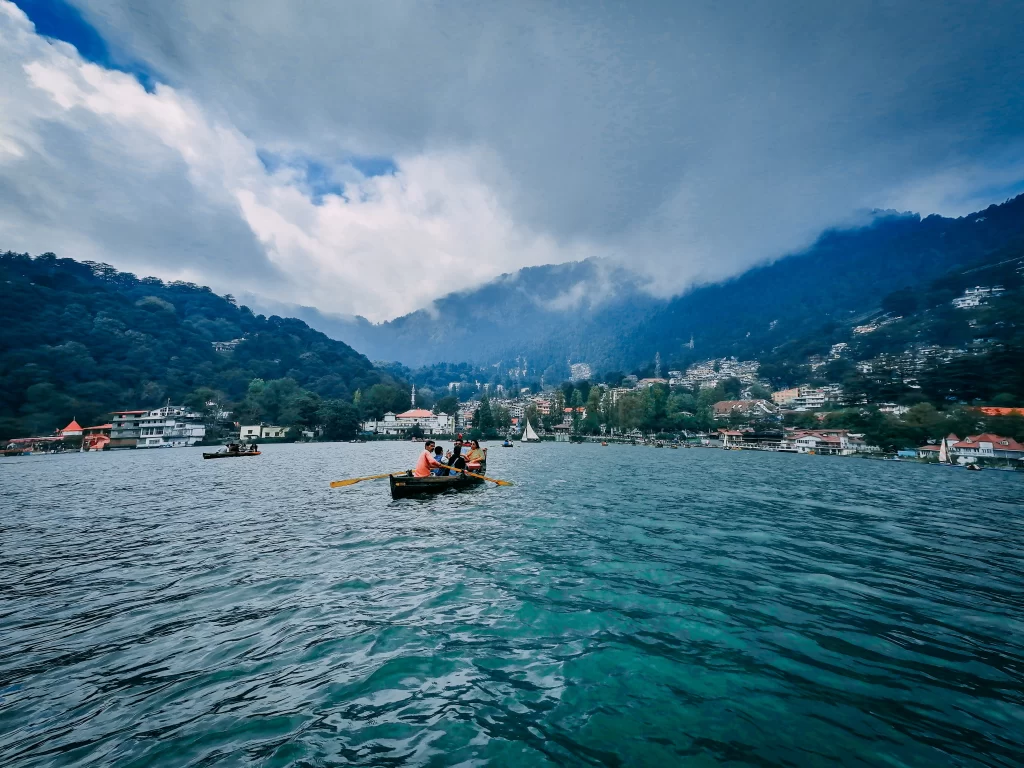 Nainital is a gorgeous collage of beautiful places and amazing experiences, from scenic beauty surrounded by imposing mountains and sloped roads to a bustling marketplace and captivating viewpoints. Without a doubt, this is one of the most romantic places in Uttarakhand.
What makes it such a likable honeymoon destination in Uttarakhand is that it is a great romantic getaway for couples. It is budget-friendly and yet you will find some of the best resorts to stay in Nainital.
Almora
The scenic town of Almora is a beautiful hill station set against the backdrop of Uttarakhand's snow-capped Himalayan ranges. Almora is endowed with a rich cultural heritage, unique artisans, luscious cuisine, and splendid wildlife, and is easily accessible from Delhi and other major cities in North India. There are two major rivers in this town: the Koshi (Kaushaki) and the Suyal (Salmali). Every year, thousands of devotees flock to popular pilgrimage sites such as Nanda Devi and Jageshwar. Almora is also popular with backpackers due to the presence of hostels and cafes in Kasar Devi, a nearby village.
Many routes leading deeper into the Himalayas begin in Almora and there are also day and weekend treks near the town. Almora is also famous for mountain biking; since it is easy to get to lower elevations, biking here does not require much preparation. Many stores and resorts lease bikes by the hour or even by the day, and you can also cycle along the mountainous paths.
Mussoorie
Mussoorie proves to be one of the best honeymoon places in Uttarakhand, whether it's the mesmerizing view of clouds floating in mid-air or a romantic ride along the topsy-turvy steps leading up to the hill station. If the two of you seeka calm destination to spend your honeymoon, Mussoorie will not disappoint. A vibrant market and a scenic Tibetan settlement in Happy Valley are two offbeat attractions in Mussoorie, in addition to popular tourist destinations.
Dhanaulti
Dhanaulti is a popular hill station located about 24 kilometres ahead of Mussoorie. It is an excellent place to visit owing to its good weather during the summers and the possibility of snowfall during the winters. It is also growing in popularity as a honeymoon destinations, especially since Mussoorie's commercialization. So, if you are looking for a peaceful environment with great weather, consider Dhanaulti.
Chakrata
Chakrata is a small hill town in Uttarakhand near Dehradun that is known for its deciduous forest, treks, caves, and ancient monuments. With mountain climbing being one of the most popular activities in Chakrata, it is also becoming a famous camping destination. Chakrata is a backpacker's destination and at an ideal location for people seeking offbeat destinations, thanks to some of the most beautiful waterfalls, particularly Tiger Falls. Kharamba Peak, at an elevation of 10,000 feet, is the highest point in the hilltown that's surrounded by lush forests and nature's bounty. Chakrata's forests are home to a variety of wildlife, including wild fowls, panthers, and spotted deer.
Formerly a small hamlet of the Jaunsari tribe known as Jaunsar Bawar, Chakrata looks upon the Yamuna valley. The location was designed by the East India Company executives, and it also includes a military cantonment that makes access difficult for civilian visitors.
Lansdowne
Lansdowne is a captivating little hill town in Uttarakhand's Pauri district, 258 kilometres from Delhi. This hill station, surrounded by oak and pine forests and dotted with colonial-era buildings, is a sanctuary for bird watchers, casual hikers, and weekend visitors from the NCR.
The town was discovered by the British and was named after Lord Lansdowne, the then Viceroy of India. The guesthouses here are fading remembrances of the colonial era and their balconies provide a breathtaking view of the mountains.
Binsar
Binsar, 33 kilometres from Almora, is a small town in Uttarakhand known for the mesmerising beauty of the snow-laden Himalayan peaks. Binsar is surrounded by forests of oak, pine, rhododendrons, and deodar trees and is home to lush greenery meadows, temples, and the renowned Binsar wildlife sanctuary.
Binsar is a trekker's paradise with a Zero point that offers a panoramic view of the Himalayan ranges, including Nanda Devi, Kedarnath, Shivling, and Trishul. The Zero Point can be reached after a 2-kilometre hike. Sunrise and sunset viewing are must-do activities. Binsar's weather is pleasant all year round despite its elevation of 2420 meters. You can also explore the Kasar Devi temple and the Bineshwar Mahadev temple here along with the Binsar wildlife sanctuary.
Valley of Flowers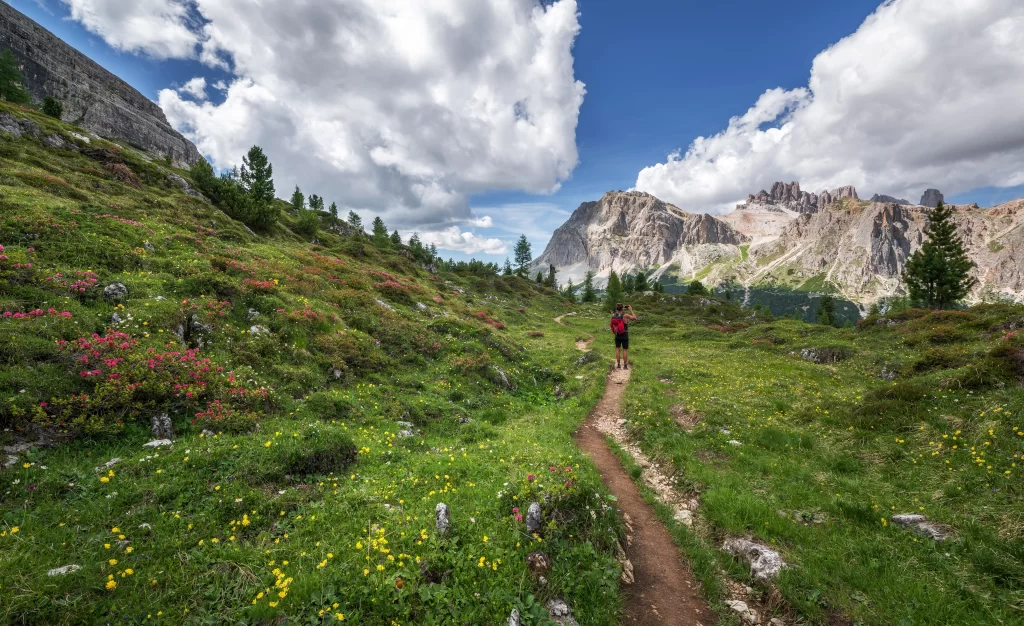 Valley of Flowers, encircled by beauty and serenity all around, is among the most romantic places in Uttarakhand for a romantic getaway for couples seeking to be in each other's embrace. This is a trekker's heaven and if you and your partners want to start your life together with a little journey, Valley of Flowers could be a great place to go.
This spot, located near Hemkund Sahib, offers a landscape with a plethora of vibrant colours and the mighty snow-capped Himalayas in the background; it is nothing short of a fairytale. The diverse flora and fauna, trekking trails, and the journey that awaits travellers, all combine to provide a once-in-a-lifetime experience.
Uttarakhand is Mother Nature being glorious, making it an ideal setting for a honeymoon! If you only have a few days and need a convenient romantic fix, you select from any of the above-mentioned honeymoon destinations in Uttarakhand. Book your Uttarakhand tour package and observe nature at its most romantic.