Reading Time:
11
minutes
The clear turquoise water and the breath-taking marine life makes it one of the best destinations for leisure which can be explored along with our Bali tour packages. With beautiful mornings and picturesque nights, this land is truly an untapped surprise. The shades of dusks and dawns of this land are remarkably like a painting. Bali is not only about the spellbinding nature and adventurous land, but also about the essentially intriguing lifestyle, which shows contentment and fulfilment of life. Travelling with any of our Bali holiday packages, literally draws your attention away from the fast-paced life which seems like a rat race sometimes, only to relax, breathe and realise the true nature of life amidst Mother Earth's embrace. While hunting for the best Bali honeymoon packages from India, the urge of adventure easily seeps into the heart.
Enchanted with beautiful arrays of shades, spreading across the variant natural bounty, Bali is an island leisure vacation every traveller dream! Escape time and the fast-paced life to the island of perfect dreamy holidays! These dreamy islands are blessed with a heavenly climate that soothes the body completely and can be experienced along with your Bali honeymoon. Shimmering beaches, turquoise waters and scenic landscapes make the islands a perfect reason to hunt for Bali tour package for couple! Here at Veena World, we offer the amalgamation of the islands' unique experiences into carefully crafted Bali holiday packages. The picturesque island is a favourite honeymoon destination for many! If you're looking for a perfect getaway with your better half to begin your new journey, then your Bali honeymoon awaits to surprise you. The true feels of these islands lift up the spirit of love between you and your partner. A heart-warming symphony awaits to give you all that with perfect Bali honeymoon packages which can be selected from our specially crafted itinerary options.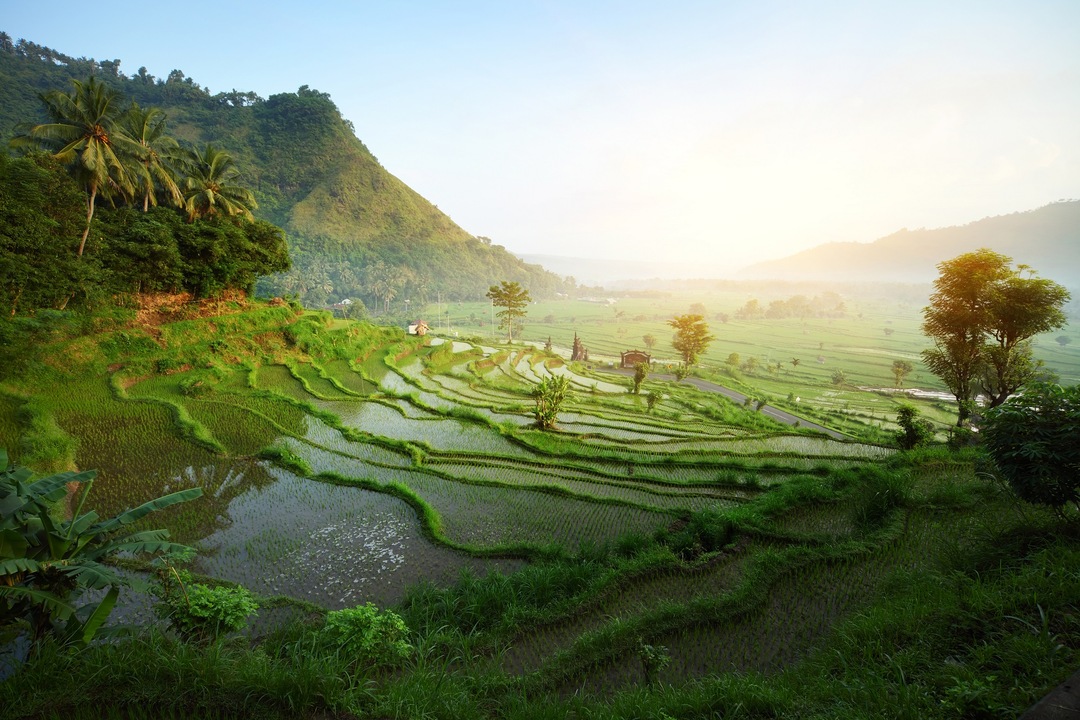 When planning your honeymoon to Bali, understanding the seasonal aspect will help you plan the ideal and a romantic getaway that you and your partner dream of! Here are few seasonal tips to figure out the best time for you to plan your Bali honeymoon:
The seasonal tips and the best time to visit Bali:
Bali tour packages take you to a whole new destination of completely different experiences.
The geographical location of Bali blesses it with a perfect climate for your honeymoon which can be experienced along with our Bali tour package for couple.
This Indonesian island is a favourite tourist destination and is popularly known for its natural attractions, perfect climate and relaxed atmosphere. These attributes of Bali, make it an all year round destination with every time is the best time to visit Bali and every reason seem to justify it!
This honeymoon destination is located at the westernmost end of the Lesser Sunda Islands, with Java to the west and Lombok to the east.
Experience Bali's tropical monsoon climate which has two distinct seasons, a dry season which goes on between May to September and wet season which goes on between October to April. These seasonal changes can also be experienced along with our Bali tour packages. Interestingly enough, monsoon here refers to the wind, not the rain.
Experience such exceptionally relaxing climate along with our affordably priced Bali holiday packages.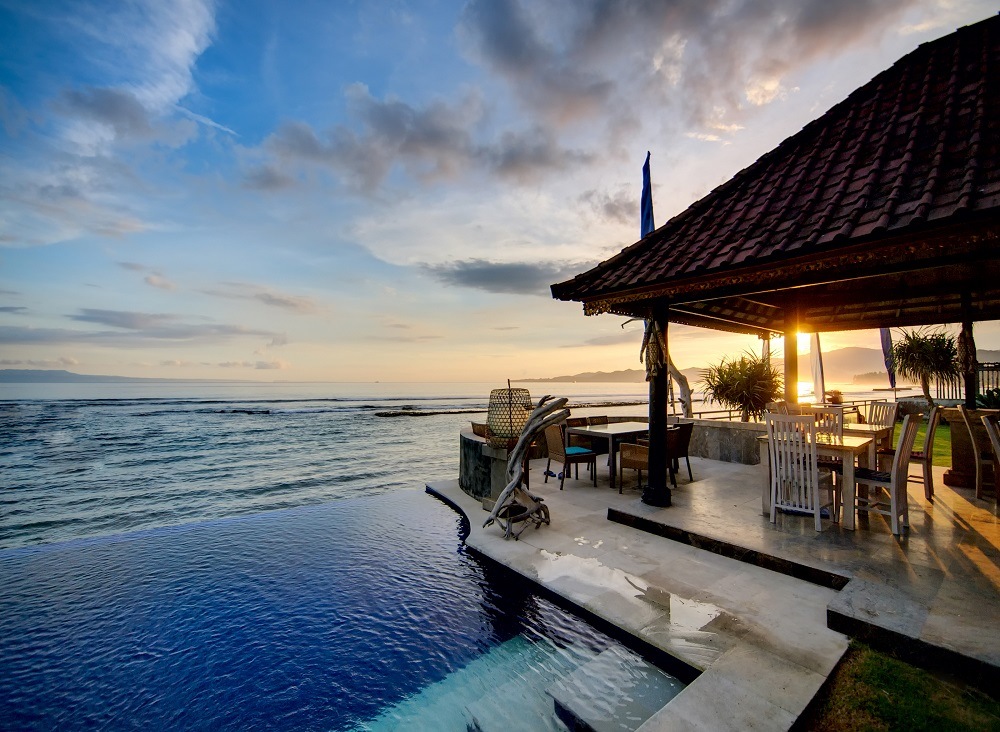 Master your game of chivalry and romance along with the exceptional ideas and experiences to be planned in Bali, which will make your honeymoon one of a kind and full of unforgettable memories. Here are few romantic ideas that you can implement to plan a perfect surprise full of innovative experiences that will make the Bali honeymoon unrivalled trip of your life!
Romantic ideas to implement on your Bali honeymoon:
Enjoy romantic walks on serene beaches with your loved one, thrilling water rides, adventure sports and get to know your better half over a romantic candlelight dinner added along with our Bali honeymoon packages.
The blend of experiences close to nature and the ambience of romance make all Bali honeymoon packages, a passionate tour experience.
Meanwhile, also enjoy seeing the traditional Kecak dance which is performed by 50 singers. Matter of fact, this dance is the only one based on vocals rather than instruments, dating far back into Balinese history, prior to the use of musical instruments. Something which is exclusive to Bali in comparison to other honeymoon destinations.
A short drive will bring you to Jimbaran bay where you can relish delicious seafood dinner in a cosy seaside restaurant; all this just to provide you with a perfect authentic date experience along with our Bali tour packages.
Enjoy Devdan Show popularly known as a fusion of traditional Indonesian dance activities with modern contemporary dance, world-class aerial acrobatics attractions, dazzling costumes and hi-tech special effects along with our Bali honeymoon packages from India.
Explore Kuta beach, also known as sunset beach, as opposed to the sunrise beach. It is one of the best places to enjoy a spectacular romantic sunset in Bali and forms an integral part of our Bali honeymoon packages.
Watch the colours of the sky change from just a hint of a colour to shades of deeper orange, purple and red while you take a

romantic Sunset Dinner Cruise

along the harbour giving you a perfect leisurely ambience along with our Bali tour packages from India.
Enjoy the view of Mount Batur known to be a dormant volcano and the Lake Batur along with our Bali honeymoon packages to paint your honeymoon in a new shade.
Visit the mesmerising rolling coffee plantation along with our Bali holiday packages for couples and walk along the lush green lands. Explore this exotic coffee plantation as you stroll around hand in hand.
Get a chance to visit Tirta Empul known to be the Holy Spring water temple and pass by the rice terraces. The landscapes like these will add up to the most favourite captured memories of your togetherness.
Experience the thrilling white water rafting at Ayung River in Ubud and add up a touch of adventure in your honeymoon.
Visit Tanjung Benoa beach where you enjoy a banana boat ride and a trip to Turtle Island on a glass bottom boat. Let the aqua world mesmerise you and your partner and make you fall in love with nature!
Visit the legendary Uluwatu Temple! Hanging on a cliff 100 meters above the ocean, Uluwatu temple is a unique sight that you can witness. Take the divine blessings from this unique holy shrine, for your new beginning of life and journey together!
Visit Celuk, known for being the centre of gold and silver works, Bataun which is the stone carving centre, Mas, known as the centre of wood carvings and finally Ubud, famous as the Balinese painting centre. The art will add a whole new charm to your picturesque honeymoon.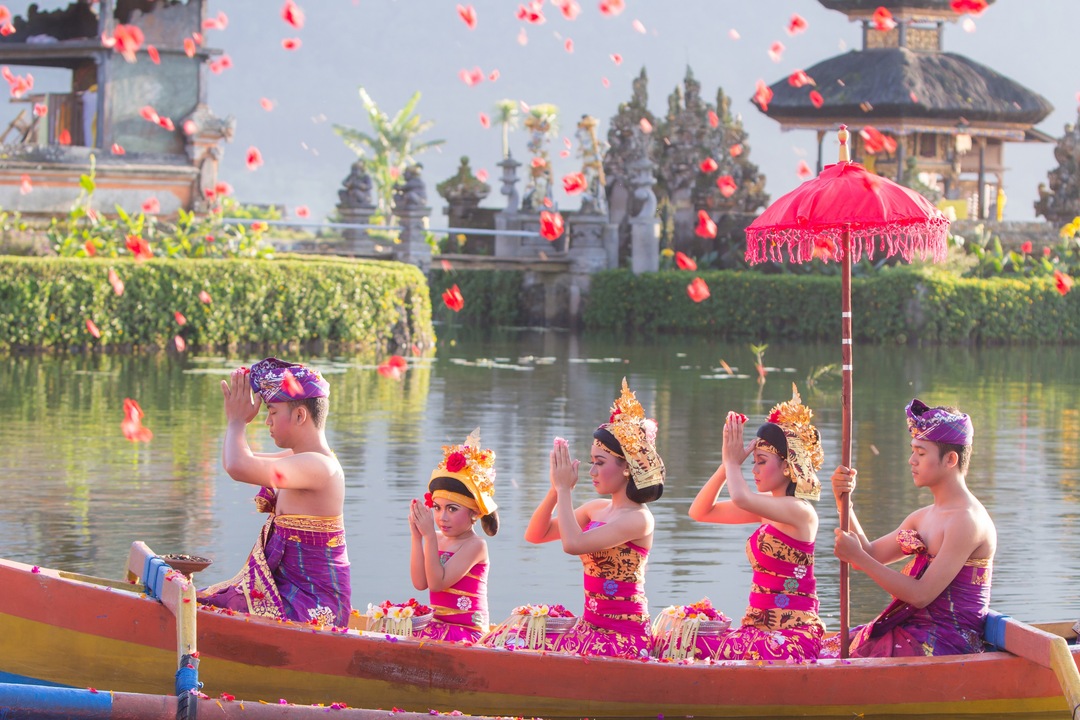 This culturally rich island has millions of tourists every year but the way of life of the Balinese people remains the same. Explore their unique culture evolving in harmony with nature and experience it along with our Bali holiday packages. Balinese people are open to different cultures and welcome people from every corner of the world, but one thing is for sure, they are strictly filled with their beliefs and traditions. Explore the unique culture of this island and knit your own memories for a lifetime along with our Bali tour packages from India. Its rich culture and relaxed tropical islands make our Bali honeymoon packages from India, a favourite choice of honeymooners. This island, known for being a perfect getaway, has so much to offer! This land will surely spellbind you with its remarkable scenery and iconic natural significances.
A celebration of love and togetherness is truly redefined in a destination like Bali. Blessed with perfect natural acoustics, this land has become a synonym for leisure and rejuvenation. Romantic landscapes, laid-back ambience, exotic culture, delicious cuisine and tranquil turquoise waters, everything that your body, mind and soul will hunt for a perfect honeymoon getaway, is exactly what Bali is made up of! A destination that is redefining honeymoon and developing its tourism on it, will let you witness the reason why with every minute you spent in this realm. Bali will teleport you to a world which will let you forget the fast-paced life and the monotonous routine, right into the timeless heaven. Experience what it feels like when Mother Earth displays her most perfect form, only to give you the honeymoon which will match your island fantasy. No doubt it's referred to as the Island of Gods, considering if they planned a vacation, it would exactly be on an island with such exceptional beauty like Bali! Planning a honeymoon here is made easy with our help. Veena World has a focus on innovating and building unrivalled Bali tour package for couple. We bring together everything best available, for a one of a kind memory and travel story that can be shared with your loved ones. The idea of travel, explore and celebrate is reflected in every tour that we undertake to Bali – The Island of Gods!