Pondicherry Honeymoon Packages
Plan a romantic getaway to a quintessentially European destination, where you and your partner can indulge in the colonial ambiance!
A honeymoon in Pondicherry is all about the sea, pristine beaches, delicious French and Continental food, water sports, and much more. Booking Pondicherry couple packages for a honeymoon has always been a popular choice among newly-weds and for good reason. The destination truly has a lot in store – from relaxing on the beaches to walking along the cobblestone streets to the quaint cafés and exploring the colonial buildings that stand testament to the French history of the union territory. Bringing together French architecture and the traditional sensibilities of India, It is not for nothing that the small town is also known as "The French Riviera of the East".
Whether you are a nature lover or a thrill-seeker, a true foodie, or a history buff, a cost-effective Pondicherry honeymoon package may just be what you are looking for. This beautiful colonial town has a lot to offer for all kinds of travellers, and the best way to ensure you do not miss any major attractions is to book an all-inclusive Pondicherry honeymoon tour package with an itinerary that suits your plans. To find the perfect Pondicherry tour package for couples, you can explore the wide range offered by Veena World and choose one that suits your budget and preferences. This way, you can focus on having a good time, while we take care of all the planning!
Packages Coming Soon!
Currently, there are no package(s) found matching your holiday request.
Please try exploring our other available options by checking out trending destinations. Our dedicated Travel Experts are on hand to offer you an expert guidance and support throughout the entirety of your trip.
Reach out to us 1800 22 7979 or drop an Email at travel@veenaworld.com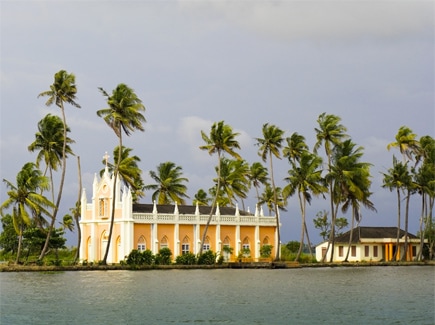 SUPER DEAL PRICE
(05 Oct 2023)

Last 1 Seat

Starts from

per person on twin sharing
Trending Indian Customized Tours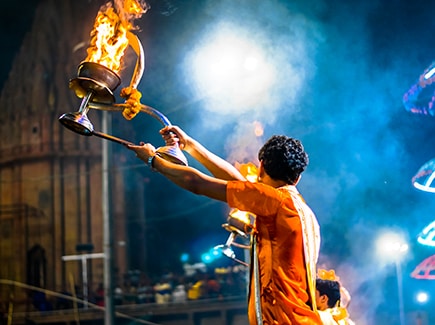 Starts from
per person on twin sharing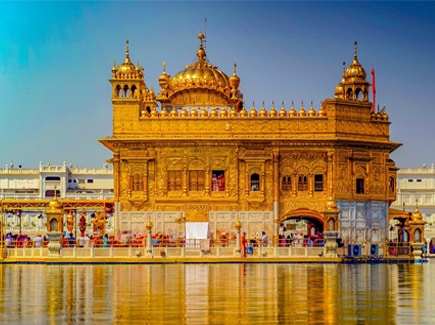 Starts from
per person on twin sharing
About Pondicherry
Situated on the south-eastern coast of the country, Pondicherry (or Puducherry) is one of the 7 Union Territories of India that offers a dreamy escape to all travellers. 'The Little Paris' of India used to be a French colony, and till date, is reminiscent of French allure. It is replete with artsy architecture, intriguing road signs, and a number of small cafés that offer delicious French cuisine. The draw of Pondicherry packages for a couple on their honeymoon can also be seen in the tree-lined streets, picturesque mustard-coloured villas, chic boutiques, majestic churches, and of course, the must-see-to-believe beauty of the golden sand beaches. Find the best deals for a Pondicherry honeymoon package at Veena World that offers an amazingly romantic honeymoon that is a blend of serenity and thrill.
Things to Do in Pondicherry on Honeymoon
Pondicherry has a number of attractions and activities that people of varying preferences can indulge in. So, there are numerous things to do and places to visit that you can include in your Pondicherry honeymoon package, to ensure that you and your partner have an amazing time!
Scuba Diving: Located on the beautiful coastline of the Bay of Bengal, Pondicherry is the perfect scuba diving destination. Here, you can get up close to the enchanting marine life of the region and admire nature's creations below the waterline. From beautiful natural coral reefs to exotic creatures like manta rays, kingfish, sea snakes, lionfish, etc., this place gives you the chance to spot a number of marine life species. For all those interested in adventure, scuba diving is one of the top things that you must try on a Pondicherry honeymoon.
Go on a City Tour: The entire city covers an area of 19.54 km2, so taking a city tour is neither a tiring experience nor time-consuming. You can take a stroll along the cobblestone streets of the city and gaze at the amazing architecture of the French quarters with your loved one. Another popular thing to try on a honeymoon in Pondicherry is renting bicycles and exploring the colonial villas and alleys at a different pace.
Heritage Walk: This is something you must include in your itinerary for the Pondicherry honeymoon package. The Heritage Walk takes you through some of the most prominent scenic spots in this beautiful city. From the vintage markets to the Indian Square and French Square, you will get a chance to explore a number of attractions that allow you a peek into the rich past of this destination.
Surfing: If you and your partner are looking for some thrill, you can indulge in some adventurous water sports as well. The Paradise and Serenity beaches in Pondicherry are two great spots for surfing, thanks to their playful waves and gentle winds. The best thing i, that you can enjoy water surfing, regardless of what time in the year you have booked your Pondicherry honeymoon package for.
Take a Boat Ride: Another thing you should not miss out on during a honeymoon in Pondicherry is taking a boat ride at Chunnambar boat house. This idyllic spot is just the right setting for sunbathing, water sports, etc., and if you just want to spend a lazy afternoon in the sun.
Bird Watching at Ousteri Lake: For nature lovers, Pondicherry couple packages can also include bird watching. The Ousteri Lake is a man-made lake in Pondicherry with picturesque surroundings and a mesmerizing sunset view. A perfect setting for bird watching, this is also a good place for you to spend some quality time amidst nature.
Best Time to Visit Pondicherry for Honeymoon
Pondicherry is an all-year-round destination, so you can choose a Pondicherry tour package for couples based on the kind of trip you are planning. Pondicherry has a unique charm to offer during different seasons, so you can plan to book your honeymoon tour package to Pondicherry at any time of the year.
Winters: The winter season starts in October and lasts till the month of February. During this time, the temperatures remain relatively lower, making the time suitable for outdoor activities like sightseeing, beach fun, and water sports.
Summers: Summer season in Pondicherry starts in March and lasts till June and tourist crowds start to thin during this time. A Pondicherry honeymoon package for the summers makes for an ideal, peaceful, and romantic getaway.
Monsoons: With a Pondicherry honeymoon tour package booked from July to September, you can witness the rain-washed beauty of this beautiful colonial town. Since romance and rain have an age-old connection, the monsoons can be quite a nice time for booking Pondicherry couple packages.
How to Reach Pondicherry
Being a popular travel destination, Pondicherry is well-connected to other parts of the country.
The nearest airport is Chennai International Airport, at a distance of 135 kilometre, which receives direct flights from all major cities. You can also reach Pondicherry by a train to Villipuram, which is 35 kilometres away.
You can choose suitable Pondicherry tour packages for couples, the cost of which will vary, depending on the mode of travel you pick, from Veena World and we will take care of all travel arrangements and bookings for you.
Book Your Pondicherry Couple Packages with Veena World
Veena World offers a wide range of specially curated Pondicherry tour packages for couples. These tour have been designed to suit the budget and travel preferences of all kinds of travellers. Find the best deals on Pondicherry packages for couples, and everything, from accommodation to airfare, guides, meals, etc. will be taken care of by us. If you are looking for a more personalised experience, you can opt for Customised Holidays by Veena World, where you have complete control over all aspects of your trip!