Reading Time:
8
minutes
Shillong, the capital of Meghalaya, is one of the smallest but most captivating town-sized cities, with lush vegetation, dense forest cover, an exceptional climate all year long, and proximity to some of the most famous peaks in the area. The city is also renowned for having some of the most magnificent colonial monuments and buildings, which provide a beautiful artistic portrayal of the city. People from many different cultures and nearby regions are known to have settled in the city, which is renowned for its extraordinarily rich cultural diversity.
When planning to visit this magnificent country, it is important to know your accommodation options beforehand to avoid hassle later.  There are many beautiful hotels and resorts in Shillong to make your stay quite memorable. These resorts have beautifully designed rooms and are outfitted with cutting-edge technology to delight your senses. The best part about resorts in Shillong is that they provide a wide range of accommodation options, from penthouses to tents. So, as you plan your accommodation at these exquisite resorts, step into luxury and comfort to create a once-in-a-lifetime experience.
Windermere Resort
Windermere Resort, nestled in Shillong's Pine Hills, has accommodations with a cafe, complimentary private parking, a bar, and a lawn. Guests can order food and drinks to be delivered to their rooms. A garden has been planted near the resort. There is a parking space for motor vehicles. Guests can dine at the fine restaurant in the resort. Internet access is available to guests. The hotel offers laundry service, which is the most convenient and cost-effective way to keep your clothes neat and clean.
Queen's Resort
Queen's Resort is one of Shillong's most sought-after resorts, offering all comforts and ensuring an unforgettable stay experience. The window of your cosy Queen's Resort room greets you with surreal views of rocky mountains.
A stay here will undoubtedly relieve you of all your exertion and tiredness due to its soothing atmosphere. The comfortable cottages at this resort are equipped with all modern amenities to keep you comfortable and entertained during your stay. If you're looking for a mid-range resort in Shillong that provides a seamless and comfortable stay, Queen's Resort is among the best options.
Ri Kynjai Resort
There are only a few resorts that can compete with Ri Kynjai – Serenity By the Lake in terms of quality. The luxury resort, which spans 45 acres, reflects the breathtaking Umiam Lake, providing you with a perfect blend of solitude and relaxation during your visit to Shillong. Accommodation options include well-appointed regular double rooms, excellent double rooms, and cottages inspired by traditional Khasi cottages.
Ri Kynjai resort is a great choice for exploring Shillong or for a weekend getaway. Everything about this resort, from its area and accommodations to the meals and hospitality, embodies elegance and integrity, making it one of the best resorts in Shillong. The resort has amenities such as a spa, a hot tub, an in-house restaurant, and a bar. Boating, nature walks, bird watching, and sightseeing in Shillong are among the activities provided by the resort.
Orchid Lake Resort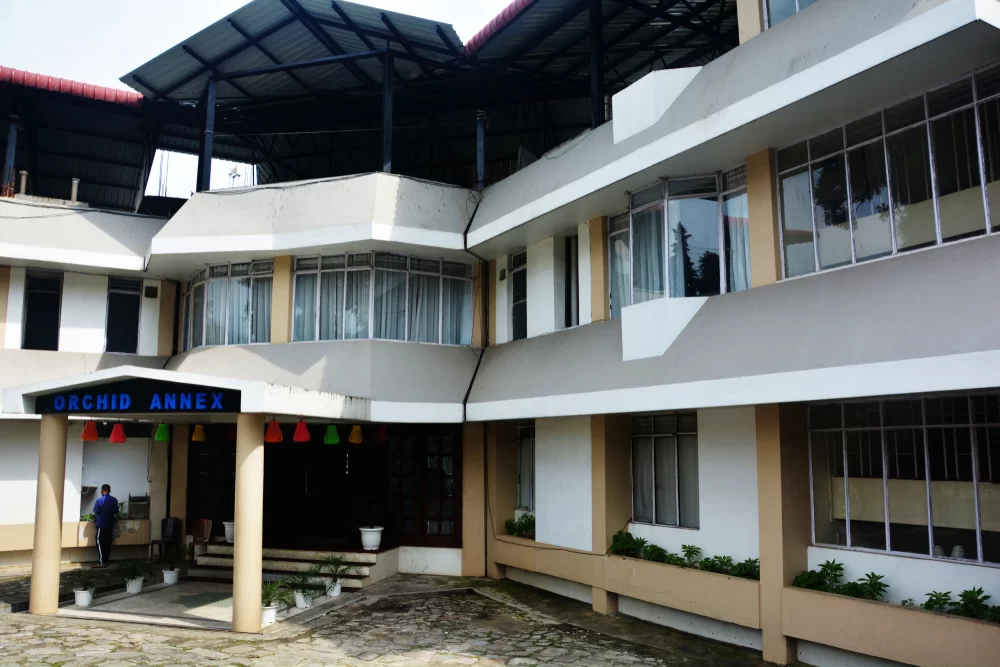 Looking for a great resort in Shillong with a fantastic location? Among Shillong resorts, Orchid Lake Resort is your top choice. This resort offers panoramic views of the vast Umiam Lake and excellent stay options that allow you to enjoy truly stunning views of the lake. The resort has a total of 27 well-appointed rooms that have been constructed with the guests' needs in mind. These rooms are classified into four types: standard rooms, semi-deluxe rooms, deluxe rooms, and executive rooms.
A luxurious suite is also available for those who prefer lavishness. Because the resort is managed by the Meghalaya Tourism Department, you can expect friendly service and smooth operations from the resort staff. The resort has exhibit space, a garden, laundry facilities, and a restaurant. The resort provides activities such as nature walks, boating, and a health club.
Polo Tower Resort
Polo Towers Resort, one of Shillong's most renowned resorts, is an excellent choice for you if you want to indulge in luxuries and pleasures. The resort is suitable for all types of guests, which include families, honeymooners, business travellers, and groups of friends, and can meet all of their needs efficiently.
This 4-star resort is one of Shillong's fanciest stay options, as demonstrated by its grand structure. Apart from the numerous amenities, the resort offers four different types of rooms: Boutique, Premiere, Presidential Suite, and Executive Suite. Furthermore, the resort provides a variety of good restaurants to delight your taste buds.
Sunshine Farms and Resort
Sunshine Farms and Resort is one of the most renowned Shillong resorts, offering accommodations ranging from tents to villas. The resort is well-known for its excellent service and various amenities. The resort is nestled in nature, away from the hustle and bustle of cities, and provides a rejuvenating experience.
Furthermore, the resort organizes a variety of exciting activities, making it a great option for those looking for a thrilling weekend outing. The resort's accommodations are outfitted with all modern amenities to soothe your senses throughout your stay. The resort premises features lawns and water bodies, making it ideal for day trips and picnics.
Poinisuk Resort
Poinisuk Resort is one of those Shillong resorts that are popular with both tourists travelling to the city and locals on vacation. It is an option you should consider on your Shillong tour. This resort has exquisite architecture and well-equipped accommodations to ensure a comfortable stay.
The resort offers three types of rooms: executive rooms, deluxe rooms, and premium rooms. There is also an in-house diner where you can enjoy some delectable meals. Poinisuk Resort claims perfection on all fronts, from location to food, and is well worth a visit.
A Resort By The Lake
Experience luxury like never before during your stay at A Resort By The Lake, known for its unbeatable selection of amenities and discreet service. This resort offers breathtaking views of Umiam Lake against the East Khasi Hills. It is nestled on the slopes above the lake. The resort's natural surroundings and picturesque location add to the tranquility of the experience.
Despite being noted for providing all modern amenities, the resort's design blends traditional and modern elements and is composed of wood, bamboo, stone, and cane. You have a lot of meal options here because the multi-cuisine restaurant delivers a huge selection of delicious meals.
Resorts in Shillong undoubtedly meet the challenge of matching the standard of tranquility and elegance set by the hills of Meghalaya that encircle Shillong. Book your Shillong package in advance and experience a stay at one of the above-mentioned resorts.