Reading Time:
9
minutes
India is very well known for its festivals as it has many cultures and religions. There is so much happening in every part of the country. Experience it or read about it here:
RANN UTSAV – GUJARAT

Image Courtesy: www.gujarattourism.com
It's a carnival of music and dance! The natural beauty of White Rann / Dessert comes out beautifully when the flash light of the full moon spreads over white land and this marks the start of the Rann Utsav at Kutch called as 'Kutch, Rann Mahotsav' every year.
INTERNATIONAL KITE FESTIVAL – AHMEDABAD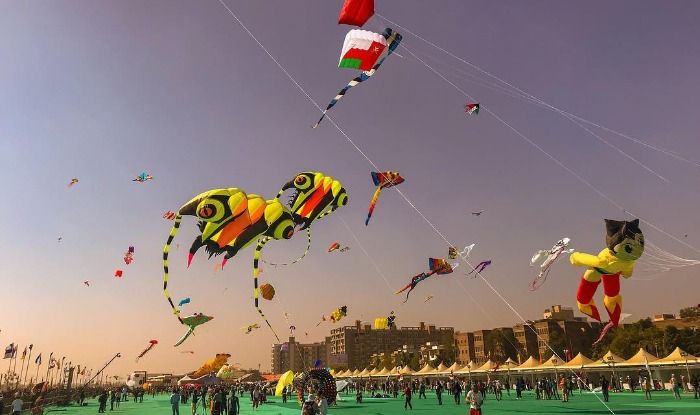 Image Courtesy: www.india.com
The festival of Uttarayan is a uniquely Gujarati phenomenon, when the skies over most cities of the state fill with kites from before dawn until well after dark. The festival marks the days in the Hindu calendar when winter begins turning to summer, known as Makar Sankranti or Uttarayan. On what is usually a bright warm sunny day with brisk breezes to lift the kites aloft, across the state almost all normal activity is shut down and everyone takes to the rooftops and roadways to fly kites.
Kites of all shapes and sizes are flown, and the main competition is to battle nearby kite-flyers to cut their strings and bring down their kites. For this, people find their favored kite-makers who prepare strong resilient kite bodies with springy bamboo frames and kite-paper stretched to exactly the right tension. Lastly, the kites are attached to a spool (or firkin) of manja, special kite-string coated with a mixture of glue and glass to be as sharp as possible for cutting strings of rival kites. Production of kites and kite supplies can be seen on the streets of Ahmedabad beginning in November, to get ready for Uttarayan, and nowhere more so than in Patang Bazaar, the special kite market that appears in the old city. For the week preceding the festival, it is open 24 hours a day for all kite lovers to stock up for the festivities.
Though Uttarayan is originally a special day of the Hindu calendar, it is said that the idea of flying kites to celebrate the date was a concept that arrived with Muslims from Persia, and it has now transcended all religious boundaries. No matter what your background or beliefs, if you are in Gujarat in January, you will no doubt find yourself flying kites with everyone else. Visitors come from around India for the celebration, many Gujaratis who live outside the state choose this time to make their trip home, and international visitors have come from countless countries, including Japan, Italy, the UK, Canada, Brazil, Indonesia, Australia, the USA, Malaysia, Singapore, France, China, and many more.
PUSHKAR CAMEL FAIR – RAJASTHAN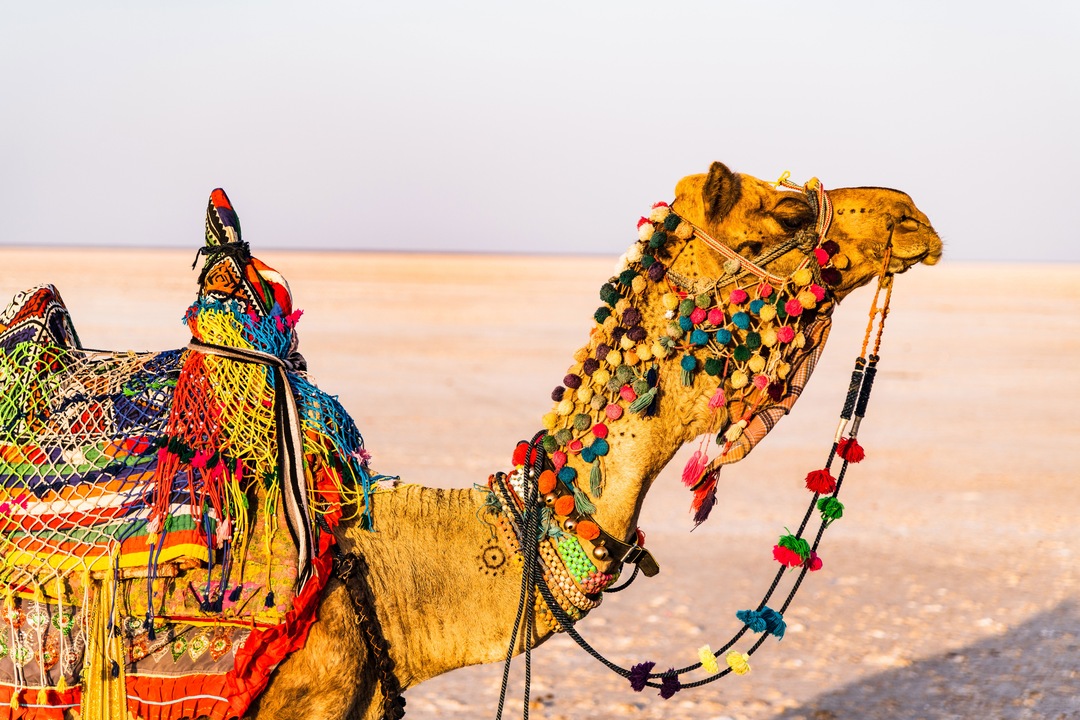 The Pushkar Fair (Pushkar Camel Fair) or Pushkar Mela, as it is locally known as, is an annual five day camel and livestock fair held in the town of Pushkar between the months of October and November. It is one of the world's largest cattle fairs. Apart from the buying and selling of livestock, it has become an important tourist attraction. Competitions such as the 'matka phod', 'longest moustache' and 'bridal competition' are the main draws for this fair which attracts thousands of tourists. In recent years, the fair has also included an exhibition football match between the local Pushkar Club and a team of foreign tourists.
KERALA NEHRU TROPHY SNAKE BOAT RACE – ALLEPEY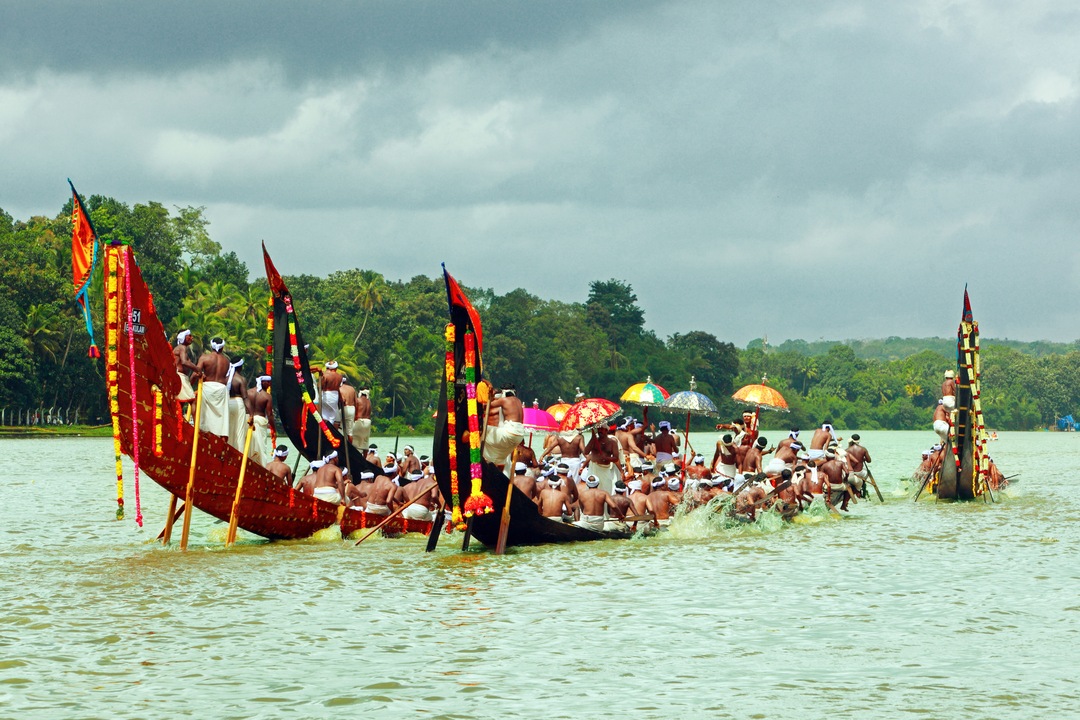 The Nehru Trophy Boat Tri Race is a popular Vallam Kali held in the Punnamada Lake near Alappuzha, Kerala, India. Vallam Kali or Vallamkaliy literally means boat play/game, but can be translated to boat race in English. The most popular event of the race is the competition of Chundan Vallams (snake boats). Hence the race is also known as Snake Boat Race in English. Other categories of boats which participate in various events of the race are Churulan Vallam, Iruttukuthy Vallam, Odi Vallam, Veppu Vallam (Vaipu Vallam), Vadakkanody Vallam and Kochu Vallam.
The Nehru Trophy Valam kali is conducted on the second Saturday of August every year and is a famous tourist attraction.
NORTH EAST HORNBILL FESTIVAL – KOHIMA , NAGALAND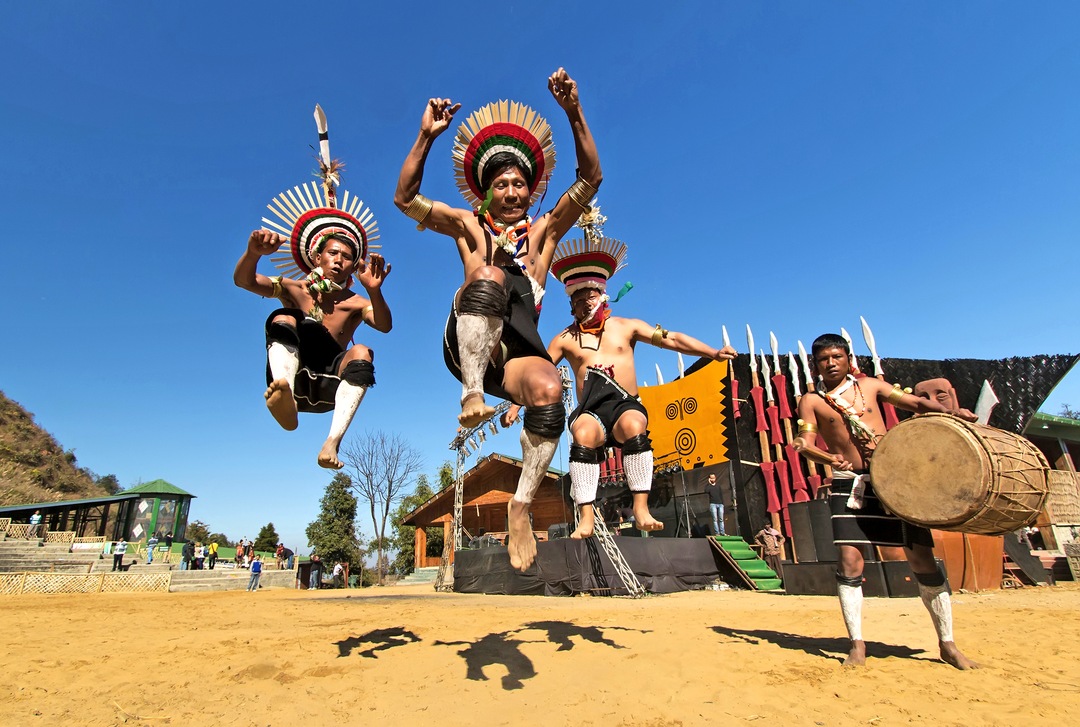 The Hornbill Festival is a celebration held every year from 1 – 10 December, in Nagaland, Northeast India.It is also called the 'Festival of Festivals'.
The week-long festival unites one and all in Nagaland and people enjoy the colourful performances, crafts, sports, food fairs, games and ceremonies. Traditional arts which include paintings, wood carvings, and sculptures are also on display.[6]
Festival highlights include the traditional Naga Morungs exhibition and the sale of arts and crafts, food stalls, herbal medicine stalls, flower shows and sales, cultural medley – songs and dances, fashion shows, the Miss Nagaland beauty contest, traditional archery, Naga wrestling, indigenous games, and musical concert.
The Hornbill Festival provides a colourful mixture of dances, performances, crafts, parades, games, sports, food fairs and religious ceremonies. The festival both exposes the culture and tradition of tribal peoples, and reinforces Nagaland's identity as a unique state in India's federal union. Experts have commented that A lot of older folk in the villages travel to Kohima to attend this festival and meet people from other villages from Nagaland because they haven't met before, hence leading to cultural assimilation.
Traditional arts are also featured, with paintings, wood carvings and sculptures by modern Naga artists on display. Naga troupes sing folk songs, perform traditional dances and play indigenous games and sports. In the evenings a programme of music concerts, catering for all tastes, ensures that the festive spirit continues through the night. One of the major highlights of this festival is the Hornbill International Rock Festival, which is held at Indira Gandhi Stadium; local and international rock bands perform.
HOLI FESTIVAL OF COLOURS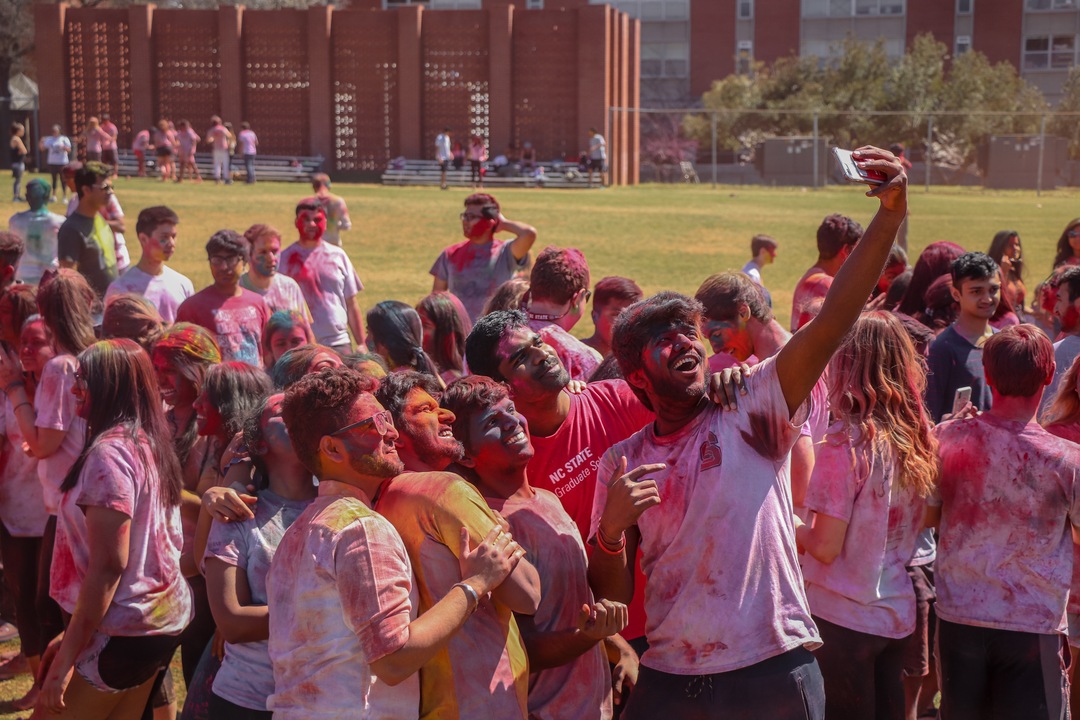 Holi celebrations start on the night before Holi with a Holika Dahan where people gather, perform religious rituals in front of the bonfire, and pray that their internal evil be destroyed the way Holika, the sister of the demon king Hiranyakashipu, was killed in the fire. The next morning is celebrated as Rangwali Holi – a free-for-all festival of colours,[9] where people smear each other with colours and drench each other. Water guns and water-filled balloons are also used to play and colour each other. Anyone and everyone is fair game, friend or stranger, rich or poor, man or woman, children and elders. The frolic and fight with colours occurs in the open streets, open parks, outside temples and buildings. Groups carry drums and other musical instruments, go from place to place, sing and dance. People visit family, friends and foes to throw coloured powders on each other, laugh and gossip, then share Holi delicacies, food and drinks.
DIWALI FESTIVAL OF LIGHTS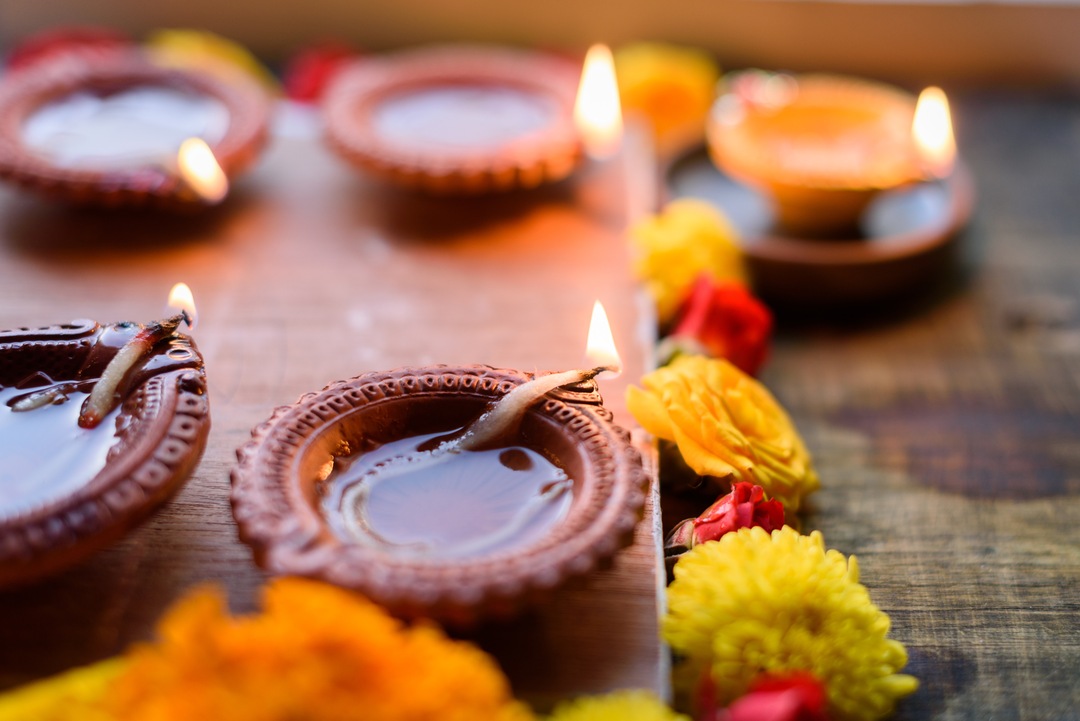 Diwali, the festival of lights is indeed the most awaited and the most celebrated festivals of India. People in every nook and cranny of the country welcome the festival with enthusiastic gestures. This wonderful festival is the celebration of five days. On the third day of the celebratory occasion, the key rituals of the Diwali festival take place. Lighting of Diyas and candles all around the house, worshipping the Laxmi Ganesha to summon health and wealth and bursting crackers are the chief rituals of the festival.
In addition to that, the exchange of heartfelt gifts during Diwali these days have become a mandatory part of the celebration. Friends, families, and colleagues share with each other Diwali gifts as a gesture of showing love and affection. Also, special and grand feast with delicious food that mandatorily includes different varieties of sweets is the special attraction of the occasion.
DURGA POOJA FESTIVAL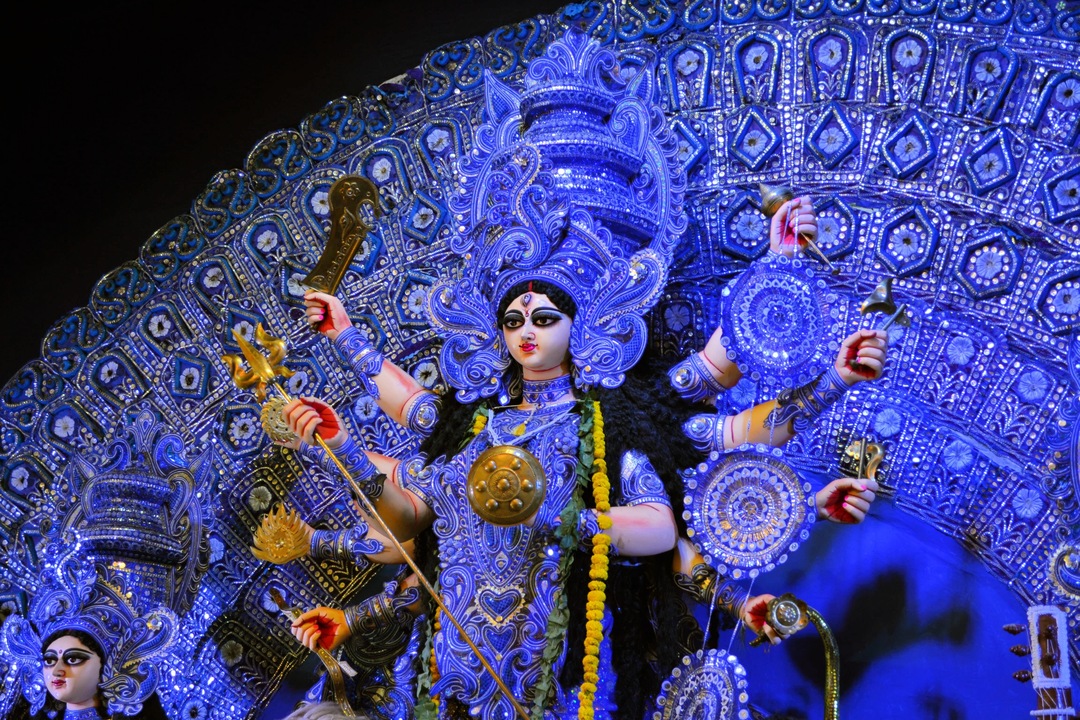 Durga Puja, also called Durgotsava, is an annual Hindu festival in the Indian subcontinent that reveres the goddess Durga. It is particularly popular in West Bengal, Assam, Tripura, Odisha, Bangladesh and the diaspora from this region, and in Nepal where it is called Dashain. The festival is observed in the Hindu calendar month of Ashvin, typically September or October of the Gregorian calendar, and is a multi-day festival that features elaborate temple and stage decorations (pandals), scripture recitation, performance arts, revelry, and processions. It is a major festival in the Shaktism tradition of Hinduism across India and Shakta Hindu diaspora.
Durga Puja festival marks the battle of goddess Durga with the shape-shifting, deceptive and powerful buffalo demon Mahishasura, and her emerging victorious.Thus, the festival epitomises the victory of good over evil, but it also is in part a harvest festival that marks the goddess as the motherly power behind all of life and creation. The Durga Puja festival dates coincide with Vijayadashami (Dussehra) observed by other traditions of Hinduism, where the Ram Lila is enacted — the victory of Rama is marked and effigies of demon Ravana are burnt instead.
NAVRATRI FESTIVAL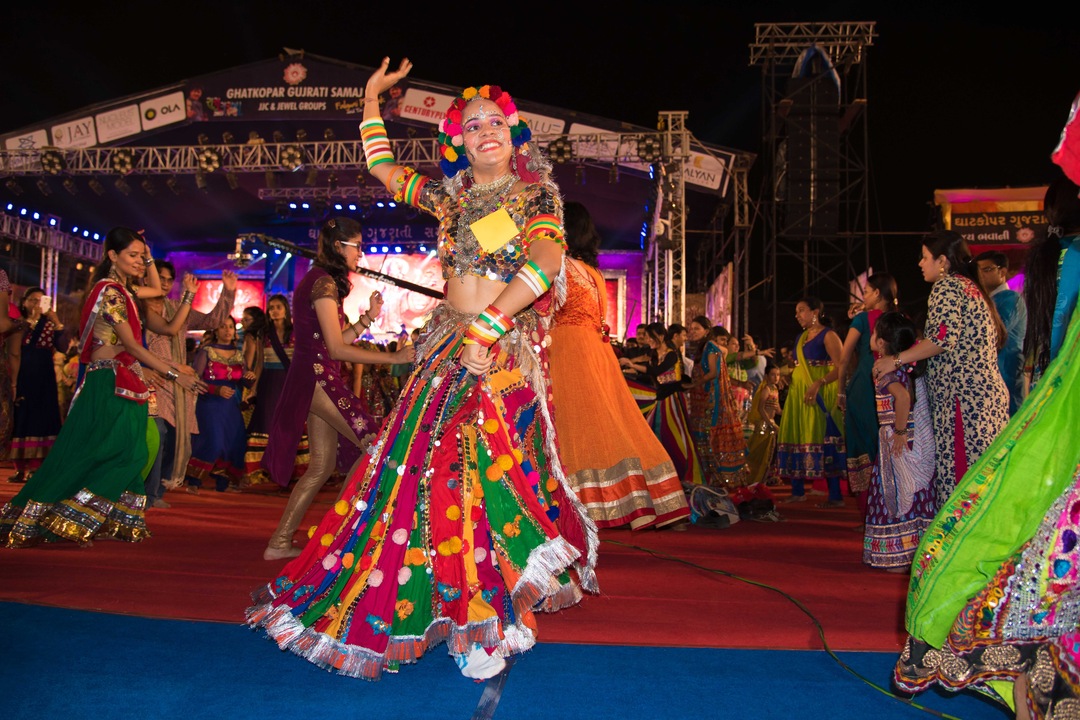 Navratri, meaning 'nine nights', is one of the most popular and widely celebrated Hindu festivals in many parts of India. Gujarat, however, is the only state that erupts into a nine-night dance festival, perhaps the longest in the world. Each night, all over the state, villages and cities alike, people gather in open spaces to celebrate feminine divinity, referred to as Shakti.
The dance form known as ras garba (also joined sometimes by dandiya, which uses small wooden sticks), comes from Lord Krishna's worship rather than Goddess worship, from the Gop culture of Saurashtra and Kutch. Stories of relationships between Krishna and the Gopis, and their emotions, also often make their way into the ras garba music.
Nevertheless, the focal point of every garba circle is the small Goddess shrine erected by each community to mark the beginning of the festival, on the first day of the Hindu month of Ashwin. The shrine includes a garbo, an earthenware pot, in which a betel nut, coconut, and silver coin are placed.
Each night the village or urban neighborhood gathers to perform a puja to one of the nine forms of Goddess. The nine nights are also broken up into sections of three; the first is for Durga, the goddess who destroyed an evil force represented by the demon Mahishasura, and who destroys human impurities; the second is for Lakshmi, the goddess of prosperity; the third is for Saraswati, the goddess of wisdom and art. It is a time to celebrate fertility and the monsoon harvest, represented by a mound of fresh soil in which grains are sown.
After the puja begins the music; it is unmistakable to those who are familiar with the style and irresistible to many. People begin to dance in a circle, whirling away till late into the night. It is not uncommon to find dancers with swords or lit flames and other spectacles.
GANESH CHATURTHI FESTIVAL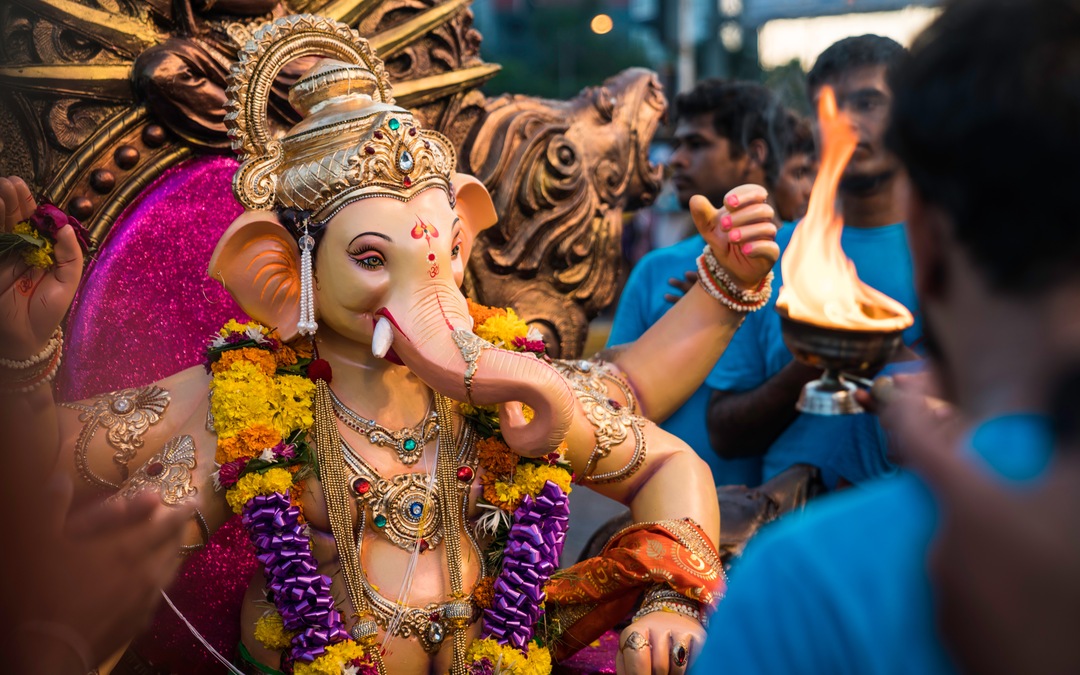 Ganesh Chaturthi , also known as Vinayaka Chaturthi (Vināyaka Chaturthī) or Vinayaka Chavithi(Vināyaka Chavithī) is a Hindu festival celebrating the birth of Ganesha. It falls in the months of August or September of the Gregorian calendar. The festival is marked with the installation of Ganesha clay idols privately in homes, or publicly on elaborate pandals(temporary stages). Observations include chanting of Vedic hymns and Hindu texts such as, prayers and vrata (fasting). Offerings and prasadam from the daily prayers, which is distributed from the pandal to the community, include sweets such as modaka as it is believed to be a favourite of Lord Ganesh. The festival ends on the tenth day after start, but we end it by one and a half day where the idol is carried in a public procession with music and group chanting, then immersed in a nearby body of water such as a river or sea. In Mumbai alone, around 150,000 statues are immersed annually. Thereafter the clay idol dissolves and Ganesha is believed to return to Mount Kailash to Parvati and Shiva. The festival celebrates Lord Ganesha as the God of New Beginnings and the Remover of Obstacles as well as the god of wisdom and intelligence and is observed throughout India, especially in the states such as Maharashtra, Madhya Pradesh, Karnataka, Goa, Telangana, Gujarat and Chhattisgarh, and is usually celebrated privately at home in states such as Tamil Nadu, and Andhra Pradesh
ONAM FESTIVAL – KERALA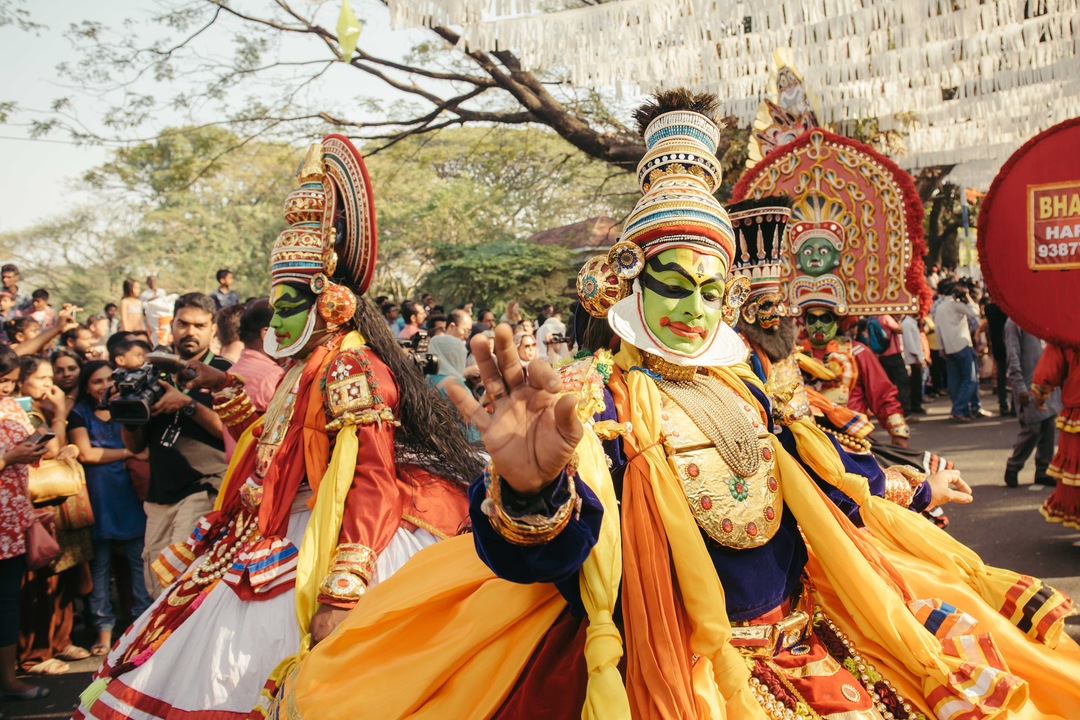 Onam is an annual Hindu holiday and festival with origins in the state of Kerala in India. It falls in the Malayalam calendar month of Chingam, which in Gregorian calendar overlaps with August–September. According to legends, the festival is celebrated to commemorate King Mahabali, whose spirit is said to visit Kerala at the time of Onam.
Onam is a major annual event for Malayali people in and outside Kerala. It is a harvest festival, one of three major annual Hindu celebrations along with Vishu and Thiruvathira, and it is observed with numerous festivities. Onam celebrations include Vallam Kali(boat races), Pulikali (tiger dances), Pookkalam (flower arrangement), Onathappan (worship), Onam Kali, Tug of War, Thumbi Thullal (women's dance), Kummattikali (mask dance), Onathallu (martial arts), Onavillu (music), Kazhchakkula (plantain offerings), Onapottan (costumes), Atthachamayam (folk songs and dance), and other celebrations.
Onam is the official state festival of Kerala with public holidays that start four days from Uthradom (Onam eve). Major festivities take places across 30 venues in Thiruvananthapuram capital of Kerala. It is also celebrated by Malayali diaspora around the world. Though a Hindu festival, non-Hindu communities of Kerala participate in Onam celebrations considering it as a cultural festival.