Himachal Pradesh Honeymoon Packages
Enjoy a romantic honeymoon in the haven that is Himachal.
A place that is dubbed as a traveller's delight, Himachal is one of the most fascinating places for a honeymoon. It is rich in attractions, hill stations, wildlife sanctuaries, temples, lakes, valleys, peaks, waterfalls, and more. It is everything that compels you to look for a Honeymoon package that is exciting and memorable in the same breath.
The state is surrounded by many snow-clad mountains and waterfalls that attract a lot of tourists and couples from all over the world to spend some quality time together. Couples on their honeymoon tour to Himachal can experience natural beauty, lush green forests, and never before seen wildlife that is fascinating, to say the least. With Veena World's Himachal tour packages, you can experience the best of adventure activities, honeymoon, vacation, and more in one of India's most coveted tourist destinations. You can choose from our Himachal Pradesh honeymoon tour packages online that come with a pre-planned itinerary so that you can conveniently enjoy your vacation.
Himachal Pradesh Honeymoon Packages Travel Packages
| Himachal Pradesh Packages | Day/Night | Price |
| --- | --- | --- |
| Honeymoon Special Shimla Manali | 6 Days | ₹38,000 |
| Honeymoon Special Shimla Manali Manikaran | 8 Days | ₹46,000 |
2 Himachal Pradesh Honeymoon Packages Holiday Packages
Showing 1-2 packages from 2 packages
2 departures available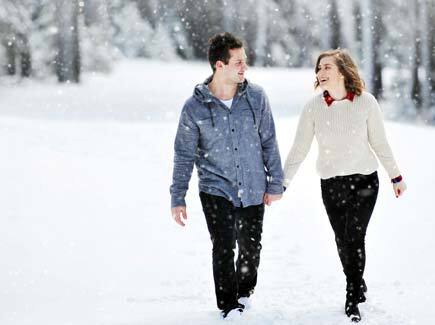 SUPER DEAL PRICE
₹46,000
per person on twin sharing
Rohtang Snow Point
Solang Valley
Our trips have touched hearts globally
what our happy travelers are saying
Honeymoon Special Shimla Manali

"Siddhesh and Tushar are best tour manager in my trip.They both did the fantastic job throughout the ...

Read More

Sushant

Travelled in Jul, 2022

Honeymoon Special Shimla Manali

"सरफिरे मुसाफिर हैं हम, मंजिलो की चाह नहीं बस सफर का शौक रखते हैं।This trip was awesome like managem...

Read More

Pratiksha

Travelled in Jul, 2022

Honeymoon Special Shimla Manali

"It was indeed a best experience.... Would definately like to have Nikhil and Kiran as travelling par...

Read More

Sanket

Travelled in Jun, 2022

Honeymoon Special Shimla Manali

"The hotel rooms and food was nice. The guide Itesh sir was friendly, informative and very cooperativ...

Read More

Bhakti

Travelled in Jun, 2022

Honeymoon Special Shimla Manali

"Beautiful place and well managed tour by Veena World enjoyed every day of tour planned so well so we...

Read More

Juhi

Travelled in Jun, 2022
Popular Himachal Pradesh City Packages
Get to know more about Himachal Pradesh before booking your honeymoon packages
Himachal Pradesh is a state in northern India that's set in the Western Himalayas. It is characterized by an extreme landscape that includes many peaks and in-depth watercourse systems. The state shares a world border to the east with the Tibet Autonomous Region in China. Apart from being quite a popular travel destination, Himachal is also known as the 'Devabhoomi', the abode of the Gods.
The history of Himachal Pradesh dates back between 2250 and 1750 BCE when the foothills of the modern state were inhabited by the people of the Indus Valley civilization. After centuries, it was ruled by King Harshvardhan and was divided into several small kingdoms which were invaded by Delhi Sultanate. After many wars and battles between the kings and Britishers, The Province was made a full-fledged state in 1971.
People travelling to Himachal can still get to witness the relics of the city's rich history and culture in the form of ancient monuments, including Naina Devi Temple, Manimahesh Lake, Chamunda Devi Temple, Baijnath Temple, and Jakhoo Temple, among others. Besides, the abundance of scenic beauty and a salubrious climate make Himachal a popular destination for booking honeymoon packages.
Experience Himachal on Honeymoon
During your Himachal tour, you may bump into several destinations that are highly recommended, a plethora of activities and landscape that amazes. One aspect among all of these is the culture that the city offers. Also, Himachal is known for its handicrafts like carpets, Kullu shawls, Kangra paintings, Chamba Rumals, stoles, decorated grass footwear, silver jewellery, metalware, unwoven woollen socks, Pattoo, trade of cane and bamboo, and woodwork are among the notable ones.
Things to do in Himachal
If you are selecting cost-friendly Himachal Honeymoon packages from the available options online, make sure that these things are on your to-do list
This activity is a must in your Himachal Pradesh Honeymoon Package to-do list if you love water. Himachal is home to many rivers thanks to the water coming from the glaciers above. You can raft your boat on River Sutlej at Tattapani near Shimla, on River Ravi near Chamba, at Pirdi on River Beas near Kullu, and on Spiti River in Lahaul. Gliding in the pristine white water is an emotion that needs to be experienced.
One of the most satisfying activities in Himachal is trekking. Couples and honeymooners, make sure that this activity is included in your honeymoon package. You will explore natural and charming beauty, amazing sceneries, wildlife, forests, peaks, valleys with someone special by your side. The Indrahar Pass trek in Kangra; Chandratal trek and Beas Kund trek in Manali; Pin Parvati trek in Kullu; Triund trek at the Dhauladhar Ranges near Mcleodganj; Sach Pass trek in the Pir-Panjal ranges in the Chamba district and Kareri Lake trek in Dharamshala are some routes to trek.
Another thrilling activity is paragliding which is not for the faint-hearted. With this activity, you can surely live your dream of flying like a bird and get mesmerized by the beauty of the town thanks to your aerial view at the time. You can go paragliding in Bir Billing in Kangra district. The region has also hosted the first-ever Paragliding World Cup in India.
Live the dream of dining at the premium Hotels in Himachal that are transformed into luxury palaces that offer fine dining and living so that you can experience the heritage and vintage vibe. You can visit Shimla and Manali for such experiences.
The state is also called the Devabhoomi as many popular Hindu heritages which have been built here over time attract a large number of devotees. The pagoda-style wood-built Hadimba Devi Temple in Manali, Naina Devi Temple, Chamunda Devi Temple, and Baijnath Temple to name a few. What's more, Himachal is also known for Temple fairs. One of them is Kullu Dusshera which is nationally known. It is celebrated in October or November where no Ravana is burned; instead, they organize a Rath Yatra of Lord Raghunathji.
Best Time to Visit Himachal
Being in North India, Himachal is known to have a cold climate throughout the year. The best time to visit is in the summers when the cold climate acts as a much-needed respite. And if you love snowfalls, you can visit in November to February when the temperature is between 0 to 15 degrees Celsius. The town offers a cool climate during this time which is refreshing for the visitors. With cost-effective Himachal Pradesh Honeymoon tour packages that are available online, you can easily plan a trip there. Choose a Veena World Himachal tour package for couples for an amazing honeymoon experience. Rest assured as we'll craft the perfect Himachal Pradesh couple tour package for you!