Himachal Pradesh Honeymoon Packages
Enjoy a romantic honeymoon in the haven that is Himachal.
A place that is dubbed as a traveller's delight, Himachal is one of the most fascinating places for a honeymoon. It is rich in attractions, hill stations, wildlife sanctuaries, temples, lakes, valleys, peaks, waterfalls, and more. It is everything that compels you to look for a Honeymoon package that is exciting and memorable in the same breath.
The state is surrounded by many snow-clad mountains and waterfalls that attract a lot of tourists and couples from all over the world to spend some quality time together. Couples on their honeymoon tour to Himachal can experience natural beauty, lush green forests, and never before seen wildlife that is fascinating, to say the least. With Veena World's Himachal tour packages, you can experience the best of adventure activities, honeymoon, vacation, and more in one of India's most coveted tourist destinations. You can choose from our Himachal Pradesh honeymoon tour packages online that come with a pre-planned itinerary so that you can conveniently enjoy your vacation.
Himachal Pradesh Honeymoon Packages Travel Packages
| Himachal Pradesh Packages | Day/Night | Price |
| --- | --- | --- |
| Honeymoon Special Shimla Manali - Pune | 7 Days | ₹40,000 |
| Honeymoon Special Shimla Manali | 7 Days | ₹43,000 |
2 Himachal Pradesh Honeymoon Packages Holiday Packages
Showing 1-2 packages from 2 packages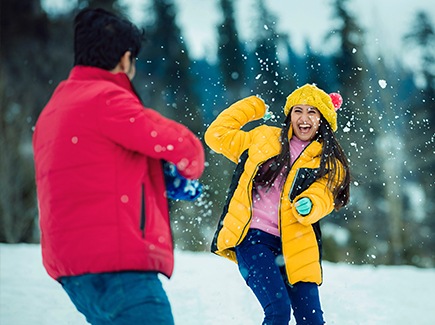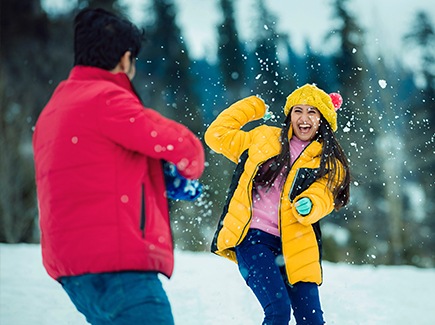 Honeymoon Special Shimla Manali - Pune
SUPER DEAL PRICE
Starts from
per person on twin sharing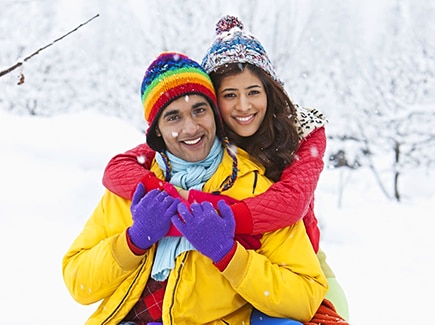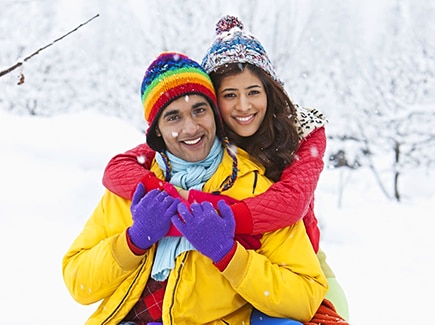 Honeymoon Special Shimla Manali
SUPER DEAL PRICE
Starts from
per person on twin sharing
Popular Himachal Pradesh City Packages
Veena World tour reviews
What are you waiting for? Chalo Bag Bharo Nikal Pado!
Honeymoon Special Shimla Manali

": Tour code HPHM070623/A .It was very nice experience. We did so much fun. We enjoyed it.👍👍👍👍 su...

Read More

Archa

Travelled in Jun, 2023

Honeymoon Special Shimla Manali

"Hi, We Mr. Sushant and Mrs. Arti Sushant Bagayatkar hereby confirm with pleasure that our tour was ...

Read More

Sushant

Travelled in Jun, 2023

Honeymoon Special Shimla Manali

"Good evening Veena world Team, Re-iterating the mail. It gives me an immense pleasure writin...

Read More

Nikhil

Travelled in Jun, 2023

Honeymoon Special Shimla Manali

"Feedback for Manali Trip June 2023 Hello Veena world, My self Mr.Kiran Ghorpade, me and my wife en...

Read More

Kiran

Travelled in Jun, 2023

Honeymoon Special Shimla Manali

"Feedback for tour HPHM250523/A : Dear Veena World Team, I have just finished my Honeymoon ...

Read More

Ameya

Travelled in May, 2023
Himachal Pradesh Honeymoon Frequently Asked Questions
We help you prepare for your trip and ensure an effortless and enjoyable travel experience.
Yes, Himachal Pradesh is one of the most popular tourist destinations in the country where newly married couples can spend quality time with each other. Veena World offers exciting honeymoon packages to Himachal Pradesh that couples can choose based on their personal preferences. Our honeymoon packages to Himachal Pradesh include the top tourist attractions that you wish to visit on your honeymoon trip. Hill stations like Shimla, Kullu and Manali, Dharamshala, Kasol, and many others, can be explored on a week-long vacation with your partner.
Himachal is one of the most popular honeymoon destinations and like all the other honeymoon destinations, a honeymoon trip to Himachal may range from budget-friendly to luxurious. However, the cost of your honeymoon trip to Himachal Pradesh will depend upon a number of factors such as the number of days you are deciding to visit, the kind of accommodation you choose, and what activities you wish to try out. To make it easier and simpler for you, Veena World has a range of honeymoon packages to Himachal Pradesh that are affordable. You can choose and book a package based on your budget. You can get in touch with our travel experts in case you wish to customize your Himachal Pradesh package.
A honeymoon package to Himachal Pradesh can be planned at any time of the year. If you wish to experience snowfall with your partner, then a honeymoon package to Himachal Pradesh should be booked during the winter season. Alternatively, couples who want to get some relief from the scorching summer heat can visit this state between April and August. You can also explore tourist destinations like Shimla, Manali, Dharamshala, Kasol, and many more during the spring season for a memorable experience with Veena World's honeymoon packages.
The simplest way to plan your visit would be to choose a Himachal package from Veena World. The travel experts at Veena World will take care of all your travel arrangements and accommodation, meals, etc. leaving you with only the option to enjoy your honeymoon. Veena World has a range of honeymoon tour packages to Himachal for couples that can also be customised based on your preferences and requirements.
Yes, Himachal Pradesh is absolutely safe for travellers. Being a popular honeymoon destination, Himachal witnesses heavy footfall throughout the year. The locals in hill stations like Shimla, Manali, Dharamshala, etc., are very helpful and hospitable, establishing a sense of security amongst the visitors. Apart from following the basic safety protocols, you may book one of our group tours for a better experience on your honeymoon in Himachal.
Himachal Pradesh is a spectacular state of India that is synonymous with mesmerising landscapes, scenic beauty, and thrilling adventure sports. Located in the western Himalayas, this state has many hill stations that are a perfect place to spend some quality time with your partner in the lap of nature. There are many adventurous activities like river rafting, ice skating, rappelling, paragliding, and many more that can be a perfect addition to make your trip more exciting. Veena World has a range of Himachal Pradesh holiday packages for couples with transparent prices. You can get in touch with our travel experts to get the best deal.
Himachal Pradesh is a wonderful place with several beautiful destinations that are highly recommended for honeymooners. The scenic beauty, breathtaking landscape and thrilling adventure sports make this place one of the most loved honeymoon destinations in India. From more popular places like Shimla, Manali, and Kasauli to hidden gems like Chail, Chamba, and Tirthan Valley, you have an endless list of options to choose from. Book your Himachal Pradesh honeymoon package with Veena World to explore this beautiful destination to the fullest. We provide the best deals at affordable prices for a hassle-free and memorable holidaying experience.
Yes, we do provide customized holidays for Himachal Pradesh. In this, you can choose every aspect of the trip according to your budget, timing, and travel plans. You can choose from a wide range of options for accommodation, sightseeing places and activities for your everyday itinerary. Our customized holidays are designed in a manner so that you can make the most of your first trip together.
Planning a honeymoon in Himachal Pradesh, India is always a great idea. You can reach out to us for detailed pricing and package information.
At Veena World, we have some of the best Himachal Pradesh honeymoon packages that range from 6 to 8 days, and can also be customised as per your travel preferences. These packages are quite well-priced. We also offer group tours where a tour manager is available 24/7 for your assistance. Further, our holiday packages cover every aspect of your trip, making it a memorable experience. In fact, we have a plethora of options for honeymooners, like the Iconic Himachal package, Romantic Manali, and more. With Veena World, you are assured of a hassle-free and comfortable travel experience.
Himachal Pradesh is a very popular destination among tourists in India. As a result, there are numerous accommodation options in all the hill stations of this majestic state. That means you can find accommodation in every price range and choose according to your budget. Opt for Hotel Dalhousie Heights in Dalhousie, GK CONIFER in Dharamshala, Whistling Pines in Manali, Hotel Asia The Dawn in Shimla, The Chateau Garli in Pragpur, and many more.
At Veena World, we provide several accommodation options in our Himachal Pradesh travel packages. Book your Himachal Pradesh honeymoon trip package to get the best accommodation, sightseeing options, and much more.
Get to know more about Himachal Pradesh before booking your honeymoon packages
Himachal Pradesh is a state in northern India that's set in the Western Himalayas. It is characterized by an extreme landscape that includes many peaks and in-depth watercourse systems. The state shares a world border to the east with the Tibet Autonomous Region in China. Apart from being quite a popular travel destination, Himachal is also known as the 'Devabhoomi', the abode of the Gods.
The history of Himachal Pradesh dates back between 2250 and 1750 BCE when the foothills of the modern state were inhabited by the people of the Indus Valley civilization. After centuries, it was ruled by King Harshvardhan and was divided into several small kingdoms which were invaded by Delhi Sultanate. After many wars and battles between the kings and Britishers, The Province was made a full-fledged state in 1971.
People travelling to Himachal can still get to witness the relics of the city's rich history and culture in the form of ancient monuments, including Naina Devi Temple, Manimahesh Lake, Chamunda Devi Temple, Baijnath Temple, and Jakhoo Temple, among others. Besides, the abundance of scenic beauty and a salubrious climate make Himachal a popular destination for booking honeymoon packages.
Experience Himachal on Honeymoon
During your Himachal tour, you may bump into several destinations that are highly recommended, a plethora of activities and landscape that amazes. One aspect among all of these is the culture that the city offers. Also, Himachal is known for its handicrafts like carpets, Kullu shawls, Kangra paintings, Chamba Rumals, stoles, decorated grass footwear, silver jewellery, metalware, unwoven woollen socks, Pattoo, trade of cane and bamboo, and woodwork are among the notable ones.
Things to do in Himachal
If you are selecting cost-friendly Himachal Honeymoon packages from the available options online, make sure that these things are on your to-do list
This activity is a must in your Himachal Pradesh Honeymoon Package to-do list if you love water. Himachal is home to many rivers thanks to the water coming from the glaciers above. You can raft your boat on River Sutlej at Tattapani near Shimla, on River Ravi near Chamba, at Pirdi on River Beas near Kullu, and on Spiti River in Lahaul. Gliding in the pristine white water is an emotion that needs to be experienced.
One of the most satisfying activities in Himachal is trekking. Couples and honeymooners, make sure that this activity is included in your honeymoon package. You will explore natural and charming beauty, amazing sceneries, wildlife, forests, peaks, valleys with someone special by your side. The Indrahar Pass trek in Kangra; Chandratal trek and Beas Kund trek in Manali; Pin Parvati trek in Kullu; Triund trek at the Dhauladhar Ranges near Mcleodganj; Sach Pass trek in the Pir-Panjal ranges in the Chamba district and Kareri Lake trek in Dharamshala are some routes to trek.
Another thrilling activity is paragliding which is not for the faint-hearted. With this activity, you can surely live your dream of flying like a bird and get mesmerized by the beauty of the town thanks to your aerial view at the time. You can go paragliding in Bir Billing in Kangra district. The region has also hosted the first-ever Paragliding World Cup in India.
Live the dream of dining at the premium Hotels in Himachal that are transformed into luxury palaces that offer fine dining and living so that you can experience the heritage and vintage vibe. You can visit Shimla and Manali for such experiences.
The state is also called the Devabhoomi as many popular Hindu heritages which have been built here over time attract a large number of devotees. The pagoda-style wood-built Hadimba Devi Temple in Manali, Naina Devi Temple, Chamunda Devi Temple, and Baijnath Temple to name a few. What's more, Himachal is also known for Temple fairs. One of them is Kullu Dusshera which is nationally known. It is celebrated in October or November where no Ravana is burned; instead, they organize a Rath Yatra of Lord Raghunathji.
Best Time to Visit Himachal
Being in North India, Himachal is known to have a cold climate throughout the year. The best time to visit is in the summers when the cold climate acts as a much-needed respite. And if you love snowfalls, you can visit in November to February when the temperature is between 0 to 15 degrees Celsius. The town offers a cool climate during this time which is refreshing for the visitors. With cost-effective Himachal Pradesh Honeymoon tour packages that are available online, you can easily plan a trip there. Choose a Veena World Himachal tour package for couples for an amazing honeymoon experience. Rest assured as we'll craft the perfect Himachal Pradesh couple tour package for you!