Wildlife Safari Tour Packages
Being as diverse as it is, India is richly endowed with a variety of wildlife, flora, and fauna. Let's get that backpack ready for the wildest wildlife tours from India.
Not everyone wants to tread the beaten path, some would much rather spend their time amidst nature and experience its stunning beauty. Getting up close and personal with nature and its bounty leaves us rejuvenated and fills us with positivity and optimism. To experience the wilderness, one doesn't have to look far as each state and region in India has its unique wildlife species, vegetation, and landscapes. Whether it is the Kaziranga National Park in Assam, Jim Corbett National Park in Uttarakhand or be it any other national park or sanctuary, Veena World's bespoke online wildlife tours can allow you to explore the vast wildlife to the fullest.
The variety of adrenaline-pumping activities in your comprehensive wildlife tour package in India can make your wildlife tours adventurous. At Veena World, we design the best wildlife tours in India, turning your wildlife tours a complete package of fun and adventure.
You can conveniently check for the various wildlife tour packages in India online and opt for the one that matches your cost preferences. So, get, set, go!
Wildlife Safari Travel Packages
| Wildlife Safari Packages | Day/Night | Price |
| --- | --- | --- |
| Assam Meghalaya | 8 Days | ₹57,000 |
| Gir with The Postcard | 4 Days | ₹64,000 |
| Reni Pani Jungle Lodge | 4 Days | ₹85,000 |
3 Wildlife Safari Holiday Packages
Showing 1-3 packages from 3 packages
CUSTOMIZED HOLIDAYS
SHNE15
Starts from
per person on twin sharing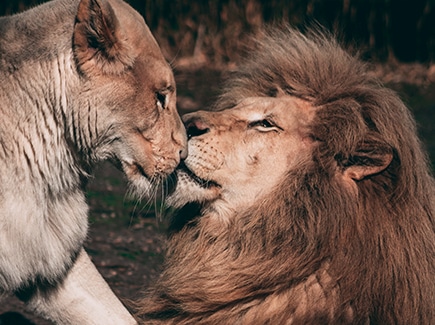 Starts from
per person on twin sharing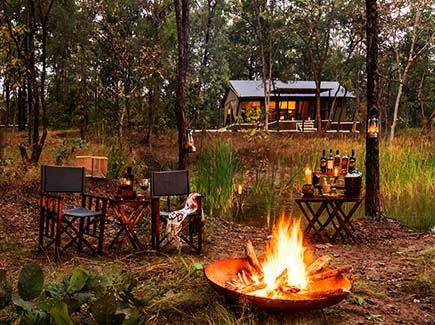 Starts from
per person on twin sharing
Get to know more about Wildlife Safaris before booking your tour packages
Wildlife enthusiasts do not need a reason to plan a wildlife getaway or book wildlife tours to de-stress or to simply get away from a hectic life. Whether you wish to witness the majestic Royal Bengal Tigers walk past you, the one-horned rhino grazing lazily, ferocious crocodiles hunting for prey, pretty migratory birds perched on trees or Asiatic lions moving about with their pride, Veena World's wildlife tour packages in India promises you the best forest tour in India. If you are in the mood for nature trips, Veena World is one of the best wildlife tour operators in India.
Experience Wildlife
The wildlife, flora, and fauna found in India are unique to each region. The animals and birds you will find in one place will differ from the others. India is home to over 800000 kinds of animals, some of which are among the largest creatures on earth. The way a wildlife enthusiast likes to explore wilderness would depend from person to person. Keeping that in mind, wildlife adventure tours in India organized by Veena World, lets you take your pick from luxurious resorts, jungle resorts, eco-camps and budget hotels and guest houses. We take the utmost care in curating wildlife holiday packages to ensure your experience is a thoroughly enjoyable one. So, if you are planning your wildlife holidays in India, you can consider checking out our well-crafted wildlife tours in India that are bound to provide you with an amazing experience.
Things to do on a Wildlife Tour
As soon as you decide to embark upon a thrilling and adventurous vacation, you might want to have a look at the following options to plan your wildlife holidays in India.
Jim Corbett National Park: Jim Corbett National Park in Uttarakhand is situated at the foothills of majestic mountains and stunning landscapes. It was earlier known as Hailey National Park and is a Project Tiger Reserve and the first Project Tiger was launched here in 1973. Sprawling over an area of 520 sq. km., this national park is home to more than 650 endangered species of birds and animals. The park has swampy marshes, lakes, expansive grasslands, and much more to explore. Sal trees are the most common species of trees found here and cover almost 75% of the park. In addition to these, there are over 600 varieties of plants, making it a green paradise. The beauty of Jim Corbett National Park can be experienced through Elephant Safari, Jeep Safari or Canter Safari. Although the park timings are from 06:30 hours to 17:30 hours, safaris are allowed 06:30 hours to 09:30 hours and 13:30 hours to 17:30 hours. To explore the beauty of this national park, you can consider checking out wildlife holiday packages from Veena World.
Summers are quite hot and there's heavy rainfall during monsoons. The best time to visit the park is mid-November to mid-June to experience one of the best wildlife tours in India through the best wildlife tour operators in India – Veena World.
Kaziranga National Park: Located in the picturesque state of Assam, Kaziranga National Park is famed for its one-horned rhinos. This national park adorns the banks of the mighty Brahmaputra River and situated between the districts of Golaghat and Nagaon. This park covers an area of 430 sq. kms. and is the home to two-thirds of one-horned rhinoceroses of the world. It has been declared as a UNESCO World Heritage Site and was also declared a tiger reserve in 2006.
Kaziranga National Park is characterized by flora and fauna indigenous to the region such as tall elephant grass. Not only rhinos, but this park also has the highest numbers of tigers in the world. Apart from an abundance of elephants, wild Asiatic water buffaloes and swamp deer species, creatures such as Fishing Cat, Leopards and Jungle Cat, Small Indian Mongoose, Gray Mongoose, Hispid Hare, Golden Jackal, Bengal Fox, Sloth Bear, Civets, Chinese Pangolin and Indian Pangolins are also found here.
This park is best enjoyed either on an Elephant Safari (morning from 05:30 Hrs to 07:30 Hrs or 3:00 p.m. Hrs to 16:00 Hrs) or a Jeep Safari (morning from 07:00 Hrs to 09:30 Hrs or from 1:30 p.m. Hrs to 15:30 Hrs). Apart from the wildlife and wilderness, the areas around the park offer stunning views to its visitors and make for great wildlife tours around the area.
So, when you research for planning your wildlife holidays in India, do check whether the tour package has this destination or not.
Bandhavgarh National Park: This national park, known for its rich flora and fauna, covers an area of 450 sq. kms. in the Umaria district of Madhya Pradesh. Bandhavgarh National Park is famed for its white tigers in addition to 250 species of birds and 22 different species of mammals. This park is divided into three major zones – Tala, Bamera and Magdi, and among these, Tala offers more opportunities to spot a tiger than the other two. The ideal time to explore this national park is springtime which lasts from January to March. As most packages for wildlife tours in India do include this national park, make sure you have this national park included in your package.
Ranthambore National Park: Ranthambore National Park is one of the biggest national parks in northern India and is located in the Sawai Madhopur district of southeastern Rajasthan, which is about 130 kms from Jaipur. This national park is a magnet for wildlife enthusiasts and wildlife photographers alike for its spectacular terrain and wildlife. The park is sprawled over 500 sq. kms. and got the status of a national park in 1981. It is renowned to have the most tiger spotting opportunities in India and is best explored on a Jeep or Canter Safari. Safaris are conducted twice a day and the timings depend upon the time of the year. Ranthambore National Park has a little bit of every possible terrain-hilly slopes, meadows, and plateaus. If you are planning for a Ranthambore sojourn as part of our wildlife tour packages in India, October to April is the best time to visit.
Sunderbans: Occupying the vast Gangetic delta, this UNESCO World Heritage Site is home to flourishing mangrove forests and is part of Veena World's wildlife tour packages and wildlife holidays in India. The area is home to the Royal Bengal tiger, plus other endangered species such as the estuarine crocodiles and Ganges River dolphins. This rich biosphere stretches from River Hooghly in West Bengal, India, all the way to River Baleswar in Bangladesh. The unique thing about the Sunderbans is that the mangrove trees are submerged during high tides and visible during low tides. The Sunderban National Park is home to 78 different species of mangrove trees and 64 plant varieties. Most visitors throng Sunderbans hoping to catch the glimpse of the Royal Bengal Tiger. Apart from this majestic animal, fishing cats, macaques, leopard cats, Indian grey mongoose, wild boar, flying fox, pangolin, Chital deer, and rhesus monkeys are found here. In addition, there are many marine creatures as well which are found in this area. Pakhiralay, Dayapur, Bali, and Sajnekhali are some of the villages that are nearby and attract tourists by showing them a glimpse of the village life. Boat Safaris are the only way to explore this vast national park and are conducted from 8.30 am to 4 pm. The winter months of September to March are the best time to visit this gorgeous expanse of nature through various nature trips here. Make sure you include this national park to have one of the best wildlife tours in India.
Gir National Park: No discussion regarding wildlife adventure tours in India is complete without taking into account Gir National Park. Apart from Africa, Gir is the only place in the world where lions roam carefree in the wild. It is located in the Junagarh district of Gujarat and covers a mind-boggling 1412 sq. kms. The dry and deciduous vegetation of the park is ideal for the lions' habitat. Apart from the Asiatic lions, Gir is home to many species of deer, jackals, striped hyenas, and Indian fox. Minibus safaris take tourists around to help people explore the wildlife in a short period. The ideal time to visit Gir is from December to March and that is when most wildlife tours as a part of wildlife tour packages are conducted. The park is closed from 16th June to 15th October every year.