Auli Honeymoon Packages
A beautiful ski destination situated in the mountains of Uttarakhand, Auli provides picturesque slopes and meadows flanked by dense vegetation for a secluded yet romantic getaway.
Auli is one of India's most popular ski destinations which is located in the Garhwal region of the Indian state, Uttarakhand. Besides an admired tourist destination and thrill-seeker's magnet, Auli is also known as a calm and soothing honeymoon destination where you can spend time with your loved one, enjoying the beauty of nature. This quaint little town looks like a page from the fairy tale with thick blankets of snow, dense forests and unobstructed views of Nanda Devi and Nar Parvat mountains in the background. Take one of our Auli honeymoon packages and explore its serene charm and get enchanted.
Auli honeymoon tours consist of treks and camping at scenic locations in and around Auli, including its artificial lake, which is one of the world's highest man-made lakes. Auli's weather conditions attract tourists the most with cool winds that offer serenity and peace. It seems like a small European village, with snow-covered peaks and wooden huts, perfect for spending some quality time with your loved one and an Auli honeymoon package is the best gift that you can share with him/her. Veena World offers amazing Auli tour package for couples that are customizable and that allow tourists to enjoy everything that this beautiful place has to offer. Witness the best that Auli has to offer with us and enjoy its most popular activities and must-see attractions with the company of your partner.
Packages Coming Soon!
Currently, there are no package(s) found matching your holiday request.
Please try exploring our other available options by checking out trending destinations. Our dedicated Travel Experts are on hand to offer you an expert guidance and support throughout the entirety of your trip.
Reach out to us 1800 22 7979 or drop an Email at travel@veenaworld.com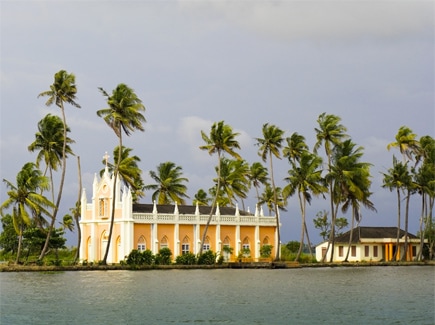 SUPER DEAL PRICE
Starts from
per person on twin sharing
Trending Indian Customized Tours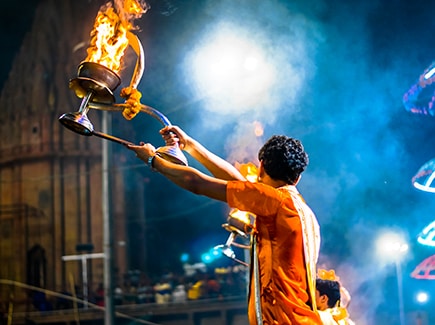 Starts from
per person on twin sharing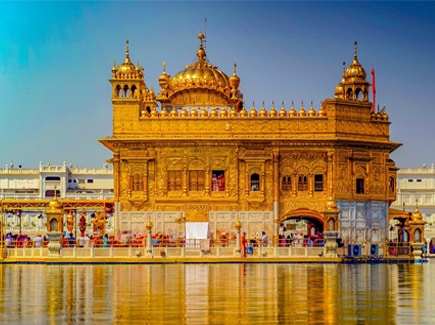 Starts from
per person on twin sharing
Get to know more about Auli before booking your honeymoon packages
Dotted with lines of apple, pine and oak trees, Auli offers spellbound views of nature along with some fun-filled exciting activities. Its smooth slopes, clean environment, and snow-draped mountains make for a great skiing destination. It is home to the mountain ranges of Nanda Devi, Mana Parvat and Kamat Kamet, and many religious destinations, and was the former training ground of the Indo-Tibetan Police Force. Auli is located at a height of approximately 2800 meters and offers a thrilling winter experience. It is believed to have been blessed by the great Guru Adi Shankaracharya's existence, an old temple built by him still stands at Joshimath. Auli had also been home to the colourful tribes of Bhotiyas, of the Mongolian stock, who traversed the trails at Auli with their goods-laden yaks for trading purposes. Known as the Ski capital of India today, Auli has everything any tourist comes looking for during a relaxing holiday. Auli packages for couples are a popular choice among newlyweds looking for an escape from the hustle-bustle of city life. Offering stunning views and breath-taking trails, colourful local culture and away from the city chaos, our Auli honeymoon tour packages promise the experience of a lifetime.
Things to do in Auli
Trekking the Himalayan peaks covered with snow, the dense vegetation, pastures, and meadows make this magical land bustle with nature lovers and adventure seekers. Of all the activities to do on your Auli honeymoon package, skiing and ropeway are the most popular for their thrill, adventure, and fun factor. Other activities are also common, like nature walks, birding tours, and camping, ensuring that there something for everyone to do in Auli.
The town's only man-made lake is a must-visit spot on your Auli honeymoon trip. With the tall Himalayas in its backdrop, popular peaks of Nada Devi Hill glancing at you and truly breath-taking views of sharp mountains, criss-crossed with golden sunlight appears mesmerizing. It makes for a serene and calm atmosphere that is also accompanied by a skiing track. Also, one of the world's highest man-made lakes, this lake provides a peaceful place to spend time with your partner to celebrate a romantic evening. The lake can be accessed through cable cars from Joshimath, which provide a seamless view of the town of Auli and should be definitely included in your Auli itinerary.
The most sought-after activity in Auli is by far skiing. Tourists can take full advantage of the picturesque slopes and meadows of Auli that make for the perfect skiing destination where skiers have clean stretches of 10-20 km of snow-covered mountain slopes, and a decent of 500 m from the ridge over a stretch of 3 km. In the months of February and March, Auli often hosts the National Winter Games. On your Auli honeymoon, you can also enroll in several ski camps that are run by professionals, depending on your cost preferences, and enjoy the thrill.
Any Auli couple package is incomplete without a romantic, breezy cable car ride with spectacular views of the valleys below. Similarly, skiing cannot be missed out on a trip to Auli and if you are planning to ski, you can take the cable car to reach the top of the mountain. The views visible from the cable car are extraordinary witnessing snow covered mountains, slopes, and valleys, proving its worth. The highest and the longest ropeway in India after the one at Gulmarg in Jammu and Kashmir, Auli's cable car covers an approximate distance of 4km and presents travellers with awe-inspiring views of the snowy valleys below and of the skiing competitions that are organized by the government's tourism department.
The 23rd largest peak in the world and the second-largest in India with a height of 7,816 meters, Nanda Devi peak is a popular trekking destination in India. It provides a 360-degree view of its beautiful surroundings and hosts numerous trekkers from across the globe. It is also a mythical religious spot and attracts countless devotees. Visit Nanda Peak on your Auli honeymoon trip and get blessings for starting a wonderful journey with your partner.
Considered one of the best tourist attractions in Auli, Trishul Peak provides a 270-degree view of snow-clad hills surrounding it. Nanda Devi can also be seen here with its majestic beauty as well as a picturesque view of the town Auli.
Joshimath is a famous town located near Auli that is famous as a pilgrimage destination in the country. Numerous pilgrims flock to this small town during the months of May till October for their journey to Badrinath and Hem Kund. Joshimath is also the base camp and starting point for the famous Valley of Flowers Trek and Kuari Pass Trek. Just a cable car ride away from Auli, we definitely recommend you visit Joshimath during your Auli honeymoon tour.
Trekking is another good option for tourists looking for some thrill. There are numerous trekking routes that differ in lengths and commence from Auli and offer challenging experiences intertwined with pleasant green meadows. Trekking and hiking is also a great way to explore Auli and its local heritage, sites, and culture while staying close to nature. You can check out the local villages, visit popular places and talk to the locals, breathing in the fresh Auli air.
Best Time to Visit Auli
Auli can be visited all through the year. The months from May to November offer a cool and pleasant climate to the tourists. It is just the right weather condition to relax and chill out with family or friends on a vacation amidst the beautiful surroundings. The primary attraction for tourists skiing and the best time for it is during the months of November to March. Winters (November to February) are chilly and can be slightly harsh with an average temperature of 4°C and minimum touching well below 0°C on some days. Snowfall is very common during winters and is one of the main attractions.
Summers (March to June) are pleasant with a moderate climate of around 15°C. Summers are ideal for sightseeing and for visiting nearby attractions. Monsoons (July to October) get scanty rains with a further dip in the temperature and a very different aura for the place. The month of November offers a cold climate to the visitors and is ideal for honeymoon couples. There are several Auli honeymoon tour packages available with Veena World that you can avail of on your next trip to Auli.
Other Kashmir Honeymoon details
Finding an ideal accommodation can be tricky in Auli because of its high altitude and remote location. With our Auli trip packages for couples, we offer a range of comfortable accommodations that will make your stay as relaxing as possible.
Auli honeymoon package price ranges from low to medium depending on the number of days you wish to spend here. Enjoy a scenic, peaceful vacation that is different from the usual hill destinations to make your honeymoon extra special. You can compare the price of our Auli honeymoon packages and get the best deal on your next trip.