Europe is always a great idea! A fairytale land complete with stunning landscapes & breath-taking natural bounty, this continent is on the bucket-list of many. Visit the remarkable countries of Spain Portugal Morocco & take a step towards making your European dream come true, with this tour.
Package Includes
Hotels
Flights*
Transport
All Meals
Sightseeing
Visa
*Except for joining and leaving option, airfare is included for all departure city options.
Day 1Barcelona
Day 2Barcelona
Day 3BarcelonaBarcelona > Madrid
Day 4MadridMadrid > Toledo > Madrid
Day 5MadridMadrid > Porto
Day 6PortoPorto > Fátima > Sintra > Lisbon
Day 7LisbonLisbon > Seville
Day 8Seville
Day 9SevilleSeville > Marbella > Costa Del Sol > Algeciras > Tangier
Day 10TangierTangier > Chefchaouen > Fes
Day 11FesFes > Rabat > Casablanca
Day 12CasablancaCasablanca > Marrakesh > Casablanca
Day 1Barcelona
'Mumbai to Mumbai Tour' guests will report at Chhatrapati Shivaji International Airport, Mumbai as per the scheduled flight departure time and proceed to Barcelona – the cosmopolitan capital of Spain's Catalonia region, is known for its art, architecture and FC Barcelona football club. Upon arrival in the afternoon, Veena World Tour Manager will guide all guests for airport formalities and proceed to the city.
Today we visit Barcelona L'Aquàrium - world's most important marine leisure and education centre dedicated to Mediterranean undersea life. It is home to 11,000 animals from some 450 different species. Later we take a stroll around Barcelona beach front and admire the pleasant waterfront.
Day 2Barcelona
Today we explore Barcelona city, we see the 1992 Olympic stadium, Colourful La Ramblas - the most famous street in Barcelona, Statue of Christopher Columbus. Later we visit UNESCO World Heritage site Sagrada Familia Cathedral - Antoni Gaudí's unfinished masterpiece, expected to be completed in 2026 after almost 142 years of construction. Then we take a cable car ride to Montjuic hill which gives us a panoramic views of the entire Barcelona city and the Tibidado hill.
Breakfast, Lunch & Dinner
Ice Cream at Colorful La - Ramblas
Day 3
Barcelona
Barcelona > Madrid
Barcelona – Madrid (2 Nights)
Today we proceed to Madrid by High speed train. Madrid – the capital and the most populous city of Spain also the third-largest city in the European Union. Upon arrival we visit Prado Museum - the main Spanish national art museum which houses the world's richest and most comprehensive collection of Spanish paintings.
Breakfast, Lunch & Dinner
Tea/Coffee during Barcelona to Madrid Journey
Day 4
Madrid
Madrid > Toledo > Madrid
Today we explore Madrid city, we see Plaza de Espana - one of Madrid's largest square, Sabatini Gardens – a neoclassical-style royal palace gardens, Cervantes Statue – the monument dedicated to Miguel de Cervantes, the Spanish novelist, poet and play writer, Cibeles fountain – a famous landmark which depicts Cybele the Great Mother of the Gods and Roman Goddess of fertility, Parliament and Puerto del Sol – a bustling public square. Then we visit The Royal Palace - official residence of the Spanish royal family with its 3418 rooms, it is the largest functioning royal palace in Europe, here we see Lavish Interior Décor, paintings, sculptures, Royal Armoury and the Grand Staircase. In the afternoon, we proceed to Toledo – a UNESCO World Heritage Site and the former Spanish capital. This city is known for its unique mixture of three cultures - Judaic, Christian and Islamic. Upon arrival, we visit the city's most famous monument Santa Maria la Blanca Synagogue - the oldest 12th century synagogue, followed by visit to medieval era Sword factory - Toledo became a center of traditional sword-making and Toledo swords became the standard weaponry among the Romans because of the flexiblility of the steel.
Breakfast, Lunch & Dinner
Tea/ Coffee during Madrid City tour
Day 5
Madrid
Madrid > Porto
Today we proceed to Porto - a coastal city in northwest Portugal known for its stately bridges and port wine production. Upon arrival we explore Porto city, we see Dom Luís I Bridge - a double-deck metal arch bridge that spans the River Douro, Clérigos Church - a Baroque church, known for its tower which was the tallest building in the country when it was completed, Carmo church – a baroque church, well-known for its tiled side façade. Later we take a stroll on praça da ribeira – the riverfront square of Porto.
Breakfast, Lunch & Dinner
Day 6
Porto
Porto > Fátima > Sintra > Lisbon
Porto – Fatema – Sintra – Lisbon (1 Night)
Today we proceed to Fatima - a small town, that's home to the Sanctuary of Fátima, a Catholic pilgrimage site. Upon arrival we visit Shrine of Fatima- one of the most important catholic shrines in the world dedicated to the Virgin Mary. Here we see Basilica of our Lady, House of Lucia and the Parish Church. Later we proceed to Sintra - a delightful Portuguese fairy-tale town, famed for its picturesqueness and for its numerous historic palaces and castles. Upon arrival we visit Pena Palace - a UNESCO World Heritage Site, it is a 19th century Romanticist castle. Later we explore Sintra city, we see St. Martinho Church - Catholic church in Sintra, City Hall, Modern Art Museum - The museum displays modern and contemporary art of the 20th century by European and American artists. Further we proceed to Lisbon- capital of Portugal, is known as the town of the seven hills capital of Portugal. Lisbon is situated at the point where the Tagus River estuary meets the Atlantic Ocean.
Breakfast, Lunch & Dinner
Tea/Coffee during Fatima to Lisbon journey
Day 7
Lisbon
Lisbon > Seville
Lisbon – Seville (2 Nights)
Today we explore Lisbon city, we see Monument to the discoveries - an enormous monolith that leans over the River Tagus to resemble the prow of a caravel, the type of ship commanded by the Portuguese navigators in the 15th century to chart unexplored oceans and discover new lands. This stunning monument was designed to commemorate the Age of Discoveries in Portugal, Jeronimo's Monastery - a UNESCO World Heritage Site, it was built to commemorate the return of Vasco da Gama from India, Belem Tower – a UNESCO World Heritage Site, also known as the Tower of St. Vincent. The imposing tower was used to defend the city from invaders, Alfama Quarter - Lisbon's oldest quarter, it is the best place to discover the Portuguese culture, St. George's Castle - a historic castle, stands atop an exceptionally scenic hill, overlooking the gentle waters of the Tagus River and the charming city below. Later we proceed to Seville – the capital of southern Spain's Andalusia region, also known worldwide for its culture, traditions, artistic heritage and flamenco dancing.
Breakfast, Lunch & Dinner
Soft drink during Lisbon to Seville journey
Day 8Seville
Today we explore Seville city, we visit Cathedral de Seville – massive gothic cathedral, a UNESCO World Heritage Site with the Tomb of Christopher Columbus, Moorish Giralda Tower - the bell tower of Seville Cathedral, The Alcazar of Seville - a royal palace and a UNESCO World Heritage site. Later we take a photo stop at Santa Cruz Quarter - the former Jewish quarter of the medieval city followed by a visit to the ultramodern expo 92' site to view a small scale model of 'Victoria' - the first vessel to circumnavigate the globe. We then visit Metropol Parasol - sculptural wooden structure with six parasols in the form of giant mushrooms houses an archaeological museum, rooftop walkway & viewpoint. In the evening, we enjoy the Flamenco Show with dinner.
Breakfast, Lunch & Dinner
Day 9
Seville
Seville > Marbella > Costa Del Sol > Algeciras > Tangier
Seville – Marbella – Costa Del Sol – Algeciras – Tangier (1 Night)
Today we proceed to Marbella- a city and resort area on southern Spain's Costa del Sol. Here we walk through Old Town - the oldest part of Marbella, Avenida del Mar - a modern urban square and is adorned with fountains, pergolas, and a collection of sculptures by Salvador Dalí, Puerto Banus - a marina located in the area of Nueva Andalucía, to the southwest of Marbella. We then proceed to worlds renowned tourist destination Costa del Sol – the southern coast of Spain known for its Mediterranean old town, inland national parks and beautiful beach resorts. Further we proceed to Algeciras port- one of the largest port city in world and the largest urban area on the Bay of Gibraltar, from here we embark on a ferry towards Tangier - a Moroccan port on the Strait of Gibraltar, has been a strategic gateway between Africa and Europe since Phoenician times.
Breakfast, Lunch & Dinner
Day 10
Tangier
Tangier > Chefchaouen > Fes
Tangier – Chefchaouen – Fes (1 Night)
Today we see Cap Spartan - where the Atlantic meets the Mediterranean Sea. Later we walk through the lively Medina and Kasbah of Tangier - a former sultan's palace that now houses the museum. Then we proceed to Chefchaouen - Morocco's blue city. Upon arrival we walk through the magnificent town of Chefchaouen with its narrow streets and blue walls, Kasbah from where we see the beautiful view of the mountains and its main square - Outa Hammam. In the evening we drive towards Fes - the oldest of Morocco's imperial cities and has served as the country's capital no fewer than three times throughout its history.
Breakfast, Lunch & Dinner
Tea or Coffee during Chefchaouen Tour.
Day 11
Fes
Fes > Rabat > Casablanca
Fes – Rabat – Casablanca (2 Nights)
Today we visit medieval Fez Medina - a UNESCO World Heritage Site. Here we see Al Attarine Madrasa - this madrasa was once an important center for learning and spirituality, Bou Inania Medersas - Until the 1960s, this was still a functioning theological school and is famous for its green-tiled minaret, Nejjarine fountain – this 18th century fountain features elaborate zellige tilework and lace-like carved stucco, Moulay Idriss mausoleum - an important pilgrimage site, Karaouine mosque - founded in 859 by Fatima Al-Fihri, the daughter of Mohammed Al-Fihri who was a wealthy merchant at the time. Successive dynasties expanded this mosque until it became the largest in Africa. Later we proceed to Rabat - capital of Morocco. It is known for landmarks that speak to its Islamic and French-colonial heritage. Upon arrival we explore Rabat city, we see Royal Mosque, Hussan Tower - the minaret of an incomplete mosque in Rabat, Mausoleum of Mohammed V - a masterpiece of modern Alaouite dynasty architecture, is the final resting place of three significant members of the royal family and a photo stop at Royal Palace - serves as the residence of Moroccan royalty, followed by a visit to the 12th-century Kasbah of the Udayas - the city's oldest quarter, which was built during the Almohad dynasty. In the evening we proceed to Casablanca.
Breakfast, Lunch & Dinner
Tea or Coffee during Rabat City Tour.
Day 12
Casablanca
Casablanca > Marrakesh > Casablanca
Casablanca – Marrakesh – Casablanca
Today we see Royal Palace Gate - The tiled and carved entrance gates of Royal Palace of Casablanca, Corniche - beachfront district of Casablanca, Habous Quarters - an area of the city built in 1930s by the French, so it is no surprise that it features a wonderful mix of French and Moroccan inspired architecture. Later we visit Hassan II mosque - the second largest mosque in the world. Further we proceed to Marrakesh - a former imperial city that sums up all of Morocco's exotic North African charm. Upon arrival we explore Marrakesh city, we see Jemaa El Fnaa square - a square and market place in Marrakesh's medina quarter, Koutoubia Minaret - this 12th-century 75m-high tower was the prototype for the Giralda in Seville, Spain. Later we take a stroll through the Medina – the narrow alleyways are a kaleidoscope of colours, scents, and sounds. As well as simply wandering amid the bustling maze, there are myriad shopping opportunities.
Breakfast, Lunch & Dinner
Soft drink during Casablanca City Tour
Day 13
It's time now to say goodbye!
Let's stay in touch with each other through email, phone, WhatsApp, Facebook, Instagram and meet again on yet another memorable tour. See you all!!
Mumbai to Mumbai Tour guests will proceed to Casablanca Airport as per the morning scheduled group flight departure time and start their return journey back home.
Tour Concludes.

Please Note:
All guests must follow the prevailing mandatory requirements for travel, such as RT-PCR tests (Departure & Arrival), web check-in, self-declaration etc. as per the airline/state/country. Any cost incurred for such requirements should be borne by the guests.
For transfers and sightseeing we will use mini coaches or big coaches or small vans depending on the respective tour group size. If you wish to have separate vehicle solely for yourself or your family, it can be arranged at an additional cost subject to availability.
Given the current dynamic situation, tour departure date may change. Some monuments or sightseeing places may be closed temporarily without any prior notice; in such cases every attempt will be made to visit an alternate sightseeing if possible.
Detailed Tour Price
Single Occupancy
₹3,61,000
Child (2 - 11) With Mattress
₹2,18,000
Child (2 - 11) Without Mattress
₹1,90,000
NOTES :
Above mentioned tour prices are Per Person for Indian Nationals only.
5% GST is applicable on given tour price.
TCS (5% or 10%) is applicable on GST inclusive price for international tour.
Terms and Conditions apply.
Upgrades Available
Add some more days of happiness to your tour with our Post Tour Holiday Packages. Check out tours below.
Need to upgrade to business or first class? Please get in touch with our team on 1800 22 7979 for more details.
You can select the prime seat(s) in your coach at an additional cost. Please get in touch with our team on 1800 22 7979 for more details.
Departure & Arrival
Airlines
Mumbai17 May | 00:50 AM
08:30
Munich17 May | 05:50 AM
LUFTHANSA
Munich17 May | 09:00 AM
Barcelona17 May | 11:00 AM
LUFTHANSA
CASABLANCA30 May | 01:15 AM
FRANKFURT30 May | 06:40 AM
LUFTHANSA
FRANKFURT30 May | 13:30 PM
08h 00m
Mumbai31 May | 01:00 AM
LUFTHANSA
City - Country
Hotel
Check In - Check Out
Barcelona - Spain
B&B Hotel Barcelona Rubí/ Hotel FrontAir Congress Barcel/ Gran Hotel Verdi/or similar
17 May - 19 May
Madrid - Spain
Hotel NH Leganés/ Holiday Inn Express Madrid - A/ Hotel ibis Styles Madrid/or similar
19 May - 21 May
Seville - Spain
Nh Collection Sevilla/ Hotel Ilunion Alcora Sevilla/ AC Hotel by Marriott Sevilla F/or similar
23 May - 25 May
Guest Type
Reporting Point
Dropping Point
Scheduled Tour Guests
Chhatrapati Shivaji International Airport Mumbai
Chhatrapati Shivaji International Airport Mumbai
Joining & Leaving Guests
Barcelona Hotel, Barcelona Airport
Casablanca Airport or Marrakesh Hotel
Tour Information
To and fro economy class air travel for 'Mumbai to Mumbai Tour' guests as mentioned in the itinerary
Airfare, Airport taxes and Visa Fees
Baggage Allowance as per the airline policy
Tour Manager Services throughout the tour
Travel by comfortable A/C coach as per the tour itinerary
Entrance fees of all sightseeing places to be visited from inside
Accommodation in comfortable and convenient hotels on twin sharing basis
All Meals – Breakfast, Lunch, Dinner (set menu) as mentioned in the itinerary
All Tips – Guide, Driver & Restaurants
Cost of internal airfare as mentioned in the itinerary
Complimentary insurance up to 59 years of age
Weather
Transport
Air Travel:
Mumbai - Barcelona // Casablanca - Mumbai. We use combination of Airlines like Turkish Airline/ Qatar Airways etc.
Coach Tavel
A/C coach - Seating capacity depends upon group size
Documents Required for Travel
Original passport with minimum 6 months validity from the date of tour arrival along with sufficient blank pages for the stamping of visa
A valid Tourist Visa for the duration of the tour
For all Schengen countries passport validity should not exceed more than 10 years
Handwritten passport is not acceptable
Cancellation received no. of days prior to departure
Cancellation fee applicable on Net Tour Price (per person)
Payment Terms
Guest can pay by Cheque/ Demand Draft/ Debit card / Credit card/ NEFT/ RTGS/ IMPS. For Debit / Credit card payment additional 1.8 % convenience charge will be applicable Cheque / Demand draft should be in favour of "Veena Patil Hospitality Pvt ltd"
Remarks
All meals are provided by Veena World in case the flight reaches the stipulated destination early morning or leaves destination late in the evening.
Standard Check-in and check-out time of International hotels is usually 1500hrs and 1200hrs respectively.
Guests may please note that for Domestic flights or internal flights from one city to another city on international tours, the baggage allowance will be as per the respective airline baggage policy and weight regulations. Guests are requested to pack their belongings and carry luggage in accordance to the respective airlines baggage allowance. Excess baggage (if any) will be chargeable as per the airline policy and the same has to be borne by the guest.
Post Tour* Holidays
Stitch a chance to extend your travel story with an additional travel to a new place! We can customize this holiday for you throughout the year. Please get in touch with our travel adviser for more details.
CUSTOMIZED HOLIDAYSPHSP1
Barcelona (2N) Post Tour Holiday- Relax and explore
3 Days | 1 Country | 1 City
DESTINATIONS
Barcelona(2)
STARTS FROM
₹19,144
*per person
CUSTOMIZED HOLIDAYSPHSP2
Barcelona(2N)Post Tour Holiday-Montserrat Cogwheel
3 Days | 1 Country | 1 City
DESTINATIONS
Barcelona(2)
STARTS FROM
₹24,366
*per person
Similar Tours for You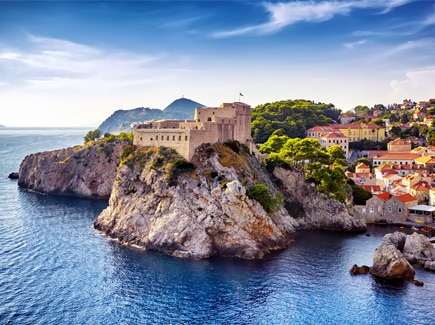 Meals
Sightseeing
Hotels
Flight & Visa
SUPER DEAL PRICE
₹2,55,000
per person on twin sharing
11 Days
3 Country
9 Cities
Ston
Bled
Dubrovnik (3N)
Split (1N)
Zadar (1N)
Plitvice National Park (1N)
Zagreb (1N)
Ljubljana (1N)
Budapest (2N)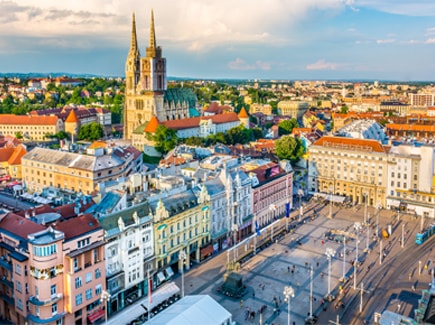 Meals
Sightseeing
Hotels
Flight & Visa
Zagreb (1N)
Zadar (1N)
Plitvice National Park (1N)
SUPER DEAL PRICE
(20 Apr 2023) Last 2 Seats
₹2,90,000
per person on twin sharing
15 Days
8 Country
14 Cities
Zagreb (1N)
Zadar (1N)
Plitvice National Park (1N)
Ljubljana (2N)
Budapest (1N)
Vienna (1N)
Prague (2N)
Berlin (2N)
Krakow (2N)
Warsaw (1N)
Dresden
Potsdam
Bratislava
Bled
Mumbai - 17/05/2023 Mumbai - 29/05/2023
Super Deal Price
₹2,90,000
*per person on twin sharing basis
₹2,90,000
*per person on twin sharing basis