Bahamas Tour Packages
Surf, sand, coral reefs, pristine beaches, and an electrifying atmosphere - that's the Bahamas for you!
The impression that we generally have of the Bahamas is correct to a great extent. A vast expanse of crystal clear blue waters meeting the horizon, locals and visitors lazing on the powdery sands and sipping on their favourite drinks, this is truly what heaven must feel like! The salty breeze caressing your face at an incomparably stunning destination - with Bahamas packages from India, you would want time to stand still. And if that's what you want from a vacation, a Bahamas tour via a cruise is all you need to take.
Take your mind off any worries and let Veena World curate the most exclusive online Bahamas tour package for you. Whether you would like to go for a cruise tour of the Bahamas or wish to opt for a more conventional Bahamas holiday package from India, you can browse the many options available at Veena World. It is a well-known fact that Bahamas cruise vacation packages are quite popular among travellers, but did you know that when it comes to booking a honeymoon package, Bahamas is quite a popular choice among newlyweds as well. At Veena World, you can check out the many Bahamas packages from India online along with their respective prices. All you have to do is select the most appealing one that suits your vacation duration and Veena World will help you find the best deals for your Bahamas tour package.
Bahamas Travel Packages
| Bahamas Packages | Day/Night | Price |
| --- | --- | --- |
| American Dream with Bahamas Cruise | 19 Days | ₹6,25,000 |
1 Bahamas Holiday Packages
Showing 1-1 packages from 1 packages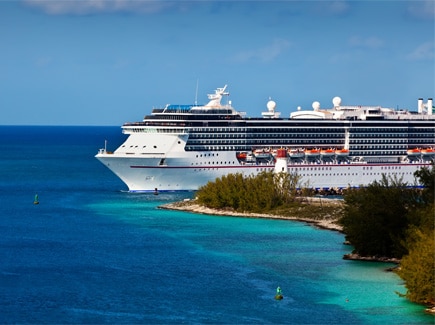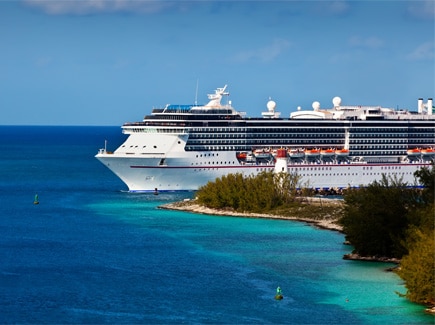 American Dream with Bahamas Cruise
SUPER DEAL PRICE
Starts from
per person on twin sharing
Get to know more about Bahamas Cruise before booking your tour packages
Bahamas vacation packages from India take you to a coral-based archipelago that comprises of 700 islands, over 2000 rocks and cays, spreading across the Atlantic and the Caribbean seas. The capital city of Bahamas is Nassau, from where several Bahamas tour packages from India begin their itinerary. The native inhabitants of the island were called the Arawaks. The Bahamas were colonized by the British in the 18th century and gained their independence in 1973. Although English is the official language, Bahamian Dialect is spoken by a vast majority of the population. Music is an integral part of the lives of the people of the Bahamas and is quite evident when you explore the place on your Bahamas tour. Calypso, Soca, Junkanoo and Rake, and Scrape are the most prevalent forms of music in the region.
The waters of this nation are home to some of the most richly diverse aquatic life, such as sharks, manatees, dolphins, frogfish, angelfish, starfish, and turtles. Such is the clarity of the waters here that many species are visible from above as well. Seafood is the most preferred and favoured cuisine in this island nation. The national dish is the Conch, which is prepared with a deep-fried mollusc variety, served usually with a side of peas and rice. Indulge in some great seafood produced in the many eateries that dot the place and do not forget to try the local Bahamian cuisine when you visit the place with a Bahamas holiday package from India.
Experience the Bahamas
Tourism is the most important industry in this country and a Bahamas tour is perfect for adventure-seekers with the 1,00,000 square miles of shoreline providing endless opportunities for kiteboarding, kayaking, fishing, boating, diving, snorkelling, and sailing. For beach-lovers, it doesn't get better than this. There are many beaches but each is different from the others, which is another reason for the popularity of online Bahamas holiday packages from India.
The Bahamas are a great destination for a vacation and not only for the water-related activities here. It has world-class entertainment, shopping, and dining facilities to cater to every whim and fancy of the visitors, as will be evident when you embark upon your Bahamas tour. Veena World offers numerous customised Bahamas tour packages at the best possible prices and costs. The warm and hospitable people of this island country really add to your experience and booking a Bahamas tour package from India for your next vacation can truly be a marvellous idea.
It is an excellent destination for couples as well who want to spend some quality time against the backdrop of exquisite locales. For honeymooners, Veena World has exclusive online Bahamas honeymoon packages from India to suit every price and cost preference. Whether you wish to explore the Bahamas in the traditional way or wish to take your pick from the many Bahamas cruise vacation packages, Veena World can help ensure that your Bahamas honeymoon package will leave you with memories that last a lifetime.
Things to Do in the Bahamas
The Bahamas are not just about the surf and sand, it is a destination full of attractions to cater to every category of visitors. It has mountains, coral reefs, historical buildings reminiscent of a colonial past, national parks showcasing the natural diversity of the region, and even many local fish fry joints to try out.
Nassau:

The capital city of the Bahamas on the island of New Providence is also one of the most popular tourist destinations included in a Bahamas tour package from India. What makes the location of the city quite significant is the easy accessibility of the many tourist attractions. While in Nassau, pamper yourself with some retail therapy at the many local designer and artisanal boutiques. One such place that should be included in your Bahamas honeymoon package from India is the Nassau Straw Market. This is a traditional open-air market that sells handcrafted straw items, souvenirs, and other knick-knacks that you can carry home for your loved ones.

Paradise Island:

Just off the shore of Nassau lies Paradise Island which has proved itself to be quite worthy of the name and is a major inclusion in Bahamas honeymoon packages and Bahamas holiday packages by Veena World. Paradise Island was earlier known as Hog Island and is connected to Nassau city by two bridges built over the Nassau Harbour. Cabbage Beach and Paradise Beach are the most famous white-sand beaches in the region. This island is also known for the mega-resort of Atlantis which also houses a water park. Whether you love a happening beach atmosphere or a quiet and secluded one, Paradise Island has it all. From luxurious and world-class resorts to more pocket-friendly ones, you have several options to customise your holiday packages based on accommodation. Let the turquoise waters hypnotize you into tranquillity as Paradise Island lures many honeymooners as well; if you are keen then you can include this destination in your Bahamas honeymoon package from India as well.

Fort Charlotte:

Fort Charlotte is a British colonial-era fort that overlooks the harbour of Nassau and was built in the 18th century. It was constructed mainly to guard the west entrance to Nassau Harbour. The dungeons and underground tunnels underneath this edifice are a favourite among many adventure seekers. And if you are up for it, you can include it in your Bahamas tour package.

Blue Lagoon:

Although Blue Lagoon Island is a private island, it is an enchanting tourist spot. It was referred to as Salt Cay owing to the many salt marshes in the area. It served as a pit stop for pirate ships and pirates would extract salt from the marshes to preserve their food. Enjoy a beach excursion by going for a dip in the lagoon or watch the dolphins and sea lions engaged in playful activities. Lounging on a hammock under any of the numerous coconut and palm trees, sipping on the many tropical drinks on offer, walking barefoot on the pristine beaches, watching tropical birds fly by, and enjoying a delectable seafood feast by the ocean; a beautiful day lies ahead of you. This place is included in most Bahamas cruise vacation packages from India.

The National Art Gallery of the Bahamas:

The National Art Gallery of the Bahamas offers a peek into the history of the region and aims to record, preserve, and historicize the narrative of the independent sovereign nation; the gallery was established in 1973. This art gallery is housed in the historic Villa Doyle, situated in the historic Old Towne. The gallery offers useful insights into the life and times of the many indigenous inhabitants and settlers through the ages.

Lucayan National Park:

This national park is often referred to as the natural treasure of the Bahamas and was established in 1982. Spread over 16 hectares, this park is known for its underwater cave system which happens to be one of the longest in the world. Two of the most popular caves - Ben's Cave and Burial Mound Cave, can be accessed via a short footpath. The park not only represents all the six Bahamian vegetation zones but is also a bird sanctuary for species such as thick-billed vireo, Bahamas swallow, and the olive-capped warbler.

Great Exuma:

Exuma is a district in the Bahamas that comprises of 365 Cays or islands and the largest of them all is called the Great Exuma. With many spectacular beaches to choose from, the Great Exuma is known for its water sport activities such as snorkelling, fishing, and sailing. Head to the beaches of George Town and Shroud Cay for some underwater adventures or enjoy a round of golf at the Farmer's Hill Beach. Rokers Point Settlement is quite popular among honeymooners and can be included in your Bahamas honeymoon package through Veena World. One of the most unusual attractions of Exuma is Pig Beach, which is inhabited by feral pigs that live on the island. Legend has it that the pigs were meant to be cooked and eaten by some sailors. They never got to it and the pigs have been living here happily ever since.

Indulge in Bahamian Cuisine:

Bahamian cuisine is an eclectic fusion of the Caribbean food style with a lot of South American influences. Gorge on some fresh seafood served Bahamian style at the many upscale restaurants, cafés, and eateries that dot the island nation. The beauty of the Bahamas lies in the fact that there is not just a single reason to experience the magic. Whatever your inclinations are, there's something to do and experience for everybody.
Best Time to Visit the Bahamas
The Bahamas have a tropical climate which means it enjoys warm, breezy and pleasant weather throughout the year, making any time a good time to book your Bahamas holiday packages from India. With that said, the best time to visit is generally from December to mid-April. Tourists generally avoid the hurricane season which lasts from July to October. However, you may get a great deal on your Bahamas holiday packages and Bahamas honeymoon package during the off-season, which is between May and November, which is also the rainy season in the Bahamas.