Detailed Itinerary
Brief Itinerary
Day 1
Copenhagen (1 Night)
Scandinavia with Tallinn Tour (Mumbai to Mumbai) guests will report at Chhatrapati Shivaji International Airport-respective airline terminal, four hours prior to the scheduled flight departure time. After collecting the snacks hamper from Veena World Airport Representative and completing check in formalities, guests along with Veena World Tour Manager will travel to Copenhagen – the Danish capital known for its fairy-tale flair over the centuries. Joining & Leaving (J&L) Tour guests will directly join at Copenhagen Airport as per the scheduled group flight arrival time. J&L Tour guests who have already reached Denmark can meet the scheduled group as per the guidelines given by Veena World Tour Manager. Upon arrival, Veena World Tour Manager will guide all guests for airport formalities and proceed to the city. Today we visit Tivoli Gardens- located in the heart of the city. Its scenery is beautiful with exotic architecture, historic buildings and lush gardens.
Highlights
Refresh yourself with hot Coffee at Tivoli Gardens.
---
Day 2
Copenhagen – Overnight cruise to Oslo (1 Night)
Today we explore Copenhagen city, we visit Christiansburg palace- a palace and government building. It is the seat of the Danish Parliament, the Danish Prime Minister's Office, and the Supreme Court of Denmark. Later we see Renaissance Stock Exchange- also known as Børsbygningen, a 17th-century stock exchange in the centre of Copenhagen, followed by a famous statue of the Little Mermaid- a bronze statue by Edvard Eriksen, depicting a mermaid becoming human. In the evening we embark on an overnight cruise to Oslo.
Highlights
Christiansburg palace
City orientation tour of Copenhagen
Statue of the Little Mermaid
Overnight Cruise to Oslo
Night Stay in Overnight Cruise
Breakfast | Lunch | Dinner
---
Day 3
Oslo (1 Night)
Today morning we arrive at Oslo – capital of Norway, a cosmopolitan city with an abundance of world-class architecture and museums. Upon arrival we explore Oslo city, we visit Vigeland Sculpture Park- the largest sculpture park in the world by a single artist, boasting over 200 pieces by Norwegian sculptor Gustav Vigeland, Holmenkollen Ski Museum and its observation deck - World's oldest ski museum, it represents more than 4,000 years of skiing history, Norwegian polar exploration artefacts and an exhibition on snowboarding and modern skiing. The observation deck on top of the jump tower offers panoramic views of Oslo, Kon Tiki Museum- It houses vessels and maps from the Kon-Tiki expedition, Ice Bar- a magical fairy tale adventure with the wondrous surroundings of snow and ice, Magic Ice presents a truly magical experience, which includes the biggest ice bar in the world. Later we take a photo stop at Opera House- home of the Norwegian National Opera and Ballet, and the national opera theatre in Norway.
Highlights
City orientation tour of Oslo
Visit Kon Tiki Museum and Ice Bar
Breakfast | Lunch | Dinner
---
Day 4
Oslo – Myrdal – Flam – Gudvagen – Bergen (1 Night)
Today we experience the essence of Norway through Norway in a nutshell tour. In the morning we take a train from Oslo to Myrdal- a mountain railway station and junction, located on the Bergen Line. It is also the upper terminal of the Flåm Line local railway. From Myrdal we change our train and proceed to Flam- one of the most beautiful train journeys in the world. This train will take us through some of the most beautiful mountain scenery, valleys and countless waterfalls. Later we proceed to Gudvagen by ferry and visit Sogne Fjord - King of the Fjords, is the largest and deepest fjord in Norway. Further we proceed to Bergen – known as the city with seven mountains. Upon arrival we explore Bergen city, we travel by a Funicular Tram ride to Mt. Floyen and enjoy the panoramic views of the Bergen city from the top, followed by a walking tour of Wharf – a UNESCO World Heritage Site and the fish market
Highlights
Alpine train journey from Myrdal to Flam
Visit Sognefjord - Norway's largest fjord
Mt. Floyen Funicular Tram to Bergen city top
Visit UNESCO World Heritage Site - Bergen Wharf
Breakfast | Lunch | Dinner
Tea or Coffee during the Oslo to Bergen journey
---
Day 5
Bergen – Stockholm (1 Night)
Today we fly to Stockholm – the capital of Sweden combines modern attractions with historic charm. Upon arrival we visit Sky View Globe Arenas - world's largest spherical building. From here we enjoy an amazing view of Stockholm city.
Highlights
Visit Sky view Globe Arenas for amazing view of the city
Breakfast | Lunch | Dinner
---
Day 6
Stockholm – Overnight cruise to Tallinn (1 Night)
Today we explore Stockholm city, we visit Magnificent Town Hall- the building of Municipal Council which houses offices, conference rooms, ceremonial halls, and luxury restaurants, Royal Palace- the official residence of His Majesty the King of Sweden, with over 600 rooms. The palace dates back to the 18th century and is one of the most interesting historic buildings in Stockholm, Vasa Ship museum- Vasa is the only preserved seventeenth-century ship in the world and a unique art treasure. More than 95 percent of the ship is original, and it is decorated with hundreds of carved sculptures. In the evening we embark on an overnight cruise to Tallinn- Estonia's capital on the Baltic Sea.
Highlights
Stockholm city tour & sightseeing's
Night Stay in Overnight Cruise
Breakfast | Lunch | Dinner
Soft drink during the Stockholm City tour.
---
Day 7
Tallinn – Helsinki (1 Night)
Today morning we arrive at Tallinn, upon arrival we explore Tallinn city, we visit the Alexander Nevsky Cathedral- a Russian Orthodox Church. Later we walk through the city and see Toompea Hill- a limestone hill in the central part of the city. Today Toompea is the centre of the Government of Estonia and the parliament house. Old Town- a UNESCO World Heritage Site and world's most recognised landmarks, Parliament building- also known as Toompea Castle, it was built in 13th century. Today the castle is home to Estonian parliament, Dome church- also known as St. Mary's Cathedral, is the oldest church in Tallinn and Estonia, 15th century Luhike Jalg Gate- also known as the walls around Tallinn city. In the evening we proceed to Helsinki- capital city of Finland and a vibrant seaside city
Highlights
Tallinn city tour & sightseeing's
Breakfast | Lunch | Dinner
---
Day 8
Helsinki - Departure to hometown
Today we explore Helsinki City, we see Modern Finlandia Hall- a dynamic, multipurpose venue located in the centre of Helsinki, City Hall- a central administrative building of Helsinki, Parliament House- the official location of the governing body of Finland, Presidential Palace- the official residence of the President, although today it is used primarily for presidential functions and receptions, the Monumental railroad station- one of the most visited and well-known site in the city. There are over two hundred thousand passengers that pass through this place every day, Lutheran Cathedral- the symbol of Helsinki. The church was originally built from 1830-1852 as a tribute to the Grand Duke of Finland, Olympic Stadium- built in 1938. Olympic Games were held here in 1952. Today it hosts both national and international sporting events and outdoor concerts, Sibelius monument- dedicated to the Finnish composer Jean Sibelius, the abstract monument resembles a soundwave made of clusters of organ pipes. The jagged monument consists of over 600 steel pipes, Market Square- the most famous market in Finland, it has been a centre of trade for hundreds of years. Even today, it still hosts some of Finland's most well-known events and is a major shopping location for both locals and visitors It's time now to say goodbye! Scandinavia with Tallinn Tour (Mumbai to Mumbai) guests will proceed to Helsinki Airport as per the scheduled group flight departure time. After completing airport formalities, Scandinavia with Tallinn Tour guests will travel back to Mumbai with Veena World Tour Manager. Joining & Leaving (J&L) Tour guests can be dropped at Helsinki Airport along with scheduled group or they can have their own arrangements made for the return journey back home. Scandinavia with Tallinn Tour concludes with mixed feelings! Happy to have made so many good friends, visited beautiful places and collected joyful memories to be cherished for a lifetime. We leave with a heavy heart as the golden days of the Tour come to an end. Let's stay in touch with each other through email, phone, WhatsApp, Facebook, Instagram and meet again on more such wonderful tours. Veena World wishes all guests a very happy, healthy and wonderful life ahead.
Highlights
Helsinki city tour and sightseeing's
Inclusions
Introducing: Post Tour Holidays and Business Class Upgrades. Get in touch with us on 1800 22 7979
Transport Details
Processing the best for you!
---
We are in the process of booking the transport for this tour. We will update it here, as we are done.
Post booking, you will be notified through your contact details about all tour related updates.
Accommodation Details
Processing the best for you!
---
We are in the process of booking the accommodation for this tour. We will update it here, as we are done.
Post booking, you will be notified through your contact details about all tour related updates.
Departure Dates
Currently we do not have any scheduled departures, they will be updated shortly.
---
Veena World Moments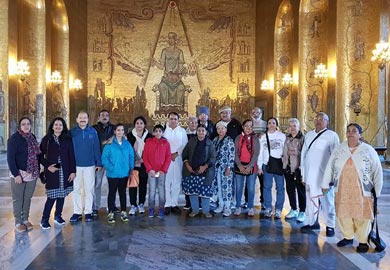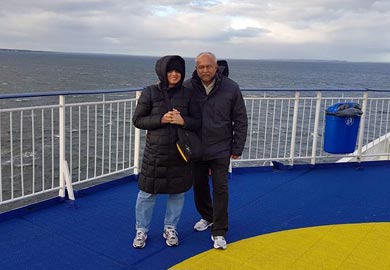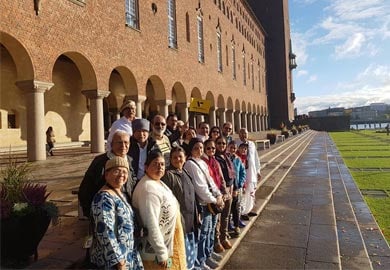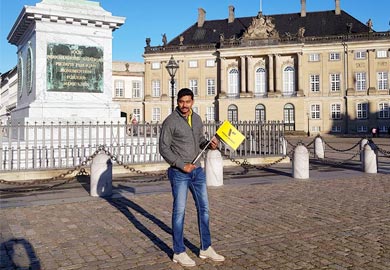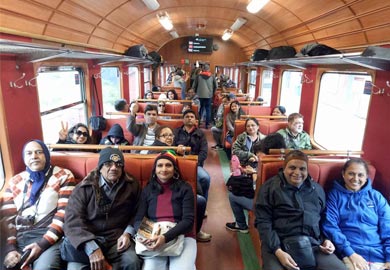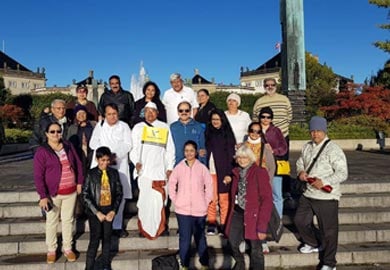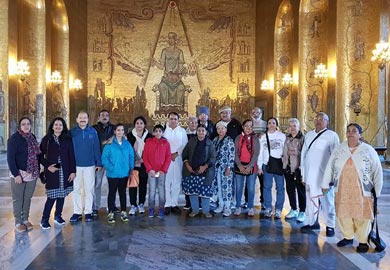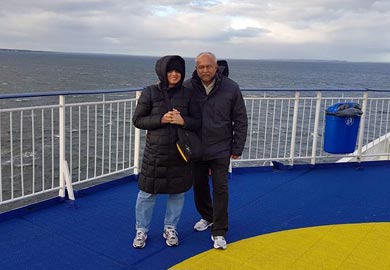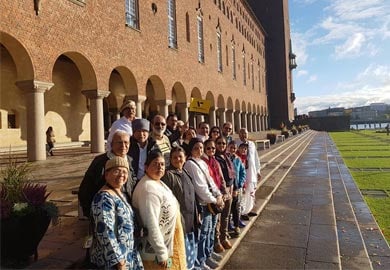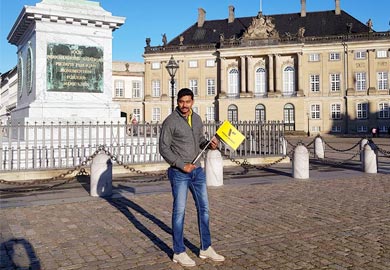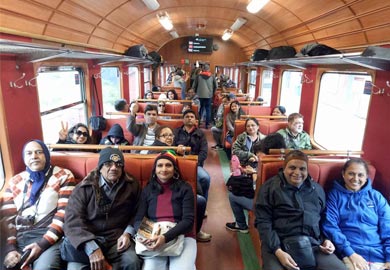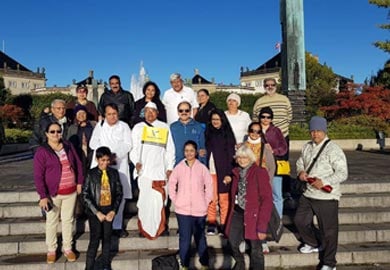 Tour Information
Inclusions
To and fro economy class air travel for 'Mumbai to Mumbai Tour' guests as mentioned in the itinerary
Airfare, Airport taxes and Visa Fees
Baggage Allowance as per the airline policy
Tour Manager Services throughout the tour
Travel by comfortable A/C coach as per the tour itinerary
Entrance fees of all sightseeing places to be visited from inside
Accommodation in comfortable and convenient hotels on twin sharing basis
All Meals – Breakfast, Lunch, Dinner (set menu) as mentioned in the itinerary
All Tips – Guide, Driver & Restaurants
Cost of internal airfare as mentioned in the itinerary
Complimentary insurance up to 59 years of age
Exclusions
Govt Tax of 5.00% over and above the Tour Cost mentioned
Any increase in Airfare, Visa fees, Airport taxes, Govt Taxes, Fuel Surcharges and any applicability of new taxes from Govt
Any up gradation in Airline class or hotel room category
Cost of Air ticket deviation charges
Any Increase in the rate of exchange leading to an increase in all land arrangements which may come in to effect prior to departure
Cost of pre or post tour hotel accommodation
Any extra expense such as route change, Airline change, Date change, Accommodation facilities, etc incurred due to the unforeseen, unavoidable forced majeuere circumstances during the tour
Cost of insurance
Porterage, laundry, telephone charges, shopping, wines & alcoholic beverages, mineral water, items of personal nature and food or drink which is not part of a set group menu
Any extra cost incurred on behalf of an individual due to illness, accident, hospitalisation, or any personal emergency
Any services or activity charges other than those included in the group tour itinerary
To and fro Air fare, Airport transfers, visa fees to join/leave the group and Airport snack hamper for joining and leaving guests
Anything specifically not mentioned in the 'tour price includes' column
Transport
Air Travel:
Mumbai - Copenhagen//Bergen - Stockholm//Helsinki - Mumbai We use combination of Airlines like Turkish Airline / Qatar Airways/ Scandinavian Airways etc.
Coach Travel:
A/C coach - Seating capacity depends upon group size
Travel Documents & Requirements
Original passport with minimum 6 months validity from the date of tour arrival along with sufficient blank pages for the stamping of visa
A valid Tourist Visa for the duration of the tour
For all Schengen countries passport validity should not exceed more than 10 years
Handwritten passport is not acceptable
Payment Terms
Payments can be made by Cheque, Demand Draft, NEFT, RTGS or IMPS. Cheque/Demand Draft should be in favour of "Veena Patil Hospitality Pvt Ltd"
Cancellation Policy
| Cancellation received no. of days prior to departure | Cancellation fee applicable on Net Tour Price (per person) |
| --- | --- |
| D-0 to 5 | 100% |
| D-6 to 15 | 75% |
| D-16 to 30 | 75% |
| D-31 to 45 | 50% |
| D-46 to 60 | 30% |
| D-61 to 90 | 20% |
| D-91 to 120 | 15% |
| D-121 to 900 | 10% |
Remarks
All meals are provided by Veena World in case the flight reaches the stipulated destination early morning or leaves destination late in the evening.
This is a "Part tour" for the Scandinavia Russia (EUSR) tour. For this Part Tour, Veena World's tour manager will accompany you from Mumbai until you complete your tour. On your return journey from Stockholm towards India , the Tour Manager will not be accompanying you , as he will have to proceed towards Russia with the other guests who have opted for the entire Tour. The airport transfers from the last destination in Helsinki and all the guidance will be provided to you by your tour manager. So there is nothing to worry about.
Standard Check-in and check-out time of International hotels is usually 1500hrs and 1200hrs respectively.
Guests may please note that for Domestic flights or internal flights from one city to another city on international tours, the baggage allowance will be as per the respective airline baggage policy and weight regulations. Guests are requested to pack their belongings and carry luggage in accordance to the respective airlines baggage allowance. Excess baggage (if any) will be chargeable as per the airline policy and the same has to be borne by the guest.
Affordable Journeys
We strive to make the world accessible for each and every one!
Guided Experiences
Hassle free journeys with the expertise of our in-house Tour Managers.
All Inclusive
Comfortable stay & transport, delicious meals and abundant sightseeing on every tour