Leh Ladakh Tour Packages from Mumbai
Witness the beauty of magical Leh and Ladakh, which wraps you in the comfort of solitude and syncs your soul to the pace of nature.
Leh Ladakh also referred to as the cold desert of India, is a place that has its own stories to tell. Mystic mountains, scenic deserts, lush forests, pristine lakes and rivers, and stunning waterfalls, Leh Ladakh is far from life's everyday hustle and bustle and the perfect vacation destination from Mumbai, taking you on an adventure to its timeless beauty. Booking a Leh Ladakh tour package from Mumbai is a journey worth taking if you want to experience the world's highest motorable pass as you enjoy spectacular views of the charismatic Ladakh.
Leh Ladakh is seated high in the laps of the Himalayas and can tempt anyone to take a break from the rest of the world. Leh Ladakh is an interesting mix of culture and food as the place is situated right on the border of China, and its history is closely related to Tibet. To give you a sneak peek at the cultural heritage you can experience with a Leh Ladakh package from Mumbai, Ladakh is known as the "Land of Gompas" or monasteries. The land of Ladakh is home to many Buddhist monasteries and Buddhists who spend their entire life studying and learning in the valley. Leh is perched about 3,505 meters above sea level and is the centre of the Tibetan-Buddhist culture as the place is surrounded by many beautiful and colourful monasteries.
3 Leh Ladakh Holiday Packages from Mumbai
Showing 1-3 packages from 3 packages
3 departures available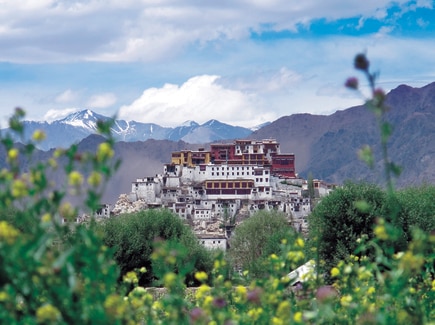 Alchi
Drass
Durbuk
Tso moriri Lake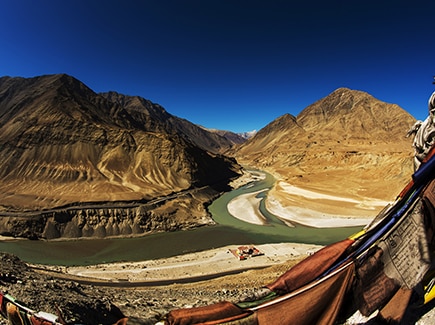 Our trips have touched hearts globally
what our happy travelers are saying
Dharamshala Dalhousie Palampur Pragpur
बहुत अच्छा रहा टूर बुकिंग मे बहुत अच्छा सहयोग मिला।दोनो टूर मैनेजर का बहुत सहयोग मिला दोनो ने बहुत ध्यान रखा ।मैं और मेरी पत्नी दोनो बहुत खुश है।
Gopal
Rajasthan Highlights
Hello, This poem is writeen by my mom wrote in regards to our wonderful rajathan trip with Sainath and Kunal 🌸पधरो मारे देस 🌸 खरेच कोण कुठून आलो,आणी आपण सारे एक झालो. कुण्याजन्मीचे नक्कीच आपण संगेसोयरे, एकमेकांची प्रेमाने काळजी करणारे. निल, प्रत्युष च्या गमतीजमती, तरुणांचे जग फक्त त्यांच्या बायको भोंवती. पृथ्वीराज आणी राणाप्रताप यांनी गाजवले मेवाडमध्ये शौर्य, वंशज होते ते शूर राजाचे नाव चंद्रगुप्त मौर्य. चितोडगड पावन झाले पाहुन मीराची भक्ती, राणी पद्मिनी ने इथेच दिली प्राणांची आहुती.🙏🏻😢 साईनाथ आणी कुणाल संयोजन खूपच भारी, खाऊन खाऊन आमची वजनेही झाली कीरे भारी 😜 तुम्हांला नक्कीच घरच्यांची आठवण नक्कीच येत असेल. पण आमच्या सारख्याच्यात आई, वडील, बहिणींना शोधून दुधाची तहान ताकावर भागत असेल. आपण एकत्र येण्यासाठी वीणा वर्ल्ड चे आहेत अनंत उपकार, इथून पुढे आपणच एकत्रच जाऊ वीणा सोबत वारंवार. थँक्स to वीणा वर्ल्ड खरेच i have no वर्ल्ड 🙏🏻 चित्रलेखा शिंदे
Ravindra
Coorg Mysore Bengaluru
The tour was good,tour manager was co-operative and took care of us. Happy enjoyed the tour
Sunandan
Dalhousie Dharamshala Amritsar
My experience with Veena World Is growing tour by tour. The way this tour was conducted by Mandar and Omkar was awesome. Really appreciate. I would suggest all my friends to go through Veena World for any tour both domestic and international.
Ananthakrishnan
About Leh Ladakh
Leh Ladakh is situated right in the Great Himalayas in the Karakoram ranges in Jammu and Kashmir. While Mumbai, the capital city of Maharashtra, lies on the Konkan coast towards the west of India and has a deep natural harbour. Leh Ladakh is conveniently accessible from Mumbai with multiple connectivity options like roadways, railways, and airways. You can book your Leh Ladakh package from Mumbai with Veena World which can also be customised as well as per your travel preferences so you can create lasting memories to share with your loved ones. The magical duo of Leh and Ladakh is famous for its awe-inspiring landscapes, picturesque oases, and beautiful monasteries. The moment you land ar the incredible mountain valley from the hustle and bustle of Mumbai city, you will be spellbound by its scintillating beauty. Getting to Leh Ladakh is fairly easy through air, road, and rail, as there are many flight options, trains, and good road connectivity from Mumbai for your tour package to Leh Ladakh. Due to Leh Ladakh's geographical location, oxygen levels are very low, and you might initially find yourself breathing a little heavier than usual as compared to Mumbai's climate. It is always advisable to acclimatise yourself to the climatic conditions of Leh Ladakh before indulging in any outdoor activities. Once you are accustomed to the valley's climate, you can rest assured that the trip to Leh Ladakh will be one of the most cherished trips of your life. At Veena World, we have many carefully curated Leh Ladakh packages from Mumbai for you if you want to get away from the hustle and bustle of city life and go to some off-beat destinations in the north. Veena World's Leh Ladakh tour packages from Mumbai are carefully planned to the smallest of details so you can enjoy an unmatched experience on the trip.
Places to Visit on Your Leh Ladakh Packages from Mumbai
Planning an itinerary to Leh Ladakh from Mumbai is sure to offer an unforgettable opportunity to explore the valley and spend some quality time in the lap of nature. Here are some of the best places that you can include in your Leh Ladakh package tour from Mumbai:
1. Zanskar Valley
The Zanskar Valley is one of the most popular destinations in Leh Ladakh tour packages from Mumbai due to its steep terrains covered with snow. The tributaries of the Zanskar Valley are also popular for being among the best river rafting places in India. The best time to visit Zanskar Valley is between June to September, when the temperature is moderate, and the valley is perfect for water activities and sightseeing.
2. Nubra Valley
Nubra Valley is another breath-taking and popular destination in Leh Ladakh, frequented by tourists throughout the year. Nubra Valley is perched at the height of 3,048 metres above sea level, and the valley is easily accessible via Khardung-la Pass, which is the highest motorable road in the world. Nubra Valley is world-renowned for its lush surroundings, snow-capped mountains, trekking trails, and a stunning view of the Shyok river and is another good destination to add to your Ladakh tour packages from Mumbai.
3. Pangong Lake
The Pangong Lake is another jewel that you can add to your Leh Ladakh package from Mumbai situated on the Changtang Plateau in the eastern Ladakh region. The fascinating fact about Pangong Lake is that the lake changes its colour many times during a year in the shades of red, green, and blue. The best time to visit Pangong Lake is during the summer season, as the valley is freezing cold during the winter months.
4. Khardung-La Pass
Another great destination in most Leh Ladakh tour packages from Mumbai is Khardung-La Pass, which is the world's highest motorable pass, and it connects the capital of Ladakh to the Siachen Glacier, which is known as the coldest place in India. If you are an adventure junky, visiting the Khardung-la Pass will be a treat for you to enjoy as you can bike around the beautiful valley and enjoy the scenic beauty of the place.
5. Magnetic Hill
The Magnetic Hill in Leh Ladakh is known for its fascinating work of nature. The Magnetic Hill is believed to have powerful magnetic properties that can pull vehicles uphill. The Magnetic Hills also force aircrafts to increase their altitude to avoid magnetic interference. Visiting the Magnetic Hill in your Leh Ladakh itinerary from Mumbai is a great idea for an unmatched experience of a lifetime.
6. Leh Palace
The beautiful Leh Palace was built in the 18th century and was the former palace for the King of Ladakh. The Leh Palace is still owned by the Ladakhi royal family. The palace is an eight-storey building with magnificent wall paintings and colourful prayer flags flapping under the blue sky. The Leh Palace is a beauty to behold and is a must-visit place on your places to visit on your Leh Ladakh tour package from Mumbai.
7. Shanti Stupa
Leh Ladakh is known for its beautifully designed and peaceful monasteries, and so is the Shanti Stupa, located in the north of India. Visit the Shanti Stupa in Leh Ladakh to indulge in a peaceful environment along with panoramic views of the valley around the Sanchi Stupa.
8. Hemis National Park
Apart from beautiful landscapes and monasteries, Leh Ladakh is also home to some of the world's known National Parks. The Hemis National Park is the largest national park in South Asia and is home to endangered animals like Asiatic Ibex, Tibetan Wolf, Eurasian Brown Bear, Leopards, and Red Wolf.
9. Chadar Trek
The Chadar Trek, known as the most adventurous and toughest trek globally, is the most exciting thing that you can add to your itinerary for planning a trip to Leh Ladakh from Mumbai. The river during the winters freezes into a blanket of ice, hence providing the most thrilling and exciting experience to tourists.
10. Leh Market
What about buying some souvenirs to gift to your friends and family from Leh Ladakh. You can shop for Tibetan jewellery, carpets, motifs, woollen clothes and other decorative and memorable souvenirs from the Leh Market. The best time to visit the Leh Market to shop your heart loud is between April and June.
Best Time to Visit Leh Ladakh from Mumbai
Due to Leh Ladakh's geographical location, it is not an all-year-round destination - the valley gets freezing cold during the winter months. The best time to book your Ladakh holiday packages from Mumbai is during the summer months as you can enjoy the valley to its full along with mystic mornings and cosy nights. You can even plan your itinerary to Leh Ladakh from Mumbai during the monsoon season as the valley turns out cheerful and lush green during the monsoon. Veena World has a focus on creating memorable and tailor-made trips for you at value for money prices for an incomparable tour experience that will be etched in your hearts for many years to come.