Leh Ladakh Family Tour Packages
Experiences get better when they happen together! Explore Leh Ladakh in the company of your loved ones with our specially curated Leh Ladakh family tour packages.
The best weather, lovely surroundings and beautiful meals are certain to place you in your best mood along with your family during your Leh Ladakh family trip.
Situated at approximately 9,800 meters above sea level, Ladakh is an excessive-altitude cold desert surrounded by the Great Himalayas on one side and the Karakoram Range on the other. One can view a number of snow-capped peaks in this place which can tower up to 23,000 feet. Our excursion programs for Ladakh take our guests to the markets in Leh for Tibetan souvenirs, embark on day journeys to Pangong Lake and Tso Moriri, take pleasure in diverse adventures in Nubra Valley and bow to Buddha in hilltop monasteries like Diskit, Hemis, and Thiksey. With such fascinating locations to visit, Leh Ladakh offers a perfect family retreat.
The terrain of Leh Ladakh has been a famous haven for bikers and travel enthusiasts all around the globe. And now, it has become a lot more mainstream, attracting people of all ages. That is why Leh Ladakh family tour packages have become so popular in recent years.
Leh Ladakh Family Travel Packages
| Leh Ladakh Family Packages | Day/Night | Price |
| --- | --- | --- |
| Highlights of Ladakh | 7 Days | ₹61,000 |
| Best of Ladakh | 9 Days | ₹71,000 |
| All of Ladakh | 13 Days | ₹92,000 |
3 Leh Ladakh Family Holiday Packages
Showing 1-3 packages from 3 packages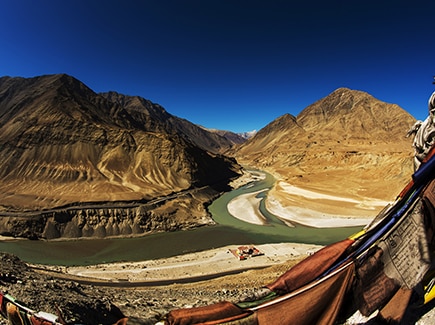 SUPER DEAL PRICE
(29 Jun 2023)

Last 3 Seats

Starts from

per person on twin sharing
SUPER DEAL PRICE
Starts from
per person on twin sharing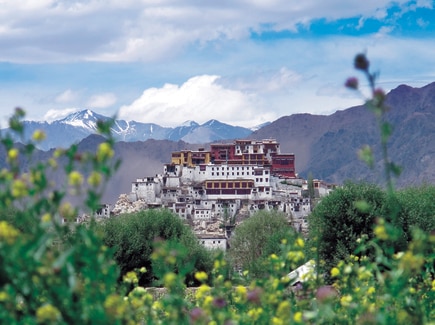 SUPER DEAL PRICE
Starts from
per person on twin sharing
Our trips have touched hearts globally
what our happy travelers are saying
Best of Ladakh

"We Enjoyed our Tour. It was excellent & thrilling experience at Leh Ladakh Kargil Tour. Your Tour Ma...

Read More

Jayant

Travelled in Sep, 2022

Best of Ladakh

"The tour was manage and executed very nicely. All location were covered as committed. Choice of prop...

Read More

Deepak

Travelled in Sep, 2022

Best of Ladakh

"Well organised tour.The group was good and the management was excellent. It was a memorable experien...

Read More

Sonali

Travelled in Sep, 2022

Best of Ladakh

"I and my wife decided to book Veena world tour to Leh Ladakh.That was in our bucket list...... Right...

Read More

Dattatraya

Travelled in Sep, 2022

Highlights of Ladakh

"It was a wonderful memorable trip. Good services were provided. Even the guide Swapnil was very coop...

Read More

Smitha

Travelled in Sep, 2022
Popular Ladakh City Packages
About Destination
The district of Leh is located 2300 meters to 5000 meters above sea level. With an expanse of 45100 sq. km., it is one of the biggest districts in the country. The Leh district borders Pakistan-occupied Kashmir in the west, China in the North and Lahul Spiti of Himachal Pradesh in the southeast. The distance between Leh and Srinagar, the state's capital, is 434 km. Moreover, Leh is 474 km from Manali.
One characteristic that you are sure to witness here on your Leh Ladakh family package is that topographically, the complete district is mountainous with 3 parallel tiers of the Himalayas, the Zanskar, the Ladakh and the Karakoram. Between these tiers, the Shayok, Indus and Zanskar rivers float and the majority of its populace lives within the valleys of those rivers.
Experience Leh-Ladakh
Leh Ladakh is among the most well-known locations owing to its hilly vicinity that draws plenty of vacationers to spend their holiday here. Planning to visit this picturesque town in Jammu & Kashmir with your family? Make sure you do it with our Leh Ladakh family package which lets you enjoy the destination; everything else is already taken care of.
The brilliant herbal beauty, significant points of interest and the one-of-a-kind tradition of Ladakh make it one of the most well-known travel locations for all ages. The culture here is akin to the Tibetan culture, and the locality is very pleasant and welcoming to tourists. People keen on exciting sports can go rafting and high-altitude trekking. Along with this, make sure you try the local cuisine during your Leh sojourn on your Ladakh family tour package.
Things To Do in Leh-Ladakh
Tick mark these places in your itinerary during your Leh Ladakh package with the family: -
1. Leh
Capital of the new union territory of Ladakh, Leh is an endearing city. It comes within Ladakh, a union territory in the Kashmir region of India. Formerly a part of the state of Jammu and Kashmir stretching from the Siachen Glacier to the great Great Himalayas, Ladakh is a place like no other.
For those booking a Leh Ladakh family package, here is something that might help you. Ladakh is divided into two districts: Leh District and Kargil District. The ancient district has a popular town "Leh" and is a major tourist attraction thanks to its beautiful monasteries, scenic spots and interesting markets that define the culture of the place.
2. Pangong Lake
Situated at 4350 meters, Pangong Lake is among the most popular tourist attractions that you must visit on your Ladakh tour package for the family. Also known as Pangong Tso, it is 12 kilometres long and stretches from India to Tibet. Almost 60% of Pangong Lake is in the Tibet Autonomous Region. A peculiarity of the lake is that it does not remain blue during the day - it changes colour from blue to light blue to green and grey.
3. Magnetic Hill
Ladakh's popular Magnet Hill is a cyclopean hill where vehicles defy gravity and drive up the hill from standstill when at the designated spot. A must-have experience on your Leh Ladakh family trip, park your car here idling at the box marked yellow a few metres before Magnetic Hill Road. From this point, the car starts moving uphill without your intervention! How intriguing is that?!
4. Zanskar Valley
The mesmerizing Zanskar Valley is located in the Kargil district in eastern Ladakh. Pronounced locally as Zahar or Zangskar, it is separated from Ladakh by the Zanskar mountain range which is part of the Tethys Himalayas. Known for its natural landscapes, travelling to Zanskar is mainly for hiking and rafting. If some of your family members like adventure, then this place is highly recommended on your Leh Ladakh family tour package. Please speak to our travel experts to know the best time for going here.
5. Khardung La
Khardung La, also known as Khardzong La, is a high mountain pass in the Ladakh region of Jammu and Kashmir, near Leh. It serves as a gateway to Shyok and the Nubra Valley. Khardung La is popular as the highest motorable road in India with a height of 5602 meters.
6. Nubra Valley
Brimming with greenery in the Ladakh desert, the Nubra Valley has a lunar-like landscape and slopes nearly 3000 metres lower than Leh. Nestled between the Karakoram Range and fed by two rivers, Nubra teems with sea buckthorn and alfalfa. It is also the gateway to attractions like Hunder where you'll find the double humpback camels and Turtuk, the last Indian village on this side of the Indo-Pak border. Definitely a must-visit on your Leh Ladakh family trip.
7. Kargil
Usually a stopover for people travelling to Leh or Padum, Kargil is a tourist hotspot that can be explored on foot. Kargil is close to the Line of Control and should be explored as per the directives laid out by the Indian forces within this region. Apart from its glorious past endowed with natural beauty and adventure, Kargil is the ideal place for intrepid travellers.
8. Tsomoriri Lake
Tso Moriri is India's most extensive high mountain lake that stands at 4,595 m. It lies between Ladakh and Tibet in the Changtang region and is the twin of Lake Pangong. This lake offers a picturesque place of peace and tranquility flanked by mountains, and is approximately 28 km long from north to south and 8 km wide. An inner line permit is necessary to visit Tso Moriri.
Site of the Hemis National Park that was created in 1981, it has six villages with a population of not more than 1,600. Some of these are great campsites that provide plenty of trekking and hiking opportunities. The park is also home to the 400-year-old Hemis Monastery.
Best Time to Visit Leh Ladakh for Family Tour
The best time to visit Ladakh is during the summer season from April to July. During this time, the temperature hovers between 15 and 30 degrees Celsius. Ladakh is known for its shallow temperatures almost all-year-round. While the summers are quite pleasant, the winters are extremely cold and unforgiving. Hence, the best time to travel to Ladakh with the whole family is, of course, during the summer. With Veena World's cost-effective family Holiday packages to Leh Ladakh that are available online, you can easily plan a trip there.