Kerala Honeymoon Packages
A honeymoon to Kerala reaffirms your belief in the notion why this incredible place is called one of the paradises on earth
Kerala is called 'God's own country' perhaps because there's no one dimension to experience this destination on a single trip. For couples on Kerala tour packages, there's nothing else to do than be bewitched by its exquisite natural beauty and rich legacy of culture, art, and heritage. An unhurried houseboat ride on the backwaters, waking up to a misty morning in Munnar (included in Kerala Munnar honeymoon packages), enjoying a French meal at Fort Kochi or indulging in an authentic Ayurvedic massage session at Kovalam, a Kerala trip is all these and then some more.
Although it is difficult to squeeze in all the gorgeousness of this state in a single package, Veena World's Kerala honeymoon packages include only the best of its offerings. Check out the various packages to this beautiful state along with their prices online, select according to your preference, and voila - You are all set for an unforgettable honeymoon trip to Kerala.
Kerala Honeymoon Packages Travel Packages
| Kerala Packages | Day/Night | Price |
| --- | --- | --- |
| Honeymoon Special Munnar Kumarkom Cochin | 6 Days | ₹48,000 |
1 Kerala Honeymoon Packages Holiday Packages
Showing 1-1 packages from 1 packages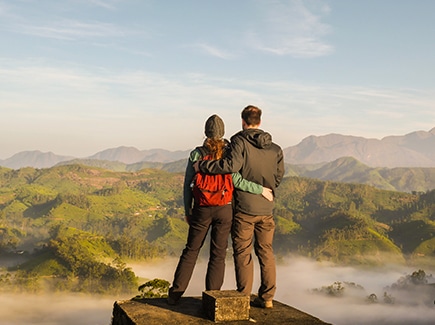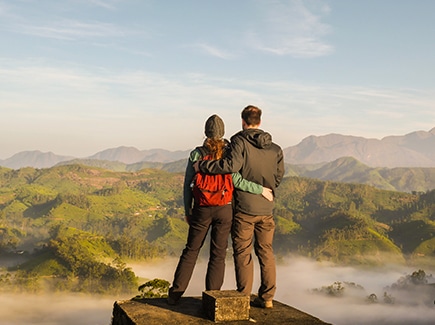 Honeymoon Special Munnar Kumarkom Cochin
SUPER DEAL PRICE
Starts from
per person on twin sharing
Popular Kerala City Packages
Veena World tour reviews
What are you waiting for? Chalo Bag Bharo Nikal Pado!
Honeymoon Special Munnar Periyar Kumarakom

"It was beyond expectations. All the hotels were good. Food was delicious. Special mention for the to...

Read More

Bhalesh

Travelled in Mar, 2023

Honeymoon Special Munnar Periyar Kumarakom

"It was my first trip with Veena world and I really enjoyed to the fullest, had a great and relaxing ...

Read More

Madhura

Travelled in Mar, 2023

Honeymoon Special Munnar Periyar Kumarakom

"KLHM180323/A - Feedback : Dear Team, We are writing this with abundance of joy. It was beyond our...

Read More

Bhalesh

Travelled in Mar, 2023

Honeymoon Special Munnar Periyar Kumarakom

"It's a great tour i have in my life. Thanks chetan and sanket. We enjoyed very good ☺️😊

Guruprasad

Travelled in Dec, 2022

Honeymoon Special Munnar Periyar Kumarakom

"We had a Honeymoon couple tour for Kerala from 10 Dec 2022 to 16 Dec 2022. We had a great time with...

Read More

Gaurav

Travelled in Dec, 2022
Kerala Honeymoon Frequently Asked Questions
We help you prepare for your trip and ensure an effortless and enjoyable travel experience.
Kerala is renowned as being God's own land and for good reason. One of the top honeymoon destinations in India, Kerala honeymoon packages have a lot to offer. Some of the top places you can visit in Kerala on your honeymoon include:
● Munnar
● Kovalam
● Kochi
● Wayanad
● Alleppey
● Top Station
● Kundala Lake
● Bekal
From exploring the beautiful backwaters on a houseboat cruise to strolling on the calm beaches of Kerala, the state is full of some of the best destinations that you can explore with your partner on your honeymoon. Explore Veena World's range of Kerala honeymoon packages to find the best itinerary that covers all your favourite destinations.
Choosing a Kerala honeymoon package is one of the best decisions you can take. Serene landscapes, lush greenery, calm backwaters, scenic attractions, warm hospitality, and amazingly delicious cuisines are what make Kerala one of the best destinations in India for a honeymoon. With a Kerala honeymoon package, you can choose from various accommodation options like floating cottages, treehouses, safari tents, houseboats, luxury resorts, etc. and indulge in a variety of experiences like bamboo rafting in the Periyar, trekking, a shikara ride down the backwaters, enjoying some water sports, an elephant safari, exploring a number of waterfalls, and much more when you visit Kerala on your honeymoon.
Yes. You can personalise your Kerala honeymoon with ease when you book it at Veena World. We offer you customised holidays where you have complete control over planning your vacation. You can choose the type of accommodation you wish to book, the daily itinerary you will be following, the attractions that will be covered, the number of days you will spend at the destination, and so on. With customized holidays from Veena World, you can plan the perfect Kerala honeymoon according to your preferences.
From a Kerala boathouse honeymoon package to the Munnar-Kumarakom-Cochin honeymoon special package, Veena World offers a range of options for those planning their honeymoon in God's own country. Which package is the best will depend on what you are looking for; from a wide range of honeymoon packages at Veena World, you can choose based on your preferences, the number of days you have, attractions covered, type of accommodation, your budget, and so on. Or you can opt for customised holidays by Veena World to plan your perfect honeymoon according to your choices.
You can book honeymoon packages to Kerala for couples without worry, as the travel restrictions to the state have now been eased. However, travel guidelines keep on changing based on how the COVID situation in the state is.
Please read the latest destination-wise travel guidelines here. Since these guidelines are subject to change, we would recommend you to check our Travel Guidelines page every time before you travel so that you are in the know-how about the latest changes.
The winter season, which is from September to March, is the best time to visit Kerala for a honeymoon. This is the time when the climate is most comfortable and the weather pleasant, making it easy and pleasurable for you to explore the enchanting attractions of Kerala. The summers in Kerala, from March to May, can get a bit uncomfortable for sightseeing but are the time for which you can find Kerala honeymoon packages with prices on the lower side, owing to it being a slow season for tourism.
The cost of a Kerala trip package for a couple on their honeymoon will vary depending on several factors, like the number of days you want to spend in Kerala, how you plan to reach your destination, the tourist attractions you want to cover, the type of accommodation you wish to choose, etc. At Veena World, you can explore a wide range of Kerala trip packages for couples and choose based on your budget and travel plans. You can even customise your Kerala trip package according to your travelling preferences.
Apart from surreal backwaters, lush greenery, and serene beaches, honeymooning couples can enjoy several adventure activities during their visit to 'God's Own Country', Kerala. Some of the adventure activities that you can include in your Kerala tourism honeymoon package are parasailing, paragliding, treehouse stay, snorkelling, wildlife safari, scuba diving, bamboo rafting, mountain climbing, kayaking, and much more. You can explore the various honeymoon packages to Kerala at Veena World to find one that includes the activities you wish to experience.
To explore the scintillating beauty of Kerala, a minimum of 7 days and 6 nights should be enough. On your honeymoon in Kerala, India, you can travel to Munnar, Thekkadi, Alleppey, Kovalam, and Trivandrum to explore some of the most beautiful places in the state. At Veena World, you can choose from a wide range of Kerala honeymoon packages that suit your budget and plan. Our range of Kerala honeymoon packages includes everything from luxury to budget trips to ensure there is something for everyone.
One of the easiest ways to plan a honeymoon trip to Kerala is by booking a Kerala package for couples from Veena World and we will take care of arranging an enjoyable honeymoon for you. Starting from booking your accommodation to arranging travel guides, planning daily itineraries, selecting tourist attractions and places to visit to taking care of the meals/snacks to be included, and much more; everything will be taken care of in your honeymoon package. You can explore a wide range of Kerala packages for couples at Veena World and choose one according to your preferences.
Get to know more about Kerala before booking your honeymoon packages
Kerala is located on the southwestern Malabar Coast. It came into existence in 1956 after Malayalam speaking regions were reorganized. Kerala was ruled by many dynasties over the centuries, the most notable among them being the Chera Dynasty, the Ay kingdom, and the Ezhimala kingdom. In the latter ages, colonial powers were attracted to this region. The abundance of precious spices here brought the first European traders-the Portuguese to this place. This was the beginning of a lengthy phase of other colonial rulers coming here and exploiting the natural resources for their gains.
And since independence, Kerala has taken massive progressive strides. It is the most literate state and also the one with the highest life expectancy. It leads the country in the production of pepper and rubber in the country. Due to the abundance of scenic beauty and a salubrious climate, Kerala tourism has boomed and is one of the most important economic sectors in the state.
Experience Kerala on a Honeymoon
For couples on a Kerala trip package, Kerala is not just a destination but an experience to get totally consumed. And the memories of the trip will not leave your heart anytime soon. A honeymoon is a special time for a couple to know each other better and Kerala honeymoon packages provide the most spectacular backdrop to your sweet nothings. The lush slopes of tea plantations, a secluded beach in Marari, the remarkable wildlife species in Periyar National Park or the hauntingly beautiful Wayanad; couples on a Kerala tour are spoiled for choice. In addition to the natural wonders, Veena World's Kerala tour packages for couples also include the deep-rooted cultural heritage aspects of the state. The snake boat races, a soul-stirring Kathakali performance, a fierce Kalaripayattu martial arts demo or forgetting all your worries on a trek on Nedumkayam's well-kept secret like trails, there are so many ways to enjoy Kerala honeymoon tour packages to the fullest.
In addition to all the great things to do and see, your trip through a Kerala honeymoon package will be incomplete without sampling the lip-smacking authentic cuisine of the state. The food of the region reflects the fresh produce and inherent simplicity of the people. A Sadya spread is the epitome of Keralite vegetarian fare and can go up to 28 dishes. Fish is also quite popular here and a taste of Alleppey Fish Curry, Chemmeen Moilee or Dry Fish Curry-your partner and couples will surely enjoy the delectable food on their Kerala honeymoon tour packages.
Things to Do in Kerala during your Honeymoon
There cannot be a veritable list for all things to do and see for couples on a Kerala tour. The inclusions would depend upon your taste, preference, and need. However, to ease planning a Kerala honeymoon tour, here are a few places that shouldn't be missed.
• Munnar:
Arguably the top destination in Kerala, this dreamy hill station is nestled cosily on the banks of three rivers- Madupetti, Nallathanni, and Periavaru. The drive up to Munnar is replete with glorious views. Pretty little hillocks pregnant with lush forests give way to miles and miles of world-renowned tea plantations and all of a sudden you catch a glimpse of the mist-covered town. Munnar is also home to a few highly endangered species like the Nilgiri Thar and the Neelakurinji. While couples are on their Kerala honeymoon packages, the tea museum would be a unique place to visit. The Madupetti Dam offers scenic views of the Madupetti River. The Eravikulam National Park and Salim Ali Bird Sanctuary let you see the native flora and fauna, up close and personal. You can find homemade chocolates, high-quality tea and soaps in the little market here.
• Alleppey:
The best honeymoon packages in Kerala all include a visit to Alleppey. Alleppey is not only known for its backwaters but also its beaches, temples and world-renowned Ayurvedic wellness centres. The backwaters is an umbrella term used for the vast network of waterways, canals, lagoons, and lakes, running parallel to the Arabian sea. The houseboats, meandering over the waters, have earned Alleppey the sobriquet 'Venice of the East'. A hidden gem, Kakkathuruthu Island, on Vembanad Lake has been described by the National Geographic Magazine as an 'outstanding sunset spot'.
• Fort Kochi:
Couples who are landing in Kochi on their Kerala packages for couples should make time to visit Fort Kochi that seems to be from some other part of the world. Kochi or Cochin was an important port in the spice route and attracted traders and merchants from all over the world and this eclectic influence can be seen in the architecture and historical buildings of this area. For couples on Kerala tour packages, there are many eateries serving world cuisine and the vibe is quite cosmopolitan and hip.
• Wayanad:
Wayanad exemplifies the beauty of the state in its truest sense. Spectacular mountains, striking cliffs, paddy fields and groves of coconut trees, it is a refreshing change from the hassles of city life. The geography of Wayanad has given birth to many adventure sports activities. Trekking with your loved one is a great way to bond and some popular trails here lead to Chembra Peak, Edakkal Caves, and Meenmutty Falls.
• Kovalam and Poovar Island:
Kovalam boasts of perhaps the most famous beach in Kerala. Laze around, bask in the sun or just soak in the salty ocean breeze with your partner, this beach is as stunning as it gets. About a 30-minute drive from Kovalam is the Poovar Island which offers an off the beaten track experience with its water bungalows. Lying at the cusp of the Neyyar River and the Arabian Sea, the island spells romance and would be a great inclusion in Kerala honeymoon packages.
Apart from the above, there are so many other places to be explored during your honeymoon in Kerala, India. Kannur, Trivandrum, Varkala, Marari Beach, Bekal, Periyar Tiger Reserve - all have a charm of their own.
Best Time to Visit Kerala
The best time to take a honeymoon trip to Kerala is the winter season from September to February when the weather is pleasant. June to August are the monsoon months and the region experiences heavy rainfall and it could hamper your plans. The summer season (March to May) could prove to be too hot and humid to fully enjoy a honeymoon in Kerala.