Jammu and Kashmir Family Tour Packages
Serene ambience, the sound of Shikaras, majestic mountains, calm lakes and a paradise covered in White awaits you and your family at this mesmerising destination.
Surrounded by the mighty mountains of the Himalayas, Jammu and Kashmir is one of the best hill stations in India and offers all kinds of activities and destinations to explore to suit all kinds of travellers. Universally acclaimed as "heaven on earth", Jammu and Kashmir is a place that everyone must visit at least once in a lifetime. The timeless beauty of Jammu and Kashmir has an abundance of things that you can enjoy, like taking a scenic drive through mystic meadows, sipping on the traditional Kahwa chai, tasting the flavours of authentic Kashmiri cuisine, enjoying a shikara ride on Dal Lake, trout fishing in Sonmarg, golfing at 7,800 feet above sea level in Pahalgam, and so much more. The northernmost state of Jammu and Kashmir is the place to be to enjoy your vacation to the fullest with your family. Booking a Jammu and Kashmir family package will take you on an adventure to explore all the hidden gems of Jammu and Kashmir and experience its vibrant culture. Veena World offers a wide range of all-inclusive Jammu and Kashmir family tour packages with airfare at the best prices. We ensure a hassle-free travel experience for all and provide them complete support, whether it is to answer your queries about the travel packages, or to provide assistance any time during the trip. Right from thrilling excursions to visiting peaceful and serene places in Jammu and Kashmir, pick your vibe and explore some of the best Jammu and Kashmir tour packages for the family with Veena World and get ready to enjoy nature's beauty like never before.
Jammu And Kashmir Family Travel Packages
| Jammu And Kashmir Family Packages | Day/Night | Price |
| --- | --- | --- |
| Highlights of Kashmir | 6 Days | ₹57,000 |
| Kashmir Vaishnodevi | 8 Days | ₹68,000 |
| Best of Kashmir | 8 Days | ₹75,000 |
3 Jammu and Kashmir Family Holiday Packages
Showing 1-3 packages from 3 packages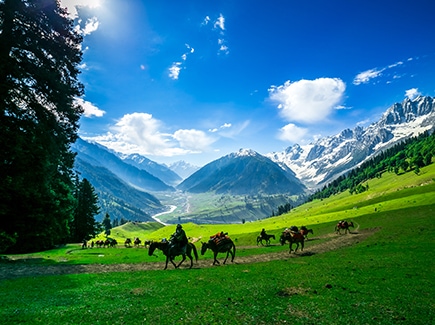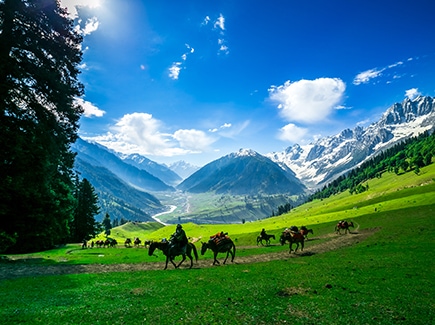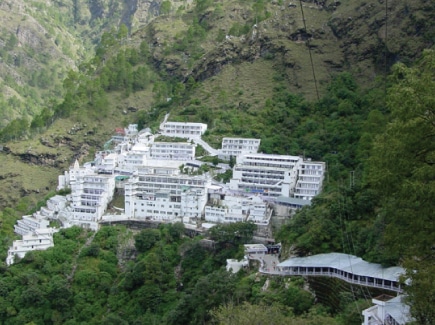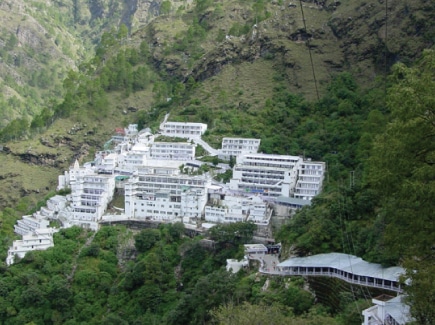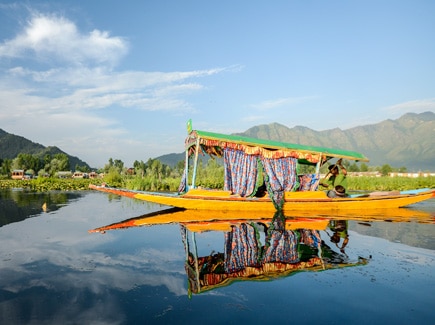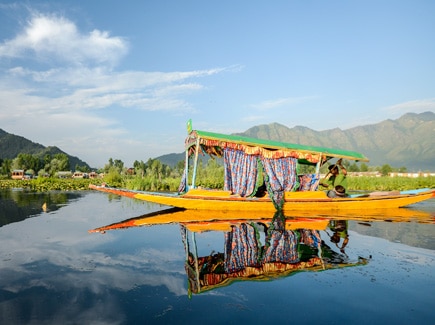 Popular Jammu & Kashmir City Packages
Veena World tour reviews
What are you waiting for? Chalo Bag Bharo Nikal Pado!
About Jammu and Kashmir
The valley of Jammu and Kashmir is backed by a rich history, with Srinagar having been ruled by the Mauryan Empire, where it was emperor Ashoka who introduced the ideologies of Buddhism. Apart from a rich cultural heritage, the state also flourishes with unique experiences that attract tourists from all across the world, like the Shikara rides or visiting India's first floating post office, built on a houseboat at the western edge of Dal Lake. Booking a Jammu and Kashmir family tour package is a perfect idea for those seeking a memorable vacation with their family amidst nature's bounty, relishing the breath-taking scenic vistas that surround them.
Experience The Destination
Jammu and Kashmir lets you immerse yourself in the snow-covered beauty of the Himalayas like no other place in the world. Every season brings a unique flavour to the state of Jammu and Kashmir, which is covered by a white sheet of powdered snow in the winters and turns into a lush green valley in the summers. The summers in Jammu and Kashmir are unbeatable for booking Jammu and Kashmir packages for the family, as the temperature during this time is neither bitingly cold nor extremely hot. From trekking opportunities to serenity and enjoying an abundance of natural beauty, a Kashmir family tour package has a lot to offer.
Things To Do in Jammu and Kashmir with Family
The beauty of Jammu and Kashmir is of surreal proportions that you may find hard to believe, even as you gaze upon it with your own eyes. Some of the things to add to your Jammu and Kashmir family tour include:
Shikara Ride: Shikara rides are among the most unique experiences one can have on their Jammu and Kashmir trip. Shikaras are indigenous rowboats that dotted the surface of the Dal Lake in Srinagar. The Shikaras are used as conveyance for travelling back and forth across the lake and can be quite an experience for those who come to visit the valley. You can even shop for souvenirs while on a Shikara ride from floating boats that sell colourful exotic flowers and vegetables on the lake.
Gondola Ride: The Gulmarg Gondola is one of the most important tourist attractions in Jammu and Kashmir that you can enjoy on your family package. Gulmarg is perched at a height of 2650 metres above sea level and houses a cable car ride that takes you from Gulmarg to Apharwat Top. The gondola ride in Gulmarg is one activity that you must add to your Jammu and Kashmir family trip itinerary so you can enjoy the mesmerising panoramic views of the Jammu and Kashmir valley from up above.
Stay on a Houseboat: Houseboats are stationary accommodation options that have been built on the lake in Jammu Kashmir, designed with Kashmiri architecture and luxuriously appointed bedrooms, dining and lounge rooms, lake-facing balconies, and sometimes even floating gardens. These houseboats are exquisite and offer a unique experience. Several Jammu and Kashmir holiday packages for the family include houseboat stays, which you can opt for.
Explore the Colourful Gardens: Jammu and Kashmir is known all across the world for its beautiful and colourful gardens, like the Shalimar Garden, Chasmeshahi Garden, Tulip Garden, Nehru Garden, etc. With terraced lawns, bright flowerbeds and gurgling fountains, the gardens of Jammu and Kashmir take inspiration from the gardens of Persians and Timurids.
Rafting: River rafting in Jammu and Kashmir is an activity that has attracted many adventure enthusiasts from around the world. The summits of the Himalayas in Jammu and Kashmir are the birthplace of some of the mightiest rivers of India, like the Lidder and Sindh Rivers. The best river rafting spots in Jammu and Kashmir include Pahalgam and Sonmarg, which you can add to your Jammu and Kashmir family tour packages.
Camping: The beauty of Jammu and Kashmir cannot be limited to words and to capture the immensity, camping can be a great option. Enjoy the fresh air of the mountains as you gaze upon breathtaking views, nestled in the lap of nature, covered by the clear star-spangled skies. Camping in the valley of Jammu and Kashmir provides is simply an incredible experience that you shouldn't miss out on.
Shopping: Jammu and Kashmir does not disappoint when it comes to shopping either. There are many rare finds in Jammu and Kashmir that you can take back home as souvenirs, like authentic saffron, pashmina shawls, Kashmiri carpets, handicrafts, intricately crafted jewellery, etc. The diversity that you get while shopping in Jammu and Kashmir is fascinating. Shopping in the bustling bazaars of Jammu and Kashmir, like Lal Chowk, Residency Chowk, Residency Road, etc., is another activity you can add to your Jammu and Kashmir family trip itinerary.
Try the Local Cuisine: The local cuisine of Jammu and Kashmir has distinct flavours that make it hard to resist for any tourist. Some of the best, rich and exquisite dishes that you should try on a Jammu and Kashmir family tour are Roghan Josh, Rista, Kashmiri Pulao, Gushtaba, Yakhni Lamb Curry, etc.
Go On a Heritage Walk in Old Srinagar: The city of Srinagar has been inspired by three different styles and three different religions. Taking a stroll around old Srinagar is one of the best things to do to get acquainted with the culture of the state. Visit the marvellous structures around old Srinagar on your Jammu and Kashmir trip for a memorable experience.
Best Time to Visit Jammu and Kashmir with Family
Jammu and Kashmir is undoubtedly a year-round destination because of its geographical location. Every time you visit the valley, you will enjoy a unique and memorable experience. During the winters, the entire valley is covered with a white sheet of snow, while during the summers, the flowers in the valley are in full bloom and are a sight to behold. The time from March to October is considered peak time in Jammu and Kashmir, so it is recommended that you book your tickets in advance to enjoy your trip to the fullest. You can book a comfortable stay and every other detail that goes into planning a trip to Jammu and Kashmir with Veena World, choosing the best package that matches your requirements, from a wide range of Jammu and Kashmir family tour packages.