Jaipur Honeymoon Packages
Indulge in the beauty of the 'Pink City' with your other half and get an unforgettable honeymoon experience!
Jaipur, popularly known as the Pink City, is one of the top honeymoon destinations in India. If your ideal honeymoon includes wandering around rustic streets, admiring the beauty of desert sand, getting astonished by massive forts and dazzling mirror-placed Havelis, and trying delectable cuisines, then Jaipur is the best place for your honeymoon. If you and your other half share an interest in history and folk culture, the fun automatically multiplies. Also, the city provides a variety of activities and the most exquisite accommodation options, making it a perfect destination for honeymooners.
However, it would be hectic for honeymooners to plan all these on their own. To clear the way for honeymooners, Veena World has curated various Jaipur honeymoon packages with exciting deals and offers. Veena World ensures that the couples enjoy their honeymoon trip to their fullest and that things are as per their requirements and budget. That's why, at Veena World, there is something for everyone.
On your Jaipur honeymoon, pamper your partner with a royal dining experience. Deepen your bond with your soulmate by visiting places that inspire romance, including awe-inspiring palaces, gardens, and parks. Our customised Jaipur honeymoon packages focus on making your trip romantic and memorable. You only need to decide places to visit and the best time to visit and add them into your Jaipur honeymoon itinerary to spend many great moments with your sweetheart.
Packages Coming Soon!
Currently, there are no package(s) found matching your holiday request.
Please try exploring our other available options by checking out trending destinations. Our dedicated Travel Experts are on hand to offer you an expert guidance and support throughout the entirety of your trip.
Reach out to us 1800 22 7979 or drop an Email at travel@veenaworld.com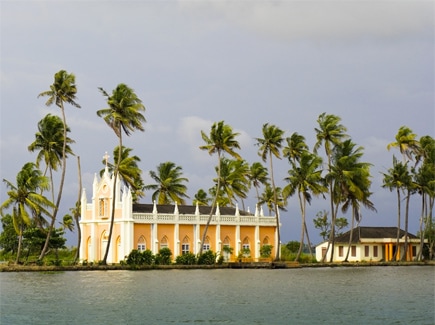 SUPER DEAL PRICE
(05 Oct 2023)

Last 1 Seat

Starts from

per person on twin sharing
Trending Indian Customized Tours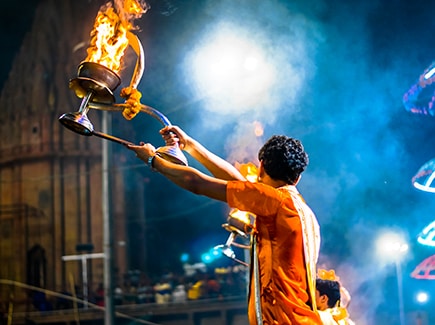 Starts from
per person on twin sharing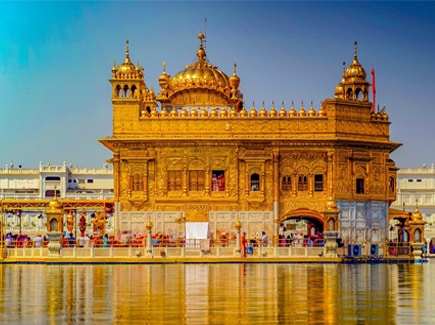 Starts from
per person on twin sharing
Places to Visit in Jaipur for Honeymooners
Jaipur is a wonderful destination that should be on every traveller's bucket list. The city is rich in culture, history, and heritage since it is home to some of the country's best forts and palaces. The Pink City will not disappoint anyone who is interested in history, art, shopping, or food. Here are all of the must-see places in Jaipur that honeymooners should not miss out on.
Chokhi Dhani
Chokhi Dhani is one of Jaipur's most exciting spots. Chokhi Dhani village, located on the outskirts, is the finest destination to visit if you want to experience Rajasthani culture and traditions. This village-style resort is visited by all types of travellers but is particularly popular among honeymooners and foreign travellers. You can spend the evening with your other half witnessing a variety of cultural programmes that are held here every evening. Traditional dancers, singers, puppet shows, magic shows, animal rides, and food vendors providing wonderful meals are the prominent highlights of this place. Chokhi Dhani's restaurant provides authentic Rajasthani cuisine in a traditional environment. One can either sit and eat in a chair or sit on the floor and enjoy the meal in the Indian way.
Hawa Mahal
Also known as the Palace of Breeze, Hawa Mahal is a five-storey palace that was built in 1799 from red and pink sandstones. Couples include this palace in their Jaipur tour packages to enjoy one of Rajasthan's most iconic landmarks. After exploring Hawa Mahal early in the morning, honeymooners can head to explore the shops and booths near it. You can buy jewellery, footwear, antique items, and bags from local vendors for your sweetheart.
Jal Mahal
In 1699, the renowned Jaipur palace was built in the centre of Mansarovar Lake. Jal Mahal, or the Water Palace, is one of the most famous tourist destinations in Jaipur that visitors include in their Jaipur honeymoon packages because of its unique and beautiful construction. The stone walls of the palace stand out against the deep blue water of the lake, where it was built as a hunting lodge for the Maharajahs. When you are here, marvel at the intricate carvings on the balconies and take some romantic photos against the backdrop of this calm architectural wonder. It has four storeys beneath the water and just the fifth and uppermost storey is visible above the surface of the water body. You and your spouse can go shopping in the nearby market and then have a bumpy yet exciting camel ride.
Rambagh Palace
Rambagh Palace, one of the most spectacular royal locations to visit for couples in Jaipur, not only offers a romantic ambience and personalised service but also promises to deliver an unforgettable experience with its world of magnificence. The Mughal and Oriental gardens, located across a huge marble-glistening estate, provide an enticing setting for couples to bond while enjoying glimpses of the royal surroundings. Take a walk around the grounds and discover the history that surrounds this stunning estate. Rajput Room's royal dining experience will enchant your taste buds as your meal will be served on a traditional silver thali.
Central Park
Amidst the hustle and bustle of daily life, Central Park, the city's largest park, is a great place to connect with your sweetheart. The charms of Central Park can be witnessed in its wide-open space, which features lush greenery and the Rambagh Polo Ground. If you and your partner enjoy bird watching, this is the place to go to because the park attracts a significant number of native and migratory species throughout the year.
Best Time for Honeymooners to Visit Jaipur
Before booking your Jaipur honeymoon tour packages, take into consideration the best time to visit this beautiful, Pink City with your partner.
Summer
Summer is unbearable in Jaipur. It gets really hot, making it difficult to go out and explore the city. However, Jaipur continues to attract a large number of tourists, particularly during the Gangaur festival. Summer lasts from April to June, and the ideal way to enjoy sightseeing during this time is to drink plenty of water and bring sunglasses and sunscreen.
Monsoon
Jaipur is incredibly beautiful during the monsoon season. The season lasts from July to September and gives the entire city a fresh look. The temperature gets low, making the weather mild and pleasant for outdoor activities. With frequent rains and a cool breeze, it is possible to visit open markets or go on picnics.
Winter
Winters are considered to be the best time to explore Jaipur for honeymooners. The season generally lasts from October to February. The temperature at its lowest with no showers makes it the ideal season to explore open markets, forts, palaces, and many more exciting outdoor activities.
Things to Buy in Jaipur on Your Honeymoon
When customising Jaipur honeymoon packages, don't forget to include souvenirs and gifts to remember your trip with your spouse. You can easily impress your partner by giving them authentic Jaipur souvenirs such as Kundan stone jewellery, bandhani clothing, traditional lehariya sarees, and stunning gemstones.
You can choose from a variety of Jaipur honeymoon tour packages based on your budget and duration. Most Jaipur tour packages for couples include flights, hotels, private transportation, and tours. So, book our Jaipur honeymoon packages at an affordable cost and embark on a romantic vacation amidst the captivating surroundings of the Pink City for an unforgettable experience.