Group Tour - EUZW
Senior's Special Central & Eastern Europe
Senior's Special Central & Eastern Europe

Dates & Price
Tour Type
Seniors Special
Tour Code
#EUZW
Seniors.. it's time to plan a trip to Europe! Plan a fun-filled holiday extravaganza which lets you explore the stunning sights and sounds of Central & Eastern Europe. Discover countries such as Crotia, Slovenia, Hungary, Austria, Czech Republic, Germany, Poland in this extraordinary travel journey of a lifetime on our Senior's Special tour.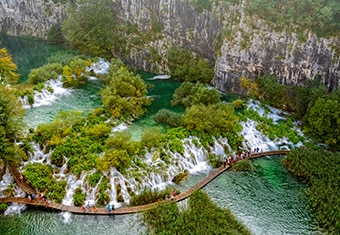 Tour Highlights
Nature at its best - Plitvice National Park
The iconic 'Berlin Wall & Museum' of Germany
Schönbrunn Palace - Prominent landmark of Austria
Explore Budapest with a lovely Danube Rive Cruise
Visit world's largest castle in Prague, Hradcany
Introducing:
Post Tour Holidays and Business Class Upgrades. Get in touch with us on 1800 22 7979
Upgrades Available
Currently we do not have any scheduled departures, they will be updated shortly.
Day 1
Zagreb (1 Night)
Senior's Special Central & Eastern Europe Tour (Mumbai to Mumbai) guests will report at Chhatrapati Shivaji International Airport-respective airline terminal, four hours prior to the scheduled flight departure time.
After collecting the snacks hamper from Veena World Airport Representative and completing check in formalities, guests along with Veena World Tour Manager will travel to Zagreb - Croatia's capital which has 900 years of history.
Joining & Leaving (J&L) Tour guests will directly join at Zagreb Airport as per the scheduled group flight arrival time. J&L Tour guests who have already reached Croatia can meet the scheduled group as per the guidelines given by Veena World Tour Manager.
Upon arrival, Veena World Tour Manager will guide all guests for airport formalities and proceed to the city.
Today we visit Mirogoj Cemetery - One of the most beautiful cemeteries in Europe, it looks more like an art gallery than a cemetery and was designed by famous architect Hermann Bollé in 1876, and Maksimir - largest and oldest public park in Zagreb which is designed in the style of an old English garden.
Dinner
Night Stay in Zagreb
Highlights
Visit Mirogoj Cemetary - Zagreb's prominent landmark
Visit Zagreb's oldest and most beautiful park, Maksimir Park
Day 2
Zagreb – Zadar (1 Night)
Today we explore Zagreb city, we walk through the Upper Town (Gornji Grad) - the oldest part of Zagreb which has a splendid labyrinth of narrow cobblestone streets and wonderful buildings. Here we see St. Mark's church with its multi-coloured tile roof bearing the coats of arms of Croatia, Croatian Parliament building- located within St Mark's square and next to the popular St Mark's church, the Baroque church of St. Catherine, and the Cathedral of St. Stephen - also known as Zagreb Cathedral and it is the tallest cathedral in Croatia, Later we take a stroll through Zagreb's main open-air farmers' market - Dolac Market, then we walk through the Lower Town (Donji Grad) - Zagreb's busy city centre. Here we see, Statue of Ban Jelacic - the Ban of Croatia who is remembered for his military campaigns during the Revolutions of 1848, National Theatre- a theatre, opera and ballet house, and the University of Zagreb- one of Croatia's oldest institutions. In the afternoon we proceed to Zadar – a city on Croatia's Dalmatian coast, which is known for the Roman and Venetian ruins, also for the unique modern wonders. Upon arrival we visit Zadar's incredible Sea Organ - an architectural sound art object which plays music by way of sea waves and Sun Salutation - It consists of a 22-meter diameter circle, with photovoltaic solar modules underneath.
Breakfast
Lunch
Dinner
Night Stay in Zadar
Highlights
Zagreb city tour and sightseeing
A lovely stroll through Dolac market
Zadar's Sea Organ
What's more

Tea or coffee during Zagreb city tour.
Day 3
Zadar – Plitvice National Park (1 Night)
Today we explore Zadar city, we see the Forum square - a municipal square from the Roman era, St Donatus Church - built in the 9th century, this church is the largest Pre-Romanesque building in Croatia, Port Marina- situated in the central part of the Adriatic coast and right in the centre of Zadar and Roman City Walls – These walls allowed the city to retain its independence and meant that it was never captured by the Turks. Later we proceed to Plitvice National Park – a UNESCO World Heritage Site, home to 16 lakes connected by a series of waterfalls and surrounded by close-packed woodland. Upon arrival we enjoy the sight of thousands of sparkling water falls, clean pure air, the great Splashier and idyllically boat ride on Lake Kozjak. Later we take a walk on one of 18km marked trails.
Breakfast
Lunch
Dinner
Night Stay in Plitvice National Park
Highlights
Zadar City tour & sightseeing's
The one & only - Plitvice Lakes National Park
Stunning views of 'The Great Splasher'
An idyllic boat ride on Lake Kozjak
What's more

Soft drink at Plitvice National Park
Day 4
Plitvice National Park – Postojna Caves – Ljubljana (2 Nights)
Today we proceed to Ljubljana – capital of Slovenia, is known for being a 'city of wine and vine'. Enroute we visit Postojna Caves - The caves were created by the Pivka River. It is an intricate network of tunnels decorated by stalagmites and other natural features which are shaped by tiny droplets over millions of years. Upon arrival we take a train to the magical underground world. Postojna Cave is the only karst cave with a railway, which was built more than 140 years ago.
Breakfast
Lunch
Dinner
Night Stay in Ljubljana
Highlights
The wondrous site of Postojna caves
What's more

Tea or coffee during Plitvice National Park to Postojna Caves journey.
Day 5
Ljubljana – Bled – Ljubljana
Today we proceed to Bled - an alpine lake with the only island in Slovenia, also called as 'Alpine Pearl'. Upon arrival we visit the Bled Castle – a medieval castle built on a precipice above the city of Bled, overlooking Lake Bled. Later we enjoy a traditional wooden boat ride 'Pletnas' to visit the tiny island in the middle of Lake Bled. Here we visit the glorious 17th century Baroque Church of the Assumption- also known as The Church of Mary the Queen. Later we proceed to Ljubljana – capital of Slovenia, is one of the smallest European capitals. Upon arrival we enjoy walking tour of Ljubljana, we see Preseren square – the central square in Ljubljana, Triple Bridge – a group of three bridges across the Ljubljanica River, it connects the Ljubljana's historic old town on one bank and the modern city of Ljubljana, Central market – an open air market, Town hall - seat of the Municipality of Ljubljana, Cathedral of St. Nicholas – also known as Ljubljana Cathedral, built as a Gothic church in the early 18th century and later replaced by a Baroque church, Dragon Bridge – a road bridge, built across the Ljubljana River and adorned with dragon statues. In the afternoon we take the funicular ride and visit the 15th century Ljubljana castle – it houses a museum and exhibition on Slovenian history.
Breakfast
Lunch
Dinner
Night Stay in Ljubljana
Highlights
The fairytale like 'Bled Castle'
Ljubljana city tour and sightseeing
Funicular ride to the famous 'Ljubljana Castle'
What's more

Local ice cream at Bled
Day 6
Ljubljana – Budapest (1 Night)
Today we proceed to Budapest - also called the 'Little Paris' of Europe. Upon arrival we enjoy Danube river cruise and admire the beauty of the Danube River - the magnificent scenic divider and connector of Buda and Pest. Later we explore Budapest city, we see Heroes' Square – a UNESCO World Heritage Site and one of the main squares in Budapest, stands in honour and memory of the great leaders in Hungary's history, Fishermen's Bastion - a fairy-tale castle on the Buda side of the city, is a lookout point which offers stunning panorama of Budapest, the historic Matthias Church – a Roman Catholic church, Gellert hill – a 235 m high hill overlooking the Danube River, Parliament house – a magnificent example of Neo-Gothic architecture, is the seat of the National Assembly of Hungary, Royal palace – a UNESCO World Heritage Site, also known as the Buda Castle, is the historical castle and palace complex of the Hungarian kings, the famous chain bridge on the Danube River - first permanent suspension bridge which connected Buda and Pest.
Breakfast
Lunch
Dinner
Night Stay in Budapest
Highlights
A scenic river cruise on Danube river
Budapest city tour and sightseeing
Witness the famous 'Chain Bridge'
What's more

tea or coffee during Ljubljana to Budapest journey.
Day 7
Budapest – Bratislava – Vienna (1 Night)
Today we proceed to Bratislava – The Capital of the Slovak Republic. Also referred to as the Beauty on the Danube. Upon arrival we explore Bratislava city, we see Old Town - an historic centre of Bratislava with cobbled streets, colourful pastel buildings and narrow pathways, St Martins Cathedral - Gothic church from the 15th century and the former coronation church, St Michael Tower- also known as Michael's Gate, is the only city gate that has been preserved of the medieval fortifications and ranks among the oldest town buildings. Later we drive through Most SNP - a road bridge over the river Danube. Commonly referred to as the UFO Bridge. In the afternoon, we visit Bratislava Castle – Visible from all over the city, the grand Renaissance palace dates back to the 16th century and now houses the Museum of History. Later we proceed to Vienna – Capital of Austria, is one of the most visited cities of Europe.
Breakfast
Lunch
Dinner
Night Stay in Vienna
Highlights
City tour and sightseeing's of Bratislava
visit beautiful Bratislava Castle
Day 8
Vienna – Prague (2 Nights)
Today we visit Schonbrunn Palace – a UNESCO World Heritage Site, an 18th century Baroque palace was the main summer residence of the Habsburg rulers and is one of the most important architectural, cultural, and historic monuments in the country. Later we explore Vienna city, we see Opera House - one of the finest Opera Houses in the world, Parliament Building - the monumental neoclassical building is the seat of the Austrian Parliament, City Hall – Neo-Gothic building that serves as the city's administrative centre, Hofburg Palace – the former principal imperial palace of the Habsburg dynasty rulers and today serves as the official residence and workplace of the President of Austria, Heldenplatz - a public square and Ring Boulevard – also known as Ringstrasse, is a circular boulevard that surrounds Vienna's historical centre. In the evening we proceed to Prague – also known as the 'City of a Hundred Spires', is the capital of Czech Republic.
Breakfast
Lunch
Dinner
Night Stay in Prague
Highlights
The prominent landmark of Austria - Schönbrunn Palace
Vienna city tour and sightseeing
View the famous Vienna Opera House
What's more

Tea/ Coffee during Vienna to Prague journey
Day 9
Prague
Today we explore Prague city, we see Hradcany Castle - one of the biggest caste in the world. Built in 9th century and is the official office of the President of the Czech Republic, Cathedral of St. Vitus - a Roman Catholic metropolitan cathedral in Prague and is the seat of the Archbishop of Prague, Astronomical Clock - the most striking aspects of the clock are the moving 12 Apostles sculptures carved out of wood, Old Town Square - an historic square in the Old Town quarter of Prague, Charles Bridge - a stone Gothic bridge that crosses Vltava river and connects the Old Town and Lesser Town. In the evening we enjoy Cruise on the river Vltava and admire the spectacular view of Prague.
Breakfast
Lunch
Dinner
Night Stay in Prague
Highlights
Prague city tour and sightseeing
The Cathedral of St. Vitus
The historic Charles Bridge
Vltava river cruise
Day 10
Prague – Dresden – Berlin (2 Nights)
Today we proceed to Dresden - also called 'Florence at the Elbe'. Upon arrival we explore Dresden city, we see Semper Opera- one of the most beautiful and prestigious opera houses in the world, Dresden cathedral- a symbol of the suffering of German civilians after its destruction in World War II bombing and now of reconciliation. Later we proceed to Berlin - the capital and the largest city of Germany, its former glory ended in 1945, but the city survived the destruction of World War II and was rebuilt to show amazing economic and cultural growth. Upon arrival we have free time for shopping in Berlin.
Breakfast
Lunch
Dinner
Night Stay in Berlin
Highlights
Dresden city tour and sightseeing
Semper Opera House
What's more

Relish on Ice cream during Prague to Berlin journey.
Day 11
Berlin – Potsdam – Berlin
Today we explore Berlin city, we see magnificent Berlin Cathedral – the Evangelical Supreme Parish and Collegiate Church with a striking main altar made of white marble and onyx, City Hall – the home to the governing mayor, Berlin Victory Column – an iconic sight built to commemorate the Prussian victories in the unification wars in 1864, Monument Brandenburg Gate – a former symbol of German - German divide during the Cold War, is now a national symbol of reunification, freedom, peace and unity, Unter den Linden – a boulevard that runs from the City Palace to Brandenburg Gate named after the linden trees that line the sidewalks, Check Point Charlie – the best-known border crossing between East and West Berlin during the Cold War and is also a setting for many thrillers and spy novels of Ian Fleming's James Bond stories, German State Opera House – the first freestanding theatre in Germany built in 1741 and Reichstag Building – an internationally recognisable symbol of democracy and the current home of the German Parliament. Later we visit Berlin Wall – An enduring symbol of the cold war, a 140 km long concrete barrier was built in 1961 to prevent access to East Berlin and East Germany people, eventually this wall was brought down in 1990 during German reunification, followed by a visit to Berlin Wall Museum – to know story of the Berlin Wall through the eyes of the people whose lives were directly affected by it and also hear about people who were given only a few hours' notice to leave their homes when the Wall was built. In the afternoon we proceed to Potsdam - The capital and largest city of the German federal state of Brandenburg which was a residence of the Prussian kings and the German Kaiser until 1918. Upon arrival we explore Potsdam city, we see Cecilienhof Palace - a palace in Potsdam, built in the layout of an English Tudor manor house and it is the site of the famous 1945 conference between the United States, Soviet Union, and United Kingdom. Later we take a walk through City Palace - the second official residence of the margraves and electors of Brandenburg, later kings in Prussia and German emperors, St. Nicolas Church - one of the most significant examples of architecture of German classicism, Old town hall and Dutch quarter - built of red bricks in the Dutch style.
Breakfast
Lunch
Dinner
Highlights
Berlin city tour and sightseeing
Monument Brandenburg Gate
The famous Berlin Wall & Museum
Potsdam city tour and sightseeing's
Day 12
Berlin – Krakow (2 Nights)
Today we proceed to Krakow – the city of salt mines, is the second largest and one of the oldest cities in Poland.
Breakfast
Lunch
Dinner
Night Stay in Krakow
Highlights
The Salt mines of Wieliczka
What's more

Tea or coffee during Berlin to Krakow journey.
Day 13
Krakow
Today we explore Krakow city, we see Royal Castle- also known as Wawel Castle. It was built in 14th century and then for centuries was the residence of the kings of Poland, St. Mary's Basilica – a UNESCO World Heritage Site, is a roman catholic church. Followed by a visit to Auschwitz concentration camp - a UNESCO World Heritage Site, it was a complex of over 40 concentration and extermination camps built and operated by Nazi Germany in occupied Poland during World War II and the Holocaust. Later we visit the Salt mine of Wieliczka – a UNESCO world Heritage site, it dates back to medieval times and has a history of around 9 centuries of salt exploitation.
Breakfast
Lunch
Dinner
Highlights
Krakow city tour and sightseeing
Auschwitz - Nazi concentration camps
Day 14
Krakow – Warsaw (1 Night)
Today we proceed to Warsaw – capital of Poland, was the last residence of the Polish royalty and the place where the 1944 uprising happened. Upon arrival we visit the Baroque Wilanow Palace – also known as the 'Polish Versailles', was built as a home for king John III Sobieski during the late 17th century. Later we explore Warsaw city, we see Old Town – a UNESCO World Heritage Site, is the oldest part of Warsaw, with cobblestone alleys and medieval buildings reconstructed after WWII, Warsaw Ghetto – it was the largest of all the Jewish ghettos in German-occupied Europe during World War II, the sites evoked in Polanski's 'The Pianist', and the Palace of Culture and Science - a 'gift of friendship' from the Soviet Union, it was completed in 1955 and is, at 237m high, the tallest building in Poland.
Breakfast
Lunch
Dinner
Night Stay in Warsaw
Highlights
Wilanow Palace, the royal residence
Warsaw city tour and sightseeing
Sight of Warsaw Ghetto
Palace of Culture and Science
What's more

Tea/Coffee during Warsaw city tour.
Day 15
Warsaw - Departure to hometown
It's time now to say goodbye!
Senior's Special Central & Eastern Europe Tour (Mumbai to Mumbai) guests will proceed to Warsaw Airport as per the scheduled group flight departure time. After completing airport formalities, Senior's Special Central & Eastern Europe Tour guests will travel back to Mumbai with Veena World Tour Manager.
Joining & Leaving (J&L) Tour guests can be dropped at Warsaw Airport along with scheduled group or they can have their own arrangements made for the return journey back home.
Senior's Special Central & Eastern Europe concludes with mixed feelings! Happy to have made so many good friends, visited beautiful places and collected joyful memories to be cherished for a lifetime. We leave with a heavy heart as the golden days of the Tour come to an end.
Let's stay in touch with each other through email, phone, WhatsApp, Facebook, Instagram and meet again on more such wonderful tours.
Veena World wishes all guests a very happy, healthy and wonderful life ahead.
Breakfast
Sightseeing Highlights
Maksimir - Zagreb's most beautiful public park
Visit the astonishing Postojna Caves of Slovenia
Enjoy an idyllic boat ride on Lake Kozjak
Monument Brandenburg Gate at Berlin city
Witness the concentration camps of Auschwitz
Wilanow Palace, Residence of Polish King Sobeiski
Enjoy a beautiful cruise on River Vltava, Prague
Pletna boat ride to visit Bled Island & Church
Travel Highlights
Experienced, caring & friendly tour managers
Delicious Indian meals on tour
AC Long Distance Coaches (LDC) for road journeys
Prime seat availability in coaches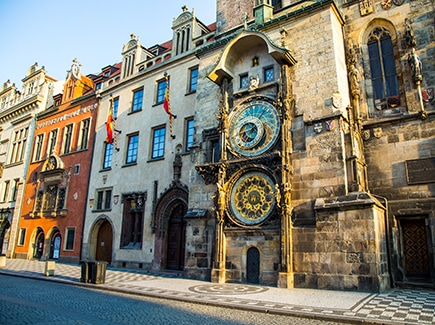 Inclusions
To and fro economy class air travel for 'Mumbai to Mumbai Tour' guests as mentioned in the itinerary
Airfare, Airport taxes and Visa Fees
Baggage Allowance as per the airline policy
Tour Manager Services throughout the tour
Travel by comfortable A/C coach as per the tour itinerary
Entrance fees of all sightseeing places to be visited from inside
Accommodation in comfortable and convenient hotels on twin sharing basis
All Meals – Breakfast, Lunch, Dinner (set menu) as mentioned in the itinerary
All Tips – Guide, Driver & Restaurants
Cost of internal airfare as mentioned in the itinerary
Complimentary insurance up to 59 years of age
Exclusions
Govt Tax of 5.00% over and above the Tour Cost mentioned
Any increase in Airfare, Visa fees, Airport taxes, Govt Taxes, Fuel Surcharges and any applicability of new taxes from Govt
Any up gradation in Airline class or hotel room category
Cost of Air ticket deviation charges
Any Increase in the rate of exchange leading to an increase in all land arrangements which may come in to effect prior to departure
Cost of pre or post tour hotel accommodation
Any extra expense such as route change, Airline change, Date change, Accommodation facilities, etc incurred due to the unforeseen, unavoidable forced majeuere circumstances during the tour
Cost of insurance
Porterage, laundry, telephone charges, shopping, wines & alcoholic beverages, mineral water, items of personal nature and food or drink which is not part of a set group menu
Any extra cost incurred on behalf of an individual due to illness, accident, hospitalisation, or any personal emergency
Any services or activity charges other than those included in the group tour itinerary
To and fro Air fare, Airport transfers, visa fees to join/leave the group and Airport snack hamper for joining and leaving guests
Anything specifically not mentioned in the 'tour price includes' column
For Joining Leaving Guests
To and Fro Air Travel, Airport taxes, Visa fees, Airport Transfers and Insurance cost are excluded
Guests travelling on the international tours, will be couriered their snacks hamper at their residence or any other address they prefer. Guests can also collect their snacks hamper from the nearest Veena World sales office/ the preferred sales office/ key sales partner office or where they have booked their tour
Transport
Air Travel:
Mumbai - Warsaw//Zagreb - Mumbai We use combination of Airlines like Turkish Airline/ Qatar Airways etc.
Coach Travel:
A/C coach - Seating capacity depends upon group size
Travel Documents & Requirements
Original passport with minimum 6 months validity from the date of tour arrival along with sufficient blank pages for the stamping of visa
A valid Tourist Visa for the duration of the tour
For all Schengen countries passport validity should not exceed more than 10 years
Handwritten passport is not acceptable
Things handed Over at the Airport by Veena World
Travel Documents
Air Ticket
Passport pouch & Passport
Travel Insurance
Complimentary Items
Snack Hamper
Universal Adaptor
Poncho
Payment Terms
Payments can be made by Cheque, Demand Draft, NEFT, RTGS or IMPS. Cheque/Demand Draft should be in favour of "Veena Patil Hospitality Pvt Ltd"
Cancellation Policy
| Cancellation received no. of days prior to departure | Cancellation fee applicable on Net Tour Price (per person) |
| --- | --- |
| D-0 to 5 | 100% |
| D-6 to 15 | 75% |
| D-16 to 30 | 75% |
| D-31 to 45 | 50% |
| D-46 to 60 | 30% |
| D-61 to 90 | 20% |
| D-91 to 120 | 15% |
| D-121 to 900 | 10% |
*Terms & Conditions
Remarks
All meals are provided by Veena World in case the flight reaches the stipulated destination early morning or leaves destination late in the evening.
Standard Check-in and check-out time of International hotels is usually 1500hrs and 1200hrs respectively.
Guests may please note that for Domestic flights or internal flights from one city to another city on international tours, the baggage allowance will be as per the respective airline baggage policy and weight regulations. Guests are requested to pack their belongings and carry luggage in accordance to the respective airlines baggage allowance. Excess baggage (if any) will be chargeable as per the airline policy and the same has to be borne by the guest.
Europe is best explored on foot. This tour involves a considerable amount of walking every day. It is expected that guests travelling on this tour are comfortable with walking so that they can thoroughly enjoy their tour.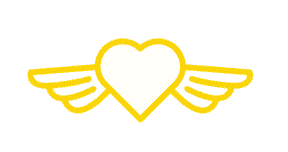 Let's stitch travel dreams together!