Detailed Itinerary
Brief Itinerary
Day 1
Milan – Florence – Rome (2 Nights)
Italy Austria Tour (Mumbai to Mumbai) guests will report at Chhatrapati Shivaji International Airport-respective airline terminal, four hours prior to the scheduled flight departure time. After collecting the snacks hamper from Veena World Airport Representative and completing check in formalities, guests along with Veena World Tour Manager will travel to Milan - Italy's financial & fashion capital which also happens to be the third most-visited city after Rome and Venice. Joining & Leaving (J&L) Tour guests will directly join Milan Airport as per the scheduled group flight arrival time. J&L Tour guests who have already reached Italy can meet the scheduled group as per the guidelines given by Veena World Tour Manager. Upon arrival, Veena World Tour Manager will guide all guests for airport formalities and proceed to Florence - the birthplace of the Renaissance. Upon arrival we take a photo stop at Piazzale Michelangelo Point – also known as Square of Michelangelo which offers a beautiful panoramic view of Florence and the Statue of David - Michelangelo's famed Renaissance-era marble sculpture depicting the Biblical hero David. In the afternoon we proceed to Rome – Capital of Italy and one of the oldest cities in the world.
Highlights
Piazzale Michelangelo Point
Statue of David
---
Day 2
Rome – Vatican – Rome
Today we do a half day excursion to Vatican City – world's smallest country where the Pope lives and is often called Holy See. Upon arrival we visit Vatican Museum to see Michelangelo's Frescoes, the Last Judgement, Sistine Chapel and St. Peter's Basilica - an Italian Renaissance church and an important pilgrimage site. It is the largest church in the world. Later we proceed back to Rome. Upon arrival, we drive through the amazing historical sights of Rome, we see Tiber River – third longest river in Italy, Roman Forum - a rectangular forum surrounded by the ruins of several important ancient government buildings at the centre of the city of Rome, Circus Maximus - an ancient Roman chariot-racing stadium and mass entertainment venue, Piazza Venezia - the central hub of Rome, Colosseum- Also known as the Flavian Amphitheatre. It is an iconic symbol of Imperial Rome and is listed as one of the New 7 Wonders of the World, Trevi Fountain - the largest Baroque fountain in the city and one of the most famous fountains in the world.
Highlights
Vatican city tour and sightseeing
Rome city tour and sightseeing
Colosseum view from outside
Trevi Fountain
Breakfast | Lunch | Dinner
Tea or coffee at Trevi Fountain
---
Day 3
Rome – Pisa – Florence (1 Night)
Today we proceed to Pisa - a city in Italy's Tuscany region best known for its iconic Leaning Tower. Upon arrival we explore Pisa city, we see Square of Miracles – a UNESCO World Heritage Site, an important centre of European medieval art and one of the finest architectural complexes in the world which is dominated by four great religious edifices: the Pisa Baptistry, Pisa Cathedral, the Leaning tower of Pisa, and the Monumental Cemetery. Baptistery – a Roman Catholic ecclesiastical building in Pisa, Pisa Cathedral - a medieval Roman Catholic cathedral dedicated to the Assumption of the Virgin Mary and is a notable example of Romanesque architecture and Leaning tower of Pisa – a freestanding bell tower, of the cathedral of the Italian city of Pisa, known worldwide for its nearly four-degree lean, the result of an unstable foundation. Later we proceed to Florence
Highlights
Pisa city tour and sightseeing
The Leaning Tower of Pisa
Breakfast | Lunch | Dinner
Relish an Ice cream at Pisa
---
Day 4
Florene – Venice – Padova (1 Night)
Today we proceed to Venice- built on more than 100 small islands in a lagoon in the Adriatic Sea. It has no roads but just canals. Upon arrival we enjoy Vaporetto water bus ride to Venice Island and the Gondola ride in the famous canals of Venice, followed by a visit to Glass blowing factory – here we see how a glass artisan will transform a molten glass into a unique piece of art. Later we walk through Venice city, we see the Bridge of Sighs – an enclosed limestone bridge in baroque style which passes over the Rio di Palazzo, and connects the New Prison to the interrogation rooms in the Doge's Palace, Doge's Palace - a palace built in Venetian Gothic style, and was the residence of the Doge of Venice, Bell Tower – also known as St Mark's Campanile, is the bell tower of St Mark's Basilica which is 98.6 metres (323 ft) tall, St. Mark's Square - principal public square of Venice and St Mark's Basilica – also known as The Patriarchal Cathedral Basilica of Saint Mark, is the most famous of the city's churches and one of the best known examples of Italian-Byzantine architecture. In the evening we proceed to Padova.
Highlights
Gondola Boat Ride in Venice
Tour of Glass Blowing Factory
Venice city tour and sightseeing
Breakfast | Lunch | Dinner
Gelato Ice cream at the Venice Island
---
Day 5
Padova – Wattens – Innsbruck (1 Night)
Today we visit Swarovski crystal world and Museum at Wattens. Further we proceed to Innsbruck – Europe's most picture-perfect Old Towns, surrounded by the snow-capped peaks. Upon arrival we explore Innsbruck city, we walk through the bridge over Inns River, Golden roof- Innsbruck's most famous landmark shines in the heart of the historic old town. The splendid alcove balcony with 2,657 fire-gilded copper tiles that adorn the roof, Maria Theresien Strasse- named after Empress Maria Theresia, which dates back to the first city expansion in the 13th century. Today it is one of the busiest streets in the city
Highlights
Swarovski Crystal World and Museum
Innsbruck city tour and sightseeing
Breakfast | Lunch | Dinner
Tea or coffee at Swarovski Crystal Museum
---
Day 6
Innsbruck – Salzburg (1 Night)
Today we proceed to the baroque city of Salzburg – a UNESCO World Heritage Site, Mozart's birthplace and the filming location for The Sound of Music movie. Upon arrival we walk through the city and see Salzburg Cathedral- the centrepiece of Salzburg. It stands out as a masterpiece of early baroque art, Residenz Fountain - considered to be the most beautiful fountain in the city of Salzburg, Love lock bridge over Salzac river- a symbol of eternal love. Couples mark their locks with their names or initials and toss the key into the river, Getreide Gasse- a busy shopping street in the historic altstadt of Salzburg, and a UNESCO World Heritage Site since 1996, It is also known as the birthplace of Wolfgang Amadeus Mozart at No. 9, where he lived until the age of 17, Linzer Gasse- yet another beautiful street with its handicrafts, old shops, countless restaurants and hostels. Later we visit Mirabell Gardens – horticultural masterpiece and one of the most important shooting locations from the famous Hollywood musical 'The Sound of Music'. Later we take the funicular ride to Hohensalzburg Fortress - more than 900-year-old Fortress, also an evidence of Salzburg's medieval history. Here we see the torture room, weapon exhibits and Marionette Museum.
Highlights
Mirabell Gardens
Salzburg city tour and sightseeing
Funicular ride to Hohensalzburg Fortress
Marionette Museum
Breakfast | Lunch | Dinner
---
Day 7
Salzburg – Munich (1 Night)
Today we visit Hallein Salt Mine- – also known as Salzbergwerk Dürrnberg, is an underground salt mine. Later we proceed to Munich and Say cheers to Germany's beer capital. Its motto is "München mag dich" (Munich loves you). Upon arrival we explore Munich City, we see Hofbräuhaus – the oldest beer house founded in 1589 by the Duke of Bavaria, Marienplatz - the centre of Munich city since the 12th century and its iconic Rathaus-Glockenspiel- world's most extravagant clock. This tower on Munich's Marienzplatz features a clock face, 43 bells and more than 30 full-sized mechanical figures. The figures act out scenes from German history and mythology, Opera house- the majestic national theatre of the city
Highlights
Hallein Salt Mines
Munich city tour and sightseeing
Breakfast | Lunch | Dinner
Soft drink during Munich City Tour
---
Day 8
Munich – Departure to hometown
It's time now to say goodbye! Italy Austria Tour (Mumbai to Mumbai) guests will proceed to Munich Airport as per the scheduled group flight departure time. After completing airport formalities, Italy Austria Tour guests will travel back to Mumbai with Veena World Tour Manager. Joining & Leaving (J&L) Tour guests can be dropped at Munich Airport along with scheduled group or they can have their own arrangements made for the return journey back home. Italy Austria Tour concludes with mixed feelings! Happy to have made so many good friends, visited beautiful places and collected joyful memories to be cherished for a lifetime. We leave with a heavy heart as the golden days of the Tour come to an end. Let's stay in touch with each other through email, phone, WhatsApp, Facebook, Instagram and meet again on more such wonderful tours. Veena World wishes all guests a very happy, healthy and wonderful life ahead.
Inclusions
Introducing: Post Tour Holidays and Business Class Upgrades. Get in touch with us on 1800 22 7979
Transport Details
Processing the best for you!
---
We are in the process of booking the transport for this tour. We will update it here, as we are done.
Post booking, you will be notified through your contact details about all tour related updates.
Accommodation Details
Processing the best for you!
---
We are in the process of booking the accommodation for this tour. We will update it here, as we are done.
Post booking, you will be notified through your contact details about all tour related updates.
Departure Dates
Currently we do not have any scheduled departures, they will be updated shortly.
---
Veena World Moments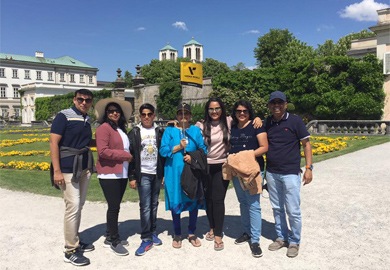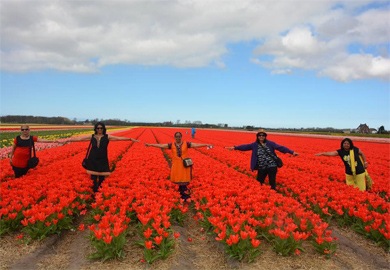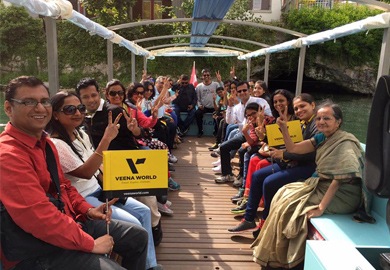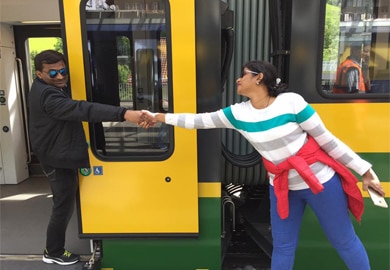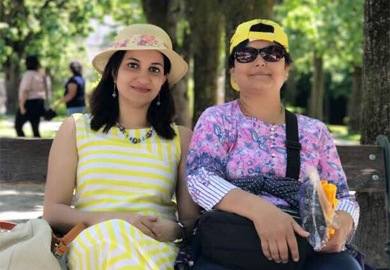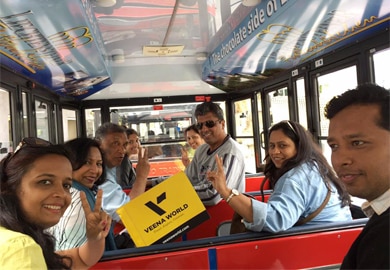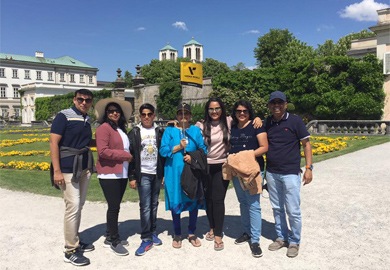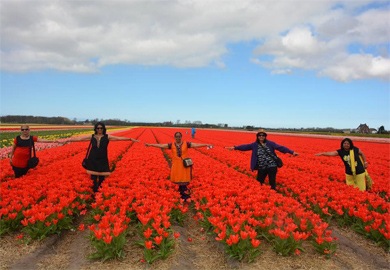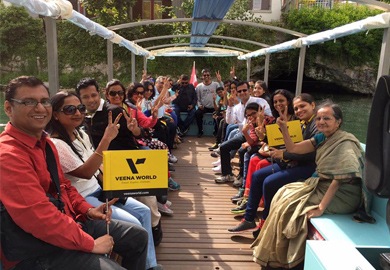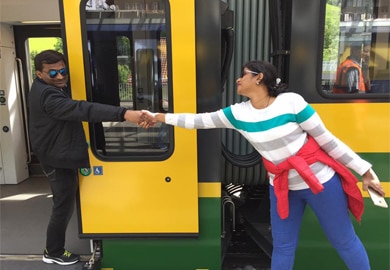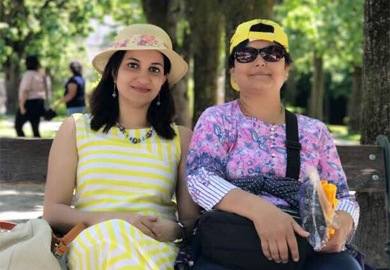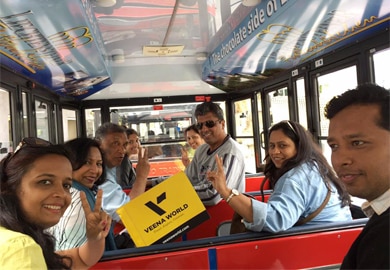 Tour Information
Inclusions
To and fro economy class air travel for 'Mumbai to Mumbai Tour' guests as mentioned in the itinerary
Airfare, Airport taxes and Visa Fees
Baggage Allowance as per the airline policy
Tour Manager Services throughout the tour
Travel by comfortable A/C coach as per the tour itinerary
Entrance fees of all sightseeing places to be visited from inside
Accommodation in comfortable and convenient hotels on twin sharing basis
All Meals – Breakfast, Lunch, Dinner (set menu) as mentioned in the itinerary
All Tips – Guide, Driver & Restaurants
Cost of internal airfare as mentioned in the itinerary
Complimentary insurance up to 59 years of age
Exclusions
Govt Tax of 5.00% over and above the Tour Cost mentioned
Any increase in Airfare, Visa fees, Airport taxes, Govt Taxes, Fuel Surcharges and any applicability of new taxes from Govt
Any up gradation in Airline class or hotel room category
Cost of Air ticket deviation charges
Any Increase in the rate of exchange leading to an increase in all land arrangements which may come in to effect prior to departure
Cost of pre or post tour hotel accommodation
Any extra expense such as route change, Airline change, Date change, Accommodation facilities, etc incurred due to the unforeseen, unavoidable forced majeuere circumstances during the tour
Cost of insurance
Porterage, laundry, telephone charges, shopping, wines & alcoholic beverages, mineral water, items of personal nature and food or drink which is not part of a set group menu
Any extra cost incurred on behalf of an individual due to illness, accident, hospitalisation, or any personal emergency
Any services or activity charges other than those included in the group tour itinerary
To and fro Air fare, Airport transfers, visa fees to join/leave the group and Airport snack hamper for joining and leaving guests
Anything specifically not mentioned in the 'tour price includes' column
Transport
Air Travel:
Mumbai - Rome // Munich - Mumbai. We use combination of Airlines like Air India / Oman Air / Turkish Airlines / Qatar Airways / Emirates etc.
Coach Travel:
A/C coach - Seating capacity depends upon group size
Travel Documents & Requirements
Original passport with minimum 6 months validity from the date of tour arrival along with sufficient blank pages for the stamping of visa
A valid Tourist Visa for the duration of the tour
For all Schengen countries passport validity should not exceed more than 10 years
Handwritten passport is not acceptable
Payment Terms
Payments can be made by Cheque, Demand Draft, NEFT, RTGS or IMPS. Cheque/Demand Draft should be in favour of "Veena Patil Hospitality Pvt Ltd"
Cancellation Policy
| Cancellation received no. of days prior to departure | Cancellation fee applicable on Net Tour Price (per person) |
| --- | --- |
| D-0 to 5 | 100% |
| D-6 to 15 | 75% |
| D-16 to 30 | 75% |
| D-31 to 45 | 50% |
| D-46 to 60 | 30% |
| D-61 to 90 | 20% |
| D-91 to 120 | 15% |
| D-121 to 900 | 10% |
Remarks
All meals are provided by Veena World in case the flight reaches the stipulated destination early morning or leaves destination late in the evening.
This is a "Part tour" for the Italy Austria Swiss Paris (EUPT) tour. For this Part Tour, Veena Worlds tour manager will accompany you from Mumbai until you complete your tour. On your return journey from Munich towards India , the Tour Manager will not be accompanying you , as he will have to proceed towards Paris with the other guests who have opted for the entire Tour. The airport transfers from the last destination in Munich and all the guidance will be provided to you by your tour manager. So there is nothing to worry about.
Standard Check-in and check-out time of International hotels is usually 1500hrs and 1200hrs respectively.
Guests may please note that for Domestic flights or internal flights from one city to another city on international tours, the baggage allowance will be as per the respective airline baggage policy and weight regulations. Guests are requested to pack their belongings and carry luggage in accordance to the respective airlines baggage allowance. Excess baggage (if any) will be chargeable as per the airline policy and the same has to be borne by the guest.
Affordable Journeys
We strive to make the world accessible for each and every one!
Guided Experiences
Hassle free journeys with the expertise of our in-house Tour Managers.
All Inclusive
Comfortable stay & transport, delicious meals and abundant sightseeing on every tour