Europe is a life defining adventure! A dream destination full of heavenly landscapes, quaint cities, extraordinary culture & iconic attractions. Go on a journey to explore the splendid countries of Croatia Slovenia Montenegro and witness historical sights alongwith spellbinding nature on this tour
Package Includes
Hotels
Flights*
Transport
All Meals
Sightseeing
Visa
*Except for joining and leaving option, airfare is included for all departure city options.
Itinerary (Day Wise)
Day 1Budapest
Mumbai to Mumbai Tour' guests will report at Chhatrapati Shivaji International Airport, Mumbai as per the scheduled flight departure time and proceed to Budapest - also called the 'Little Paris' of Europe. Upon arrival in the afternoon, Veena World Tour Manager will guide all guests for airport formalities and proceed to the city. Today we enjoy Danube river cruise and admire the beauty of the Danube River - the magnificent scenic divider and connector of Buda and Pest.
Night Stay in Budapest
Dinner
Day 2Budapest
Today we explore Budapest city, we see Heroes' Square – a UNESCO World Heritage Site and one of the main squares in Budapest, stands in honour and memory of the great leaders in Hungary's history, Fishermen's Bastion - a fairy-tale castle on the Buda side of the city, is a lookout point which offers stunning panorama of Budapest, the historic Matthias Church – a Roman Catholic church, Gellert hill – a 235 m high hill overlooking the Danube River, Parliament house – a magnificent example of Neo-Gothic architecture, is the seat of the National Assembly of Hungary, Royal palace – a UNESCO World Heritage Site, also known as the Buda Castle, is the historical castle and palace complex of the Hungarian kings, the famous chain bridge on the Danube River - first permanent suspension bridge which connected Buda and Pest. Later we have free time for shopping at Vaci Street.
Night Stay in Budapest
Breakfast, Lunch & Dinner
Day 3Ljubljana
Budapest – Bled – Ljubljana (1 Night)
Today we proceed to Bled - an alpine lake with the only island in Slovenia, also called as 'Alpine Pearl'. Upon arrival we visit the Bled Castle – a medieval castle built on a precipice above the city of Bled, overlooking Lake Bled. Later we enjoy a traditional wooden boat ride 'Pletnas' to visit the tiny island in the middle of Lake Bled. Here we visit the glorious 17th century Baroque Church of the Assumption- also known as The Church of Mary the Queen. Later we proceed to Ljubljana – capital of Slovenia, is one of the smallest European capitals.
Night Stay in Ljubljana
Breakfast, Lunch & Dinner
Local ice cream at Bled.
Day 4
Zagreb
Dubrovnik > Ston > Split
Ljubljana – Postojna Caves – Zagreb (1 Night)
Today we enjoy walking tour of Ljubljana, we see Preseren square – the central square in Ljubljana, Triple Bridge – a group of three bridges across the Ljubljanica River, it connects the Ljubljana's historic old town on one bank and the modern city of Ljubljana, Central market – an open air market, Town hall - seat of the Municipality of Ljubljana, Cathedral of St. Nicholas – also known as Ljubljana Cathedral, built as a Gothic church in the early 18th century and later replaced by a Baroque church, Dragon Bridge – a road bridge, built across the Ljubljana River and adorned with dragon statues. In the afternoon we take the funicular ride and visit the 15th century Ljubljana castle – it houses a museum and exhibition on Slovenian history. Followed by a visit to Postojna Caves - The caves were created by the Pivka River. It is an intricate network of tunnels decorated by stalagmites and other natural features which are shaped by tiny droplets over millions of years. Upon arrival we take a train to the magical underground world. Postojna Cave is the only karst cave with a railway, which was built more than 140 years ago. Later we proceed to Zagreb - Croatia's capital which has 900 years of history.
Night Stay in Zagreb
Breakfast, Lunch & Dinner
Tea or coffee during Postojna Caves to Zagreb journey
Day 5
Plitvice National Park
Split > Zadar
Zagreb – Plitvice National Park (1 Night)
Today we explore Zagreb city, we walk through the Upper Town (Gornji Grad) - the oldest part of Zagreb which has a splendid labyrinth of narrow cobblestone streets and wonderful buildings. Here we see St. Mark's church with its multi-coloured tile roof bearing the coats of arms of Croatia, Croatian Parliament building- located within St Mark's square and next to the popular St Mark's church, the Baroque church of St. Catherine, and the Cathedral of St. Stephen - also known as Zagreb Cathedral and it is the tallest cathedral in Croatia, Later we take a stroll through Zagreb's main open-air farmers' market - Dolac Market, then we walk through the Lower Town (Donji Grad) - Zagreb's busy city centre. Here we see, Statue of Ban Jelacic - the Ban of Croatia who is remembered for his military campaigns during the Revolutions of 1848, National Theatre- a theatre, opera and ballet house, and the University of Zagreb- one of Croatia's oldest institutions. In the afternoon we visit Mirogoj Cemetery - One of the most beautiful cemeteries in Europe, it looks more like an art gallery than a cemetery and was designed by famous architect Hermann Bollé in 1876, and Maksimir - largest and oldest public park in Zagreb which is designed in the style of an old English garden. Later we proceed to Plitvice National Park.
Night Stay in Plitvice National Park
Breakfast, Lunch & Dinner
Tea or coffee during Zagreb city tour.
Day 6
Zadar
Zadar > Plitvice National Park
Plitvice National Park – Zadar (1 Night)
Today we visit Plitvice National Park – a UNESCO World Heritage Site, home to 16 lakes connected by a series of waterfalls and surrounded by close-packed woodland. Upon arrival we enjoy the sight of thousands of sparkling water falls, clean pure air, the great Splashier and idyllically boat ride on Lake Kozjak. Later we take a walk on one of 18km marked trails. Later we proceed to Zadar – a city on Croatia's Dalmatian coast, which is known for the Roman and Venetian ruins, also for the unique modern wonders. Upon arrival we explore Zadar city, we see the Forum square - a municipal square from the Roman era, St Donatus Church - built in the 9th century, this church is the largest Pre-Romanesque building in Croatia, Port Marina- situated in the central part of the Adriatic coast and right in the centre of Zadar and Roman City Walls – These walls allowed the city to retain its independence and meant that it was never captured by the Turks. Later we visit Zadar's incredible Sea Organ - an architectural sound art object which plays music by way of sea waves and Sun Salutation - It consists of a 22-meter diameter circle, with photovoltaic solar modules underneath.
Night Stay in Zadar
Breakfast, Lunch & Dinner
Soft drink at Plitvice National Park
Day 7
Split
Plitvice National Park > Zagreb
Today we proceed to Split- one of the Adriatic's most vibrant port cities, stunningly located between mountains and sea. Upon arrival we enjoy walking city tour of Split. We see City Hall- Sometimes referred to as the Communal Palace, Fish Market- one of the central points of the city life is called as Peskarija, Statue of medieval Croatian bishop Gregory of Nin, the Golden Gate- 4th-century Roman stone entryway to Diocletian's Palace, The clock tower, later we visit the Cathedral of Saint Domnius - locally known as the Sveti Dujam is the Catholic cathedral in Split. Further we explore Game of Thrones shooting locations which includes, Diocletian's Palace- where the slaves conspired with the Unsullied Army to overthrow the masters, and Klis Fortress- where Daenerys Targaryen launched an attack on the mountaintop city of Meereen.
Night Stay in Split
Breakfast, Lunch & Dinner
Day 8
Dubrovnik
Zagreb > Ljubljana
Split – Mostar – Ston – Dubrovnik (3 Nights)
Today we proceed to Mostar - a city in southern Bosnia and Herzegovina, straddling the Neretva River. Upon arrival we explore Mostar city, we see Stari Most bridge - a UNESCO World Heritage Site, is a 16th century Ottoman-style bridge that spans the Neretva River and connects the two sides of the city, Koski Mehmed Pasha Mosque – a Small mosque dating to the 17th century. Followed by a walk through the cobbled streets of the Old Town and wander the colourful Old Bazaar which dates back to the 16th Century. Later we proceed to Dubrovnik – a stunningly intact walled city on the Adriatic Seacoast. En route we drive through Ston town, famous for its walls, it is the longest defensive structure in Europe; they are sometimes referred to as the 'European Walls of China'.
Night Stay in Dubrovnik
Breakfast, Lunch & Dinner
Tea or Coffee during Mostar to Dubrovnik journey
Day 9
Dubrovnik
Ljubljana > Bled > Budapest
Dubrovnik – Kotor – Perast – Dubrovnik
Today we proceed to Kotor - a fortified town on Montenegro's Adriatic coast. Upon arrival we explore Kotor city, we see Square of Arms - Kotor's largest city square, Bizanti Palace- a fine example of Renaissance architecture with elements of Baroque style. The building still bears the initials and coat of arms of one of its previous owners – Nikola Bizanti, Beskuca Palace - It was built in the middle of the eighteenth century, St Tryphon Cathedral - one of only two Roman Catholic Cathedrals in Montenegro, Ozana Church- represents a fine example of Romanesque architecture. Followed by a visit to Maritime Museum – It has an excellent collection of exhibits from the Bay of Kotor. More than just maritime pieces, the museum has traditional dress, coins, weapons and furniture. Northern Gate - 16th-century Northern Gate was built to commemorate Kotor's victory over Hayreddin Barbarossa, a famous Turkish admiral. Later we enjoy boat ride to visit Our Lady of the Rocks church at Perast, Kotor Bay. Our Lady of the Rocks - A tiny church on a man-made island in the Adriatic. In the evening we proceed to Dubrovnik – a stunningly intact walled city on the Adriatic Seacoast.
Night Stay in Dubrovnik
Breakfast, Lunch & Dinner
Soft drink during Kotor city tour
Day 10Dubrovnik
Today we walk through Dubrovnik's Old Town exploring Game of Thrones shooting locations to see the sights of King's Landing, the capital of the Seven Kingdoms. We see Onofrio's Fountain- a Circular springwater fountain built in 1438 & decorated with ornate, carved-stone masks, Franciscan Monastery- one of the finest features of Dubrovnik's architecture, Orlando's Column- it features armoured knight Orlando who according to the legend saved Dubrovnik from a 15 month long Saracen siege. Bell Tower- an important public and communal structures of the Renaissance features. Rector's Palace- that used to serve as the seat of the Rector, Church of St Blaise- One of the most beautiful sacral buildings in Dubrovnik, Fort Revelin and Minceta Tower. Later we visit Fort Lovrijenac - an 11th-century castle perched high above the sea, aka Blackwater Bay- which is featured in battle scenes of Game of Thrones, in the evening Sail on the same Karaka ship used in filming of Game of Thrones and the view of King's landing from the sea side.
Night Stay in Dubrovnik
Breakfast, Lunch & Dinner
Soft drink during Dubrovnik city tour
Day 11Budapest
It's time now to say goodbye!
Let's stay in touch with each other through email, phone, WhatsApp, Facebook, Instagram and meet again on yet another memorable tour. See you all!!
'Mumbai to Mumbai Tour' guests will proceed to Dubrovnik Airport as per the scheduled group flight departure time and start their return journey back home.
Tour Concludes.

Please Note:
All tours are available for fully vaccinated guests (Both doses of Covishield with 15 days cooling off period post the 2nd dose) and are subject to government directives/orders, airline connectivity and visa regulations.

All guests must follow the prevailing mandatory requirements for travel, such as RT-PCR tests (Departure & Arrival), certificate of full vaccination, web check-in, self-declaration etc. as per the airline/state/country. Any cost incurred for such requirements should be borne by the guests.

For transfers and sightseeing we will use mini coaches or big coaches or small vans depending on the respective tour group size. If you wish to have separate vehicle solely for yourself or your family, it can be arranged at an additional cost subject to availability.

Given the current dynamic situation, tour departure date may change. Some monuments or sightseeing places may be closed temporarily without any prior notice; in such cases every attempt will be made to visit an alternate sightseeing if possible.
Detailed Tour Price
Single Occupancy
₹3,17,000
Child (2 - 11) With Mattress
₹1,92,000
Child (2 - 11) Without Mattress
₹1,67,000
NOTES :
Above mentioned tour prices are Per Person for Indian Nationals only.
5% GST is applicable on given tour price.
TCS (5% or 10%) is applicable on GST inclusive price for international tour.
Terms and Conditions apply.
Upgrades Available
Need to upgrade to business or first class? Please get in touch with our team on 1800 22 7979 for more details.
You can select the prime seat(s) in your coach at an additional cost. Please get in touch with our team on 1800 22 7979 for more details.
Guest Type
Reporting Point
Dropping Point
Scheduled Tour Guests
Chatrapati Shivaji International Airport, Mumbai
Chatrapati Shivaji International Airport, Mumbai
Joining & Leaving Guests
Ljubljana Airport, Ljubljana Hotel
Dubrovnik Hotel, Dubrovnik Airport
Tour Information
To and fro economy class air travel for 'Mumbai to Mumbai Tour' guests as mentioned in the itinerary
Airfare, Airport taxes and Visa Fees
Baggage Allowance as per the airline policy
Tour Manager Services throughout the tour
Travel by comfortable A/C coach as per the tour itinerary
Entrance fees of all sightseeing places to be visited from inside
Accommodation in comfortable and convenient hotels on twin sharing basis
All Meals – Breakfast, Lunch, Dinner (set menu) as mentioned in the itinerary
All Tips – Guide, Driver & Restaurants
Cost of internal airfare as mentioned in the itinerary
Complimentary insurance up to 59 years of age
Weather
Transport
Air Travel:
Mumbai - Dubrovnik // Ljubljana- Mumbai. We use combination of Airlines like Turkish Airline /Qatar Airways etc.
Coach Tavel
A/C coach - Seating capacity depends upon group size
Documents Required for Travel
Original passport with minimum 6 months validity from the date of tour arrival along with sufficient blank pages for the stamping of visa
A valid Tourist Visa for the duration of the tour
For all Schengen countries passport validity should not exceed more than 10 years
Handwritten passport is not acceptable
Cancellation received no. of days prior to departure
Cancellation fee applicable on Net Tour Price (per person)
Payment Terms
Guest can pay by Cheque/ Demand Draft/ Debit card / Credit card/ NEFT/ RTGS/ IMPS. For Debit / Credit card payment additional 1.8 % convenience charge will be applicable Cheque / Demand draft should be in favour of "Veena Patil Hospitality Pvt ltd"
Remarks
All meals are provided by Veena World in case the flight reaches the stipulated destination early morning or leaves destination late in the evening.
Standard Check-in and check-out time of International hotels is usually 1500hrs and 1200hrs respectively.
Guests may please note that for Domestic flights or internal flights from one city to another city on international tours, the baggage allowance will be as per the respective airline baggage policy and weight regulations. Guests are requested to pack their belongings and carry luggage in accordance to the respective airlines baggage allowance. Excess baggage (if any) will be chargeable as per the airline policy and the same has to be borne by the guest.
Our trips have touched hearts globally
what our happy travelers are saying
Croatia Slovenia Bosnia Montenegro Hungary
"This is our 3rd trip with Veena World. We have reached home very happily and with nice and everlasting memories. We know your Back office ppl must have worked hard to make our trip v.comfortable Our team manager :-) Mr Vivek Kochrekar is outstanding very knowledgeable. caring, enthusiastic with pleasant personality. With his great efforts only trip was a memorable occasion. Vivek always used to say that our back office ppl.from mumbai have arranged this and this. All the members of the tour were also very nice.cooperative and good hearted ppl. Your Vivek is a GEM in your crown. Really he deserves all the medals. Ppl.who joined from Canada and Dubai also gave glamour to our trip.so it was really a tour with international ppl. Once again Thank you very much for making our trip very comfortable and memorable"
Sudhir
Croatia Slovenia Bosnia Montenegro Hungary
"We had completed the above tour and it was a memorable experience for us. Thanks to our tour manager :-) Mr. Vivek Kocharekar. He was competent, confident, compassionate and caring. He made sure that everybody was comfortable, that everybody enjoyed every moment, and was a pleasant company for all of us. We were very fortunate to have him with us. Is it possible to know which tours he will be doing in future? We will definitely like to join those tours. Thanks all concerned for the wonderful tour."
Sudhir
Croatia Slovenia Bosnia Montenegro Hungary
"We had booked your eleven days' Europe Tour EUSC150719/A on 30/05/2019 for myself and my wife VEENA. We are glad to inform that we returned home from this 'Croatia, Hungary, Slovenia and Montenegro Tour' today morning at 10 am after completing this 11 days/10 nights Tour and we are thankful to 'Veena World' and their Team of Experts for making it a successful and memorable one. We have traveled a lot on tours earlier but this was very much unique in the sense that all the sightseeing locations covered in this Tour were so beautiful, amazing and awesome that we just went on clicking the snaps for everlasting memories. The arrangements made by Veena World right from the start of the Tour till end were excellent and the credit for all that goes to our :-) Tour Leader Mr. Vivek Kochrekar :-) who treated all of us as a Family and shared abundant knowledge that he possessed during these 11 days. We were lucky to have him as a Tour Leader, having vast experience from visiting 86 countries. In view of his knack of explaining the minute details, all the tour members were also disciplined and co-operative in maintaining the schedules. We hope we will have further opportunities to travel with Veena World in future as well. All the BEST"
Mohan
Croatia Slovenia Bosnia Montenegro Hungary
This is to put on record the wonderful tour I had with my wife Trandrima Nath and Anushua Nath for the captioned tour. ( Our third tour with Veena) We had planned this trip for our 25th weeding anniversary. First of all kudos to Vivek. He organized the tour to the last detail. Nothing was missed out. Each and every day was planned and executed wonderfully. Vivek is perfect example a Tour Manager should be. Smiling and controlling everything without any discomfort to anyone. Veena World should train all it's Tour Manager to emulate Vivek.Thanks Veena for this tour and above all to Vivek in making this a memorable one.
Kausik
Similar Tours for You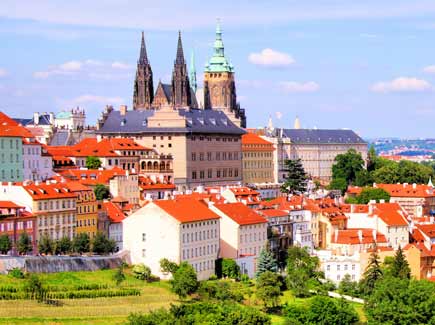 Meals
Sightseeing
Hotels
Flight & Visa
Brno
Budapest (2N)
Bratislava (1N)
SUPER DEAL PRICE
₹1,75,000
per person on twin sharing
7 Days
4 Country
5 Cities
Brno
Budapest (2N)
Bratislava (1N)
Vienna (1N)
Prague (2N)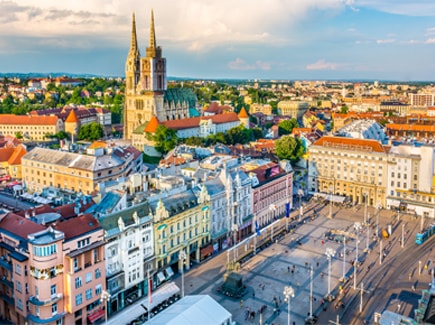 Meals
Sightseeing
Hotels
Flight & Visa
Zagreb (1N)
Zadar (1N)
Plitvice National Park (1N)
SUPER DEAL PRICE
₹2,90,000
per person on twin sharing
15 Days
8 Country
14 Cities
Zagreb (1N)
Zadar (1N)
Plitvice National Park (1N)
Ljubljana (2N)
Budapest (1N)
Vienna (1N)
Prague (2N)
Berlin (2N)
Krakow (2N)
Warsaw (1N)
Dresden
Potsdam
Bratislava
Bled
Mumbai - 10/05/2023 Mumbai - 20/05/2023
Super Deal Price
₹2,55,000
*per person on twin sharing basis
₹2,55,000
*per person on twin sharing basis