Customized Holiday - IBNI5
Classical North Tour
Classical North Tour
COUNTRY

1

Cities

12

Days

15

Tour Type
Inbound
Tour Code
#IBNI5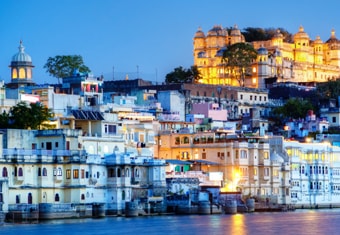 Holiday Experiences
Rickshaw ride in Chandani Chowk
Visit Taj Mahal "The symbol of love"
Fatehpur Sikri "Desserted City"
Boat ride on Lake Pichola
Lovely Saheliyon Ki Bari gardens
Jain Temples of Ranakhpur
Imposing Mehrangarh Fort
The golden fort of India Jaisalmer Fort
Camel Ride on sand dunes
Jantar Mantar "magnificent stone observatory"
Elephant ride to Amber fort
World famous Temples of Khajuraho
Experience spiritual 'Ganga Aarti' at Banaras Ghat
Day 1
Arrive Delhi
On arrival at New Delhi International airport and after you have cleared your immigration and customs, you will be welcomed by our representative & transferred to your hotel.
Delhi has been the capital of several Indian Empires medieval period and a major city along the old trade routes. As the capital of India Delhi is the seat of administration and the monuments which tell the saga of a bygone era stand there. Diverse cultural elements absorbed into the daily life of the city have enriched its character. Exploring the city can be a fascinating and rewarding experience.
Overnight in Delhi
Day 2
Delhi
After breakfast at the hotel, set out for a tour of Old Delhi.
Old Delhi - the 300-year-old walled city built by Emperor Shah Jahan in 1648 as his capital and named after him. Visit the black and white onion dome and minarets of the Jama Masjid the most elegant mosque in India. The journey between the 2 will be on bicycle rickshaws- in convoy- through the narrow lanes of Chandini Chowk- where each lane is dedicated to one ware- from wedding accessories to silver gold copper fabrics etc. Lanes so narrow that if you stretch your hand out you can touch the shops at both sides! Full of colours sounds smells… Frightening and yet so very exciting! Thereafter, visit the Red Fort
Visit Qutub Minar. Qutub Minar 72 meters high and the ruins of Quwat-ul-Eslam (Light of Islam) Mosque and Delhi's most curious antique the un-corroded Iron Pillar which dates back to the 4th century AD.
New Delhi - the new capital designed by Sir Edward Lutyens. Drive down the main avenue the impressive Rajpath to the World War I memorial arch the India Gate and past the Presidential Palace, the Rashtrapati Bhavan and the secretariat buildings - the centre of all government activity.
On completion of the sightseeing, return to the hotel.
Overnight in Delhi
Breakfast
Day 3
Delhi – Udaipur (Flight)
After breakfast checkout of the hotel and transfer to airport in time to board flight for Udaipur.
On reaching Udaipur, you will be met by our representative & transferred to your hotel.

Udaipur - one of the most romantic cities in all of Rajasthan, Udaipur is better known as the city of lakes. The marble palaces, the beautiful gardens and the placid blue lakes enhance the beauty of this city. It was founded in 1568 by Maharana Udai Singh II. The Lake Palace is certainly the best late example of this unique cultural explosion, but Udaipur is full of palaces, temples and havelis ranging from the modest to the extravagant. It's also proud of its heritage as a centre for the performing arts, painting and crafts

Optional : Enjoy boat ride on Lake Pichola (Boat ride is subject to the water level in Lake Pichola)
Return back to your hotel on completion.

Overnight in Udaipur
Breakfast
Day 4
Udaipur
After breakfast proceed for sightseeing of Udaipur.

Visit Jagdish temple City Palace Complex, Jag Mandir and Saheliyon ki Bari & Markets
Return to the hotel for lunch.
After lunch, set out for a visit to Nagda Temple.
Upon completion, return to your hotel.
Overnight in Udaipur
Breakfast
Day 5
Udaipur – Ranakpur – Jodhpur (266kms/7hrs)
This morning, after a leisurely breakfast, check out from the hotel & transfer to Jodhpur. Enroute stop at Ranakpur to visit the beautiful Jain temples.
Ranakpur is known for its Jain temples, undoubtedly the most beautiful & best preserved of Jain temples in India. The Adinath temple constructed in 1433 is an extraordinary example of intricate Jain architecture. This is a magnificient ensemble of marble halls & corridors and is crowned by intricately carved domes reaching out skywards. (The Temple opens at 1200 hrs)
Arrive at Ranakpur at 1130hrs. Free time for some photography till the temple opens. At 1200hrs, Visit of Ranakpur Temple.
Lunch enroute at Fateh Bagh
After lunch, continue to Jodhpur & check into your hotel.


Jodhpur is at the edge of the Thar desert and is the largest city in Rajasthan after Jaipur. The city is dominated by a massive fort, topping a sheer rocky ridge right in the middle of the town. The old city of Jodhpur is surrounded by 10 kms long wall, built about a century after the city was founded. From the fort, you can clearly see where the old city ends and the new begins. It's fascinating to wander around the jumble of winding streets in the old city, out of which eight gates lead. Jodhpur is affectionately referred to as the 'Blue City' because of the indigo-coloured houses in the old town. These can be seen from the ramparts of the mighty Mehrangarh, which looms high above the buzzing city.
Evening at leisure to explore on own.
Overnight in Jodhpur
Breakfast
Day 6
Jodhpur – Jaisalmer (290kms/6hrs)
After an early breakfast, visit the Meherangarh Fort - one of the largest forts in India. Built around 1460 by Rao Jodha, the fort is situated 410 feet (125 m) above the city and is enclosed by imposing thick walls. Inside its boundaries there are several palaces known for their intricate carvings and expansive courtyards.
The museum in the Mehrangarh fort is one of the most well-stocked museums in Rajasthan. In one section of the fort museum there is a selection of old royal palanquins, including the elaborate domed gilt Mahadol palanquin which was won in a battle from the Governor of Gujarat in 1730. The museum exhibits the heritage of the Rathores in arms, costumes, paintings and decorated period.
By Noon drive to Jaisalmer. Lunch enroute at Manvar Resort.
Continue towards Jaisalmer & check into your hotel on arrival.
Overnight in Jaisalmer
Breakfast
Day 7
Jaisalmer
After breakfast set out for sightseeing of Jaisalmer.
Visit Jaisalmer Fort, Salim Singh ki Haveli, Patwon ki Haveli, Nathmalji ki Haveli, Bada Bagh and Gadisagar Lake
Nothing else in India is remotely similar to Jaisalmer. Its desert fort, which resembles a gigantic sandcastle. There are many havelis which can be found elsewhere in Rajasthan, but nowhere are they quite as exquisite as in Jaisalmer. Even the humblest shops and houses display something of the Rajput love of the decorative arts. The old city was once completely surrounded by an extensive wall, much of which has sadly been ripped away in recent times for building material. Some of it remains, however, including the city gates and, inside them, the massive fort which rises above the city and is the essence of Jaisalmer.
Return to your hotel by noon.



Later in the early evening, proceed to the dunes, to enjoy a Camel Ride & View of the Sunset over the dunes.
Return back to your hotel.
Overnight in Jaisalmer.
Breakfast
Day 8
Jaisalmer – Bikaner (310kms/07hrs)
After an early breakfast at 0700hrs, check out & depart to Bikaner.
Bikaner city lies on the northern point of the triangle of desert cities. Bikaner is another royal walled city dating back to 1486 AD. While other cities of Rajasthan are rich in lakes and pleasure pavilions, Bikaner seems quite bare in that respect. This desert town in the north of the state was founded on 1488 by Rao bika, a descendant of Jodha, the founder of Jodhpur. Like many others in Rajasthan, the old city is surrounded by a high crenellated wall and like Jaisalmer; it was once an important staging post on the great caravan trade routes. Bikaner has a superb fort, camel safaris and 30 kms to the south is the extraordinary Karni Mata temple where thousands of holy rats are worshipped.
Upon arrival at Bikaner, visit the Junagarh Fort & do the Tonga ride. Later check into your hotel.
Afternoon visit the Karnimata Temple and return to the hotel.
Overnight in Bikaner
Breakfast
Day 9
Bikaner – Jaipur (320kms/07hrs)
This morning after an early breakfast,check out from the hotel & proceed towards Jaipur.
Upon reaching Jaipur, check into your hotel. Post lunch, proceed for city tour of Jaipur.
Jaipur, the vibrant capital of Rajasthan, is popularly known as the ' Pink City ' because of the pink sandstone used in the buildings of the old walled city. From the intricate, delicate looking Hawa Mahal to the graphic forms of the Jantar Mantar - an open air observatory of outsized astronomical instruments, the Badi Chaupar lined with shops and business establishments on both sides to the majestic fort-palace at Amber; from the colorful fountains of life to the sublime Birla Temple; from the architectural delight of the City Palace to the serene Jal Mahal. The principal shopping centre in the old city is Johari Bazaar, The jewellers' market. Unlike most other shopping centres in narrow alleys in India and elsewhere in Asia, this one is broad and open.
Visit only City Palace and Jantar Mantar
Evening, enjoy an exciting rickshaw ride in the bazaar!!
Return to your hotel.

Overnight in Jaipur
Breakfast
Day 10
Jaipur
After breakfast drive past Jal Mahal , Hawa Mahal & visit Amber Fort by elephant back. Then visit Gaitor.
Situated 7 miles north of Jaipur with it's a honey coloured fortress – palace in the Aravalli hills which can be mounted by elephant. It has been described as "the sleeping beauty of Rajasthan". The somber exterior belies the richness of the royal apartments which open onto striking views of the gorge.
Return to the city and free time for shopping.
Overnight in Jaipur
Breakfast
Day 11
Jaipur – Agra (248kms/05hrs)
After breakfast leave for Agra enroute visiting Fatehpur Sikri
Fatehpur Sikri - A deserted town of Mughal Dynasty built in red sandstone in honour of Saint Salim Chisti who foretold the birth of 3 sons to Emperor Akbar is an example of robust stability combined with originality. Each important edifice here represents a type by itself. Notable among them is the Diwan-e-Khas; Panch Mahal, the Tomb of Salim Chisti, and the Buland Darwaza.
Continue to Agra & check into your hotel.
Agra - The city, situated on the west bank of river the Yamuna, is known world over as home to a wonder of the world, Taj Mahal. For most of the time Agra alternated with Delhi as the capital of the Mughal Empire. As such one finds many marvels of the Mughal architecture in and around the city.
Afternoon visit TAJ MAHAL and Agra Fort
Taj Mahal - The monument was built as a mausoleum by Shah Jahan in the memory of his favourite wife, Mumtaz Mahal. When included in the UNESCO World Heritage Site in 1983, it was described as "the jewel of Muslim art in India and one of the universally admired masterpieces of the world's heritage". The ivory-white marble tomb surrounded by picturesque gardens attracts millions visitors all year round.
Agra Fort is a historical fort in the city of Agra in India. It was the main residence of the emperors of the Mughal Dynasty till 1638, when the capital was shifted from Agra to Delhi. The Agra fort is a UNESCO World Heritage site
Return back to your hotel.
Overnight in Agra
Breakfast
Day 12
Agra – Jhansi (By Train) – Khajuraho
After an early breakfast, proceed to Agra Railway Station to board the train to Jhansi.
On arrival at Jhansi station, you will be met by our local representative & will be transferred to Khajuraho enroute visiting Orchha.
Orchha is a historical town located at Tikamgarh District of Madhya Pradesh. Orchha, means a "hidden place", has the richness of its palaces, temples and cenotaphs. It was once the capital city of the Bundelkhand Empire. The historical monuments still retain their past charm and tell stories of war and peace and of love and destruction. Orchha is also famous for Bundela paintings and once it was a major center of such paintings.
Later continue to Khajuraho & check into your hotel.
Overnight in Khajuraho
Breakfast
Day 13
Khajuraho – Varanasi (By Flight)
After Breakfast visit the architectural marvels of "The Khajuraho Temples".
In the short span of 150 years, the Rajput dynasty of the Chandelas built a series of 84 temples at Khajuraho against the backdrop of the Vindhya Mountains. This temple city of central India, is famous throughout the world for its exquisitely carved temples in stones. Thousands of visitors and tourists from all over the world flock together to envisage this immortal saga of Hindu art and culture. Khajuraho is one of the greatest celebrations of life, a triumph of artistry and an amazing experience. It is also a World Heritage Site.
Transfer to Khajuraho airport to board flight to Varanasi - one of the holiest Hindu cities & still thriving on its religious past.
On arrival at Varanasi, you will be met by our local representative & will be transferred to your hotel.
Evening visit the banks of River Ganges to witness the spectacular "Ganga Aarti" ceremony. The transfer to river ghats would be done by Cycle rickshaws
Return to hotel.
Overnight in Varanasi
Breakfast
Day 14
Varanasi – Delhi (By Flight) & Departure
Early morning, visit River Ganges for a boat ride across the bathing ghats.
Return to your hotel for breakfast.
After breakfast, rest of the morning is at leisure.
Early lunch at the hotel. Later, check out from the hotel and proceed to Varanasi Airport for your flight to Delhi.
On arrival at Delhi airport , you will be met by our representatives & transferred to Hotel for dinner.
After dinner, you will be transferred to Delhi International Airport to board flight back home.
Breakfast
Cancellation Policy
| Cancellation received no. of days prior to departure | % of Cancellation on Net Tour Price (per person) |
| --- | --- |
| D-0 to 5 | 100% |
| D-6 to 15 | 75% |
| D-16 to 30 | 50% |
| D-31 to 45 | 40% |
| D-46 to 60 | 30% |
| D-61 to 90 | 20% |
| D-91 to 120 | 15% |
| D-121 to 900 | 10% |
*Terms & Conditions
We hope to travel
with you soon!