Paradise of the Pacific' calling! New Zealand is an experience like never before and a journey to cherish forever. Let's explore the stunning natural beauty, amazing glacial landscapes, quaint towns and profound local culture of the Land of Kiwis. Get ready to admire the unspoiled natural landscape of New Zealand
Package Includes
Hotels
Flights*
Transport
All Meals
Sightseeing
Visa
*Except for joining and leaving option, airfare is included for all departure city options.
Day 1Auckland
Day 2AucklandAuckland > Rotorua > Auckland
Day 3AucklandAuckland > Christchurch > Dunedin
Day 4DunedinDunedin > Te Anau
Day 5Te AnauTe Anau > Milford Sound > Queenstown
Day 6Queenstown
Day 7QueenstownQueenstown > Wanaka > Franz Josef
Day 8Franz JosefFranz Josef > Arthur's Pass > Christchurch
Day 9Christchurch
Day 10Christchurch
Day 1Auckland
Mumbai to Mumbai tour guests will report at the Chhatrapati Shivaji Maharaj International Airport, Mumbai as per the scheduled flight departure time and proceed to Auckland. Upon arrival, Veena World Tour Manager will guide all guests through the airport formalities and proceed to the city.
Welcome to Auckland – a diverse, multicultural and cosmopolitan city, home to the largest Polynesian population in the world offering diverse landscapes, lush native rainforest, stunning beaches and natural wonders.
We explore Auckland city, we see Harbour Bridge – an eight-lane motorway bridge over the Waitemata Harbour, Westhaven Marina – home to over 2,000 boats including privately owned yachts and launches making it one of the biggest marinas in the world, Queen Street – once a dirty canal leading out to sea, today is the heart of central business district (CBD) and a shoppers paradise, Auckland Waterfront – a true gem in the Heart of the city. Later we visit the Auckland Sky Tower Observatory Deck – the tallest freestanding structure in the Southern Hemisphere, standing tall at 328 meters as an icon of Auckland's sky line for 20 years, enjoy the breath-taking views of the city
Day 2
Auckland
Auckland > Rotorua > Auckland
Auckland – Rotorua – Auckland
Today we have full day excursion to Rotorua – known for its bubbling mud pools, shooting geysers, natural hot springs and fascinating Maori culture. . Here we enjoy the Maori show – Maori are the indigenous people of New Zealand Aotearoa, they perform traditional arts of Maori culture. Let's experience Maori culture's close connection with nature and New Zealand, you can also click pictures with the performers. Later we visit the Whakarewarewa Thermal Reserve – a living Geo thermal area in the Taupo Volcanic Zone with more than 500 hot spring pools and seven active geysers. Later we enjoy the Sheep Shearing Show at Agrodome – here you are introduced to 19 breeds of sheep and witness a live sheep shearing demonstration, you'll learn the remarkable story of New Zealand and discover the full process of wool making. In the evening we drive back to Auckland.
Breakfast, Lunch & Dinner
Tea / Coffee at Whakarewarewa Thermal Reserve
Day 3
Auckland
Auckland > Christchurch > Dunedin
Auckland – Christchurch – Dunedin (1 Night)
Today we travel to Christchurch by flight. Upon arrival we proceed to Dunedin – Scottish city on south east coast of New Zealand's south island known for its Maori heritage, Victorian and Edwardian architecture.
Breakfast, Lunch & Dinner
Day 4
Dunedin
Dunedin > Te Anau
Dunedin – Te Anau (1 Night)
Today we explore Dunedin city, we see Baldwin Street – named after Provincial Councillor William Baldwin and recognised as the steepest residential street in the world, Signal Hill Lookout Point – beautiful lookout point located 300 meters above the Dunedin offers gorgeous views over the city as well as Otago Harbour, Dunedin Railway station - one of the finest pieces of Edwardian Baroque style architecture in New Zealand, Yellow Eyed Penguin Reserve - private conservation reserve dedicated endangered Yellow-Eyed Penguin species and Albatross Colony - premier wildlife attraction on Otago Peninsula, offering a unique opportunity to observe the world's largest seabirds (Albatross) at close range.
Later we proceed to Te Anau – a beautiful town situated on banks of Te Anau Lake and gateway to Milford sound. Upon arrival we visit Glow worm caves and experience a unique natural wonder of bioluminescent glow-worms in limestone caves.
Breakfast, Lunch & Dinner
Day 5
Te Anau
Te Anau > Milford Sound > Queenstown
Te Anau – Milford Sound – Queenstown (2 Nights)
Today we visit Milford sound – acclaimed as New Zealand's most famous tourist destination and eighth natural wonder of New Zealand. En route we see Te Anau Lake – largest glacial lake in southern New Zealand, Mirror Lakes – set of lakes with lovely reflections of the Earl Mountains lying just north to the Te Anau Lake, Knobs Flat, Cascade Creek, Lake Furgus, Holyford Valley Lookout, Monkey creek, Hummer Tunnel and Chasm Waterfall. Upon arrival we embark on scenic Milford sound cruise and sail through mesmerizing landscapes of Fjord Land National Park to view vistas of Mitre Peak - one of the most photographed peaks in New Zealand and Browne Waterfalls – tallest water drop in doubtful sound. In the evening we proceed to Queenstown – a city that sits on the shores of the South Island's Lake Wakatipu, set against the dramatic Southern Alps, renowned for adventure sports is the birthplace of bungee jumping. We pass by Devils Staircase – the road which winds between Te Anau and Queenstown, is a picturesque destination. Enjoy photographing the spectacular landscapes and the surrounding beauty.
Breakfast, Lunch & Dinner
Tea/ Coffee on the journey to Milford sound
Day 6Queenstown
Today we visit bungee jumping point on Kawarau River and take a stroll around Arrow Town - historic gold mining town in the Otago region of the South Island of New Zealand. Later we board skyline gondola ride to visit Bob Peak which offers amazing view of Queenstown. In the afternoon we experience thrills of Jet Boat Ride in Kawarau River and take photostop at backdrop of Lake Wakatipu. In the evening we have free time to stroll around Queenstown Waterfront Area.
Breakfast, Lunch & Dinner
Tea/Coffee at Bob Peak
Day 7
Queenstown
Queenstown > Wanaka > Franz Josef
Queenstown – Wanaka – Franz Josef (1 Night)
Today we proceed to Franz Josef Glacier which offers rare opportunity to experience a dynamic glacial environment, in a temperate zone of New Zealand. En route we visit Puzzling world - featuring a multi-level outdoor maze, optical illusion rooms and a cafe with table puzzles at Wanaka. We also get a chance to view the famous Mount Cook if weather permits. Upon arrival, we take an exclusive helicopter ride which offers spectacular view of glacier landscapes.
Breakfast, Lunch & Dinner
Tea/Coffee at Wanaka
Day 8
Franz Josef
Franz Josef > Arthur's Pass > Christchurch
Franz Josef – Arthur's Pass – Christchurch (2 Nights)
Today we embark on a Trans Alpine Train from Franz Josef Glacier to Christchurch - known as the Garden City because of its many beautiful parks, gardens and tree-lined streets. En route we pass through highest and most spectacular pass across the Southern Alps – Arthur's Pass. Enjoy scenic journey with amazing landscapes on world's one of the best train journeys. Upon arrival at Christchurch we have free time for relaxing and exploring surrounding.
Breakfast, Lunch & Dinner
Tea/ Coffee during Franz Josef to Christchurch journey
Day 9Christchurch
Today we visit International Antarctic Centre to experience a taste of this unique continent and learn about the human impact on the wildlife as well as plant system of Antarctica. Here we get a chance to experience real snow, ice as well as an indoor Antarctic storm. In the afternoon we explore Christchurch City we visit Willow Bank Wildlife Reserve which has public displays of various animal species including Tuatara, Kiwi, Brown Teal and Duvaucel's gecko, Cardboard Cathedral – built using Cardboard tubes, timber and steel and designed by the Japanese architect Shigeru Ban, 185 empty chairs – an unofficial memorial in remembrance of 185 individuals who died in 2011 Christchurch Earthquake and Air Force Museum – which displays collection various aircrafts used during world war I and World war II.
Breakfast, Lunch & Dinner
Day 10Christchurch
Christchurch – Departure to Hometown
It's time now to say goodbye!
Let's stay in touch with each other through email, phone, WhatsApp, Facebook, Instagram and meet again on yet another memorable tour. See you all!!
Mumbai to Mumbai Tour guests will proceed to Christchurch Airport as per the scheduled group flight departure time and start their return journey back home.
Tour Concludes.

Please Note:
All guests must follow the prevailing mandatory requirements for travel, such as RT-PCR tests (Departure & Arrival), web check-in, self-declaration etc. as per the airline/state/country. Any cost incurred for such requirements should be borne by the guests.
For transfers and sightseeing we will use mini coaches or big coaches or small vans depending on the respective tour group size. If you wish to have separate vehicle solely for yourself or your family, it can be arranged at an additional cost subject to availability.
Given the current dynamic situation, tour departure date may change. Some monuments or sightseeing places may be closed temporarily without any prior notice; in such cases every attempt will be made to visit an alternate sightseeing if possible.
Detailed Tour Price
Single Occupancy
₹4,05,000
Child (2 - 11) With Mattress
₹2,40,000
Child (2 - 11) Without Mattress
₹2,10,000
NOTES :
Above mentioned tour prices are Per Person for Indian Nationals only.
5% GST is applicable on given tour price.
TCS (5% or 10%) is applicable on GST inclusive price for international tour.
Terms and Conditions apply.
Upgrades Available
Need to upgrade to business or first class? Please get in touch with our team on 1800 22 7979 for more details.
You can select the prime seat(s) in your coach at an additional cost. Please get in touch with our team on 1800 22 7979 for more details.
Departure & Arrival
Airlines
Mumbai30 Apr | 11:45 AM
05h 35m
Singapore30 Apr | 19:50 PM
SINGAPORE AIRLINES
Singapore30 Apr | 22:25 PM
9.35
Auckland01 May | 12:20 PM
SINGAPORE AIRLINES
Christchurch10 May | 10:50 AM
10h 50m
Singapore10 May | 17:40 PM
SINGAPORE AIRLINES
Singapore10 May | 18:55 PM
05h 20m
Mumbai10 May | 22:10 PM
SINGAPORE AIRLINES
Guest Type
Reporting Point
Dropping Point
Scheduled Tour Guests
Chhatrapati Shivaji International Airport Mumbai
Chhatrapati Shivaji International Airport Mumbai
Joining & Leaving Guests
Auckland Airport / Auckland Hotel
Christchurch Airport / Christchurch Hotel
Tour Information
To and fro economy class air travel for 'Mumbai to Mumbai Tour' guests as mentioned in the itinerary
Airfare, Airport taxes and Visa Fees
Baggage Allowance as per the airline policy
Tour Manager Services throughout the tour
Travel by comfortable A/C coach as per the tour itinerary
Entrance fees of all sightseeing places to be visited from inside
Accommodation in comfortable and convenient hotels on twin sharing basis
All Meals – Breakfast, Lunch, Dinner (set menu) as mentioned in the itinerary
All Tips – Guide, Driver & Restaurants
Cost of internal airfare as mentioned in the itinerary
Complimentary insurance up to 60 years of age
Weather
Transport
Air Travel:
Mumbai - Auckland // Auckland - Christchurch // Christchurch - Mumbai.
We use Combination of Airlines like Singapore Airways/ Qantas Airways/ Cathay Pacific.
Cancellation received no. of days prior to departure
Cancellation fee applicable on Net Tour Price (per person)
Payment Terms
Guest can pay by Cheque/ Demand Draft/ Debit card / Credit card/ NEFT/ RTGS/ IMPS. For Debit / Credit card payment additional 1.8 % convenience charge will be applicable Cheque / Demand draft should be in favour of "Veena Patil Hospitality Pvt ltd"
Remarks
All meals are provided by Veena World in case the flight reaches the stipulated destination early morning or leaves destination late in the evening.
'In Case if any sightseeing is not done due to weekly closure, an alternative sightseeing will be done for the same'.
Standard Check-in and check-out time of International hotels is usually 1500hrs and 1200hrs respectively.
Guests may please note that for Domestic flights or internal flights from one city to another city on international tours, the baggage allowance will be as per the respective airline baggage policy and weight regulations. Guests are requested to pack their belongings and carry luggage in accordance to the respective airlines baggage allowance. Excess baggage (if any) will be chargeable as per the airline policy and the same has to be borne by the guest.
Similar Tours for You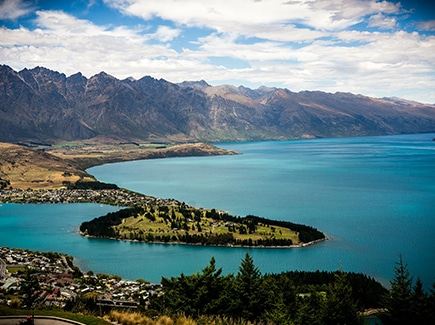 Meals
Sightseeing
Hotels
Flight & Visa
Sydney (2N)
Brisbane (2N)
Cairns (2N)
SUPER DEAL PRICE
(14 Apr 2023) Last 2 Seats
₹5,25,000
per person on twin sharing
17 Days
2 Country
17 Cities
Sydney (2N)
Brisbane (2N)
Cairns (2N)
Melbourne (3N)
Auckland (2N)
Dunedin (1N)
Te Anau (1N)
Queenstown (2N)
Christchurch (1N)
Gold Coast
Great Barrier Reef
Great Ocean Road
Phillip Island
Lake Tekapo
Milford Sound
Rotorua
Wanaka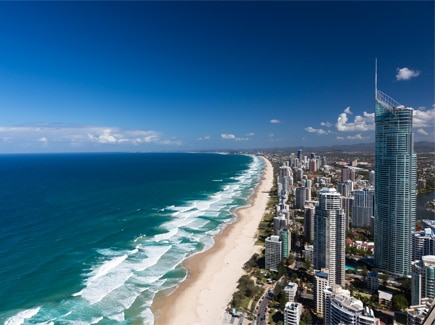 Meals
Sightseeing
Hotels
Flight & Visa
Gold Coast
Great Barrier Reef
Great Ocean Road
SUPER DEAL PRICE
(25 May 2023) Last 1 Seat
₹2,95,000
per person on twin sharing
Gold Coast
Great Barrier Reef
Great Ocean Road
Melbourne Airport
Sydney (2N)
Brisbane (2N)
Melbourne (2N)
Cairns (2N)
Mumbai - 01/05/2023 Mumbai - 10/05/2023
Super Deal Price
₹3,00,000
*per person on twin sharing basis
₹3,00,000
*per person on twin sharing basis