Inclusions
Hotels
Food
Transport
Sightseeing
Flights*
*Except for joining and leaving option, airfare is included for all departure city options.
Travel Itinerary
11 Feb 2022 - 25 Feb 2022
Detailed Itinerary
Brief Itinerary
Day 1 11 Feb 2022
Jaipur – Mandawa (1 Night)
Tour guests will arrive at Jaipur Airport as per their scheduled flight. Upon arrival they will meet Veena World tour manager at the airport and proceed to Mandawa - a quaint little town in a heart of Shekhavati region popularly known as Open Air Art Gallery of Rajasthan. The town is replete with paved Archways, Magnificent Havelis and Fortresses. We then have free time to relax and explore the surroundings.
In the evening, all tour guest will have a short Meet & Greet session.
---
Day 2 12 Feb 2022
Mandawa – Bikaner (1 Night)
Today we visit Mandawa fort, decorated with paintings of Lord Krishna and also adorned with artistic carvings and amazing mirror work. Later we proceed to Bikaner – former capital of princely state of Bikaner and known worldwide for its savoury snacks Bikaneri Bhujia. Upon arrival we visit the Karani Mata Temple – a Hindu temple dedicated to Karani Mata and famous for the approximately 25,000 black rats that live and are revered in the temple.
Breakfast | Lunch | Dinner
Tea / Coffee / Soft drink en route to Bikaner, Tea/Coffee and Bhujia at Karni Mata Temple
---
Day 3 13 Feb 2022
Bikaner – Jaisalmer (1 Night)
Today we explore the Junagarh Fort – an impressive fort standing with all its regal glory as an epitome of architectural brilliance. The dazzling and exquisite structures of this fort, balconies, gardens and kiosks etc. depicts a composite architectural style influenced by cultural differences of Indian and foreign inspirations. Here we see Anup Mahal, Gaj Mandir, Sheesh Mahal, and Prachina Museum and Sadual Museum. Later we proceed to Jaisalmer - Jaisalmer – Golden City of desert famed for its yellow sandstone architecture. Upon arrival we take blissful boat ride in Gadisar Lake surrounded by many temples, shrines and Ghats. Later we enjoy delightful puppet show – a preserved ancient folk art of Rajasthan.
Breakfast | Lunch | Dinner
Tea/Coffee at Prachina Museum, Tea/Coffee and dry snack during journey from Bikaner to Jaisalmer
---
Day 4 14 Feb 2022
Jaisalmer (1 night at tent)
Today we explore Jaisalmer City. We visit Golden Fort – a UNESCO world heritage site and one of the very few living forts in the world, as nearly one fourth the population of the city still resides within the Fort followed by visit to Jain Mandir – craved in yellow sandstones dedicated to Jain hermits known as Tirthankars. Later we visit Patwon ki Haweli Museum – Palace built in early 1800s, now a museum featuring intricate carvings, furniture and artwork and see Nathmalji ki haveli.
Later we proceed to famous Sam Sand Dunes. Upon arrival we experience thrilling Dune Bashing over the golden sands of Jaisalmer. In the evening we get an opportunity to witness the spectacular beauty of sandy terrain by taking joyful Camel Ride and view Red Orange colour splash of sunset on horizon of desert.
Breakfast | Lunch | Dinner
Tea/Coffee/Soft drink at Jaisalmer city and Soft drink at Sam Sand Dunes
---
Day 5 15 Feb 2022
Jaisalmer – Jodhpur (2 Nights)
Today we proceed to Jodhpur – famed as Blue City of India featuring many palaces, forts and temples set in the stark landscapes of Thar Desert. En route we visit the Jaisalmer War Museum - established in the military station in order to honour the soldiers of the 'Battle of Longewala' that was fought in the year 1971. It embraces the bravery and sacrifices of the Indian Army. Upon arrival at Jodhpur we have free time to relax and explore the surroundings.
Breakfast | Lunch | Dinner
Tea/Coffee and two dry snacks during journey from Jaisalmer to Jodhpur
---
Day 6 16 Feb 2022
Jodhpur
Today we explore Ummaid Bhavan Palace Musuem – almost 75 years old architectural marvel now turned into museum showcasing artistic murals, opulent miniature paintings, vintage clocks and unusual household paraphernalia. In the afternoon, we visit the Mehrangarh Fort – which stands four hundred feet above the skyline of Jodhpur. The fort is burnished in Red Sandstone and its colossal structure is surely impressive in all manner. Here we will see Moti Mahal – largest room in fort whose ceiling is decorated with Gold Leaves, Sea Shells and Mirrors, Phool Mahal – Pleasure dome of the Maharajas, Sheesh Mahal – Decorative mirror palace with brightly coloured paintings, Silah Khana – place where weapons were stored, Daulat Khana – treasure vault and Rang Mahal. Later we visit Jaswant Thada - A royal cenotaph built in the white marble also known as Taj Mahal of Marwar.
Further, we see the Sanganeri Block Prints Demonstration - a hand-block printing technique originating from Sanganer.
Breakfast | Lunch | Dinner
Ice Cream at Ummaid Bhavan Palace, Soft drink at Mehrangarh Fort, Pyaj Kachori/ Mirchi Wada at Nayi sadak.
---
Day 7 17 Feb 2022
Jodhpur - Mt. Abu (1 Night)
Today we proceed to Mount Abu – set in the high rocky plateau in the Aravalli Range is the only hill station in Rajasthan surrounded by lush green forest. En route we visit Bullet Baba Temple – a shrine dedicated to a deity in the form of a motorcycle. In the evening we see picturesque paradise for nature lovers, the Nakki Lake at Mount Abu.
Breakfast | Lunch | Dinner
Dry Snack en route, Bhutta (Corn) at Nakki Lake
---
Day 8 18 Feb 2022
Mount Abu – Kumbhalgarh (1 Night)
Today we explore Mount Abu city, visit Gurushikhar – highest point in Aravalli Ranges followed by visit to world famous Dilwara Temples – one of the finest and architecturally renowned white marble Jain temples as well as a Jain Pilgrimage sites in the world. Later we proceed to Kumbhalgarh – one of the most exotic Fort cities of India.
Breakfast | Lunch | Dinner
Tea / Coffee and Chips at Gurushikhar, Dry snack en route to Kumbhalgarh
---
Day 9 19 Feb 2022
Kumbhalgarh – Udaipur (2 Nights)
Today we visit the mighty Kumbhalgarh Fort – the pride of the Mewar Empire. The fort offers a superb bird's eye view of the surroundings. The Fort's thick wall stretches 36 kms and many call this fort as the Indian equivalent to the Great Wall of China. Later we proceed to Udaipur – former capital and crown jewel of Mewar Kingdom also famous as City of Lakes.
Breakfast | Lunch | Dinner
Dry snack en route to Udaipur
---
Day 10 20 Feb 2022
Udaipur
Today we explore Udaipur City, we visit Moti Magri – also known as Pearl hill which overlooks the Fateh Sagar Lake. It's time to explore Udaipur city, we visit City Palace – an architectural marvel. Then we enjoy boat ride to reach Jag Mandir – palace built on island in Lake Pichola. Later we have free time for shopping. In the evening we enjoy a traditional music and dance show.
Breakfast | Lunch | Dinner
Lassi and dry snack during local sightseeing
---
Day 11 21 Feb 2022
Udaipur – Chittorgarh – Pushkar (1 Night)
Today we visit Chittorgarh Fort – symbol of bravery of Rajputs also an UNESCO world heritage site. Here we will see Ranakumbha Palace – place where founder of Udaipur Maharana Udai Singh was born, Meera Mandir – was once the home of famous bhakti poetess Meerabai, Vijay Stambha – victory monument constructed by Mewar king to commemorate victory over Mahmud Khilji and Queen Padmini's Palace – located amidst water bodies, this is the place where Aladdin Khilji was permitted to see the mirror image of Queen Padmini. Later we proceed to Pushkar – one of the oldest cities with heritage, culture, and warmth rolled into one panoramic landscape.
Breakfast | Lunch | Dinner
Pyaj Kachori and Tetra Pack Juice at Chittorgarh, Tea / Coffee dry snack en route to Pushkar
---
Day 12 22 Feb 2022
Pushkar – Ranthambore (1 Night)
Today we visit Brahma Mandir – one of very few existing temples dedicated to the Hindu creator-god Brahma built in 14th century, followed by visit to Pushkar Tirth. Later we proceed to Ranthambore - former royal hunting ground now renowned as National Park home to animals like tigers, leopards, jackals, mongooses, sloth bears, and marsh crocodiles. Enroute we visit Kishangarh – Kashmir of Rajasthan.
Breakfast | Lunch | Dinner
Tea / Coffee / Soft Drink and Malpua at Pushkar, Tea / Coffee / Soft drink and dry snack en route to Ranthambore
---
Day 13 23 Feb 2022
Ranthambore – Jaipur (2 Nights)
Today we experience thrills of Jungle Safari at Ranthambore National Park. Enjoy watching wide variety of wildlife in their natural habitat.
Later we proceed to Jaipur – capital city of Rajasthan and also known as 'Pink City' of India. Upon arrival we visit Birla Temple – originally known as Lakshmi Narayan Temple dedicated to Lord Vishnu and Goddess Laxmi, the grand temple is located on an elevated ground at the base of Moti Dungari hill.
Breakfast | Lunch | Dinner
Tetra Pack Juice and dry snack en route to Jaipur, Chips / Biscuits & Tea / Coffee at Birla Mandir, Dry Snack
---
Day 14 24 Feb 2022
Jaipur
Today we explore Jaipur City. We visit Hawa Mahal – the palace of winds, Jantar Mantar – A UNESCO World Heritage site also an astronomical marvel, and City Palace – the royal residence, known for its architectural blend of Indian, Mughal, Rajput and European styles. Later we visit Panna Meena ka Kund and Amer Fort – known for its Mughal influenced artistic style. Followed by shopping at Sanganer fabric printing shop. In the evening we enjoy sound and light show at Amer Fort.
Breakfast | Lunch | Dinner
Kulfi during Jaipur city tour, Tea / Coffee / Soft drink and dry snack at Amer Village
---
Day 15 25 Feb 2022
Jaipur – Departure to Hometown
It's time now to say goodbye to our travel companions. Let's stay in touch with each other through email, phone, WhatsApp, Facebook, Instagram and meet again on yet another memorable tour. See you all!!
Tour Guests will proceed to will proceed to Jaipur airport as per their schedule flight and start their return journey back home
Tour Concludes.
Please Note:
All guests must follow the mandatory requirements for travel, such as RT-PCR tests, vaccination certificate, web check-in, self-declaration, e-pass formalities etc. as per the state/country, which are subject to change periodically. Any cost incurred for such requirements should be borne by the guests.
For transfers and sightseeing we will use small cars / Tempo Travellers / Mini or big coaches depending on the respective tour group size. In case of small cars there will be 4-6 guests in one car. If you wish to utilise the vehicle solely for yourself or your family or you would like to upgrade the vehicle, we can arrange the same at an additional cost subject to availability.
Given the current dynamic situation some monuments or sightseeing places may be closed temporarily without any prior notice; in such cases every attempt will be made to visit an alternate sightseeing if possible.
Tour Detailed Price
Room Type
Super Deal Price
Single Occupancy
Twin Sharing
Triple Sharing
Infant
Child (5 - 11) With Mattress
Child (2 - 4)
Child (5 - 11) Without Mattress
NOTE :
Above mentioned tour prices are Per Person for Indian Nationals only.
5% GST is applicable on given tour price.
Terms and Conditions apply.
Transport Details
Processing the best for you!
---
We are in the process of booking the transport for this tour. We will update it here, as we are done.
Post booking, you will be notified through your contact details about all tour related updates.
Accommodation Details
Processing the best for you!
---
We are in the process of booking the accommodation for this tour. We will update it here, as we are done.
Post booking, you will be notified through your contact details about all tour related updates.
Reporting & Dropping Point
| Guest Type | Reporting Point | Dropping Point |
| --- | --- | --- |
| Joining & Leaving Guests | Jaipur Airport | Jaipur Airport |
Lowest Price Special Deal
Feb
Super Deal Price
₹65,000
*per person on twin sharing basis

11
Super Deal Price
₹65,000
*per person on twin sharing basis

25
Y 2022
Mar
Super Deal Price
₹65,000
*per person on twin sharing basis

11
+
Mumbai
11/02/2022
Mumbai 25/02/2022
Add travellers & view room options+
+
Mumbai
11/02/2022
Mumbai 25/02/2022
*per person on twin sharing basis
Valid on full payment of total tour price in INR
---
Our Traveller Reviews
Rajasthan Mewad Marwad
I and my wife Ashwini have been part of multiple tours with Veena world - the latest being that at Rajasthan in mid March (RJGR(I)080318. We sincerely thank you all for giving us few of our best memories for life. Veena World's entire team truly lives the warmth and hospitality - creating delightful moments at all touch-points. Our tour manager Mr. Sagar Ragade and Mr. Umesh Bhise took care of us like family members and provided systematic leadership to ensure the tour went smooth without any hassles. I would specifically wish to mention that they showed exceptional emotional intelligence in their leadership and have handled every situation very politely. I am sure that this is something engrained in the Veena World's culture as I received the same affection and care from our tour manager for the Dubai tour - Mr. Amit Dikshit. Last but the best words for Ms Anushka Vadke - Sales Manager, Pune - Bhandarkar Road; who has taken personal interest and helped us to plan our tours. In fact, it's because of Anushka that we took the decision of being part of so many Veena World tours over the last 3-4 months. Just to mention, most recently, we planned our tour starting tomorrow to HPAD(I) 080418 Amritsar - Kulu Manali only because of Ms. Anushka. Once again, our sincere best wishes to the entire Veena World family. Look forward to enjoying more tours with your excellent team.
read more
Amod Bhandare
Mar 8, 2018
Rajasthan Mewad Marwad
We have completed our rajasthan tour on 6th january RJGR(I)23/12/17 I am glad to give my feedback regarding my trip with veena world. The trip was amazing all the sightseeing points was covered within time and without any hustle I would specially like to tell that the efforts taken by the tour manager and specially his assitant was outstanding and flawless as i was travelling alone on single occupancy and was totally unknown to everyone in our 53 guests group we all ended up to be a big family and all the credit goes to mr.rohan deshpande and mr.chinmay pawar they connected us together we all had too much of fun in total as we had celebrated many of the occations together like christmas,new year, and also my birthday iIam so obliged that my birthday has been celebrated in such a sweet manner n was truely unexpected n all the credit goes to veena world.It is must to say that the tour manager and his assistant was incredibly hardworking and accurate in their work it was pleasure travelling with them.
read more
Shweta Kale
Dec 23, 2017
Rajasthan Mewad Marwad
Me and my wife have recently traveled to Rajasthan for 15 days tour by Veenaworld started on 23rd December. We really appreciate the effort made by tour managers Rohan and Chinmay. It was really an unforgettable tour for us. We would like to thank Rohan and Chinmay for making everything so awesome. The most important of everything was the timings for the site seeing. We used to reach at the destination exactly at the right time when we do not have to wait in the long queue or miss any site. It was all due to great management by these tour managers. It was felt like Rohan and Chinmay are our family members who has just come here to take care of us. I can go on and have many more to tell. But to make it short I can say, all of our upcoming trips will be with Veena World because of the service provided in this tour.
read more
Mr. Chandrashekhar Jha
Dec 23, 2017
Veena World Moments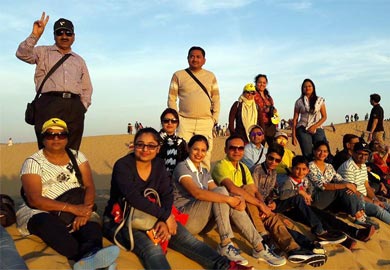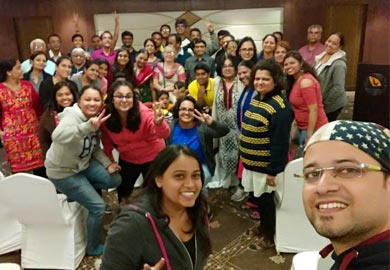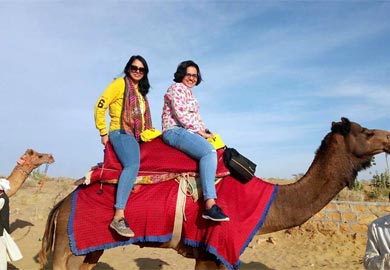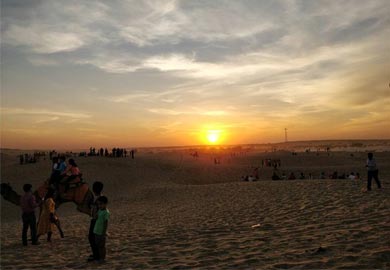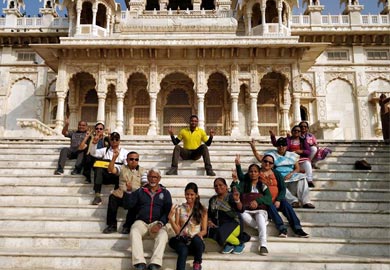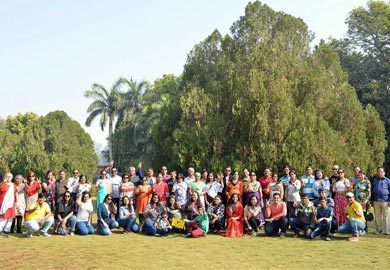 Tour Information
Inclusions
To and Fro economy class air ticket (Ex-Mumbai) with current airport taxes
Baggage Allowance as per the airline policy
Travel by comfortable A/C or non A/C small cars or Tempo Travellers or Mini Buses or big buses depending on the respective tour group size
Accommodation in comfortable hotels on twin/triple/Single sharing basis
All Meals – Morning tea/coffee, breakfast, lunch, evening tea/coffee with cookies/snacks, dinner and Water Bottle (1 Litre) per person per day
Guide & driver tips, hotel & restaurants tips
Permits/ entrance fees of all sightseeing places which is to be visited from inside
Accompanied local guide/s services wherever require
Veena World Tour Manager Services from Day 01 Meeting point till the dropping point on last day
Exclusions
Government of India Goods & Services Tax (GST) of 5%
Any increase in airfare, airport tax, fuel surcharge etc.
Any new tax/es levied by the central or state government
Cost of Insurance
Any upgradation in airline class, vehicle, hotel or hotel room category
Cost of Pre/Post tour hotel accommodation
Any extra expense incurred due to any forced majeure situation before the tour departure or during the tour, such as change in airline schedule, route or operation, changing the tour date, change in hotel etc.
Personal expense like porterage, laundry, telephone, shopping, alcoholic beverages, extra mineral water or food which is not a part of group's set meal menu
Any extra cost incurred due to illness, accident, hospitalization or any personal emergency
Cost of any optional activity or service
Anything specifically not mentioned in the 'tour price includes' column
Transport
Air Travel:
Mumbai - Jaipur // Jaipur - Mumbai
Coach Travel:
A/C Vehicle Type - depends upon group size
Documents Required for Travel
ADULT: Voters ID / Passport / Aadhar Card / Driving Licence
CHILD : Passport / Aadhar Card / School ID
INFANT: Aadhar Card/ Birth certificate
ID card, ID card type and ID card number is mandatory at time of booking, kindly carry the same ID card on tour.
For NRI and Foreign National Guests along with Passport, Valid Indian Visa/ OCI Card/ PIO Card is mandatory.
Carry two passport size photos.
Payment Terms
Guest can pay by Cheque/ Demand Draft/ Debit card / Credit card/ NEFT/ RTGS/ IMPS. For Debit / Credit card payment additional 1.8 % convenience charge will be applicable Cheque / Demand draft should be in favour of "Veena Patil Hospitality Pvt ltd"
Cancellation Policy
| Cancellation received no. of days prior to departure | Cancellation fee applicable on Net Tour Price (per person) |
| --- | --- |
| D-0 to 5 | 100% |
| D-6 to 15 | 75% |
| D-16 to 30 | 50% |
| D-31 to 45 | 40% |
| D-46 to 60 | 30% |
| D-61 to 90 | 20% |
| D-91 to 120 | 15% |
| D-121 to 900 | 10% |
Remarks
All meals are provided by Veena World in case the flight reaches the stipulated destination early morning or leaves destination late in the evening.
The tour price mentioned for this tour is for Indian nationals only.
The tour price varies for NRI's or foreign nationals, for more details kindly contact your travel advisor
NRIs and Foreign nationals please ensure proper identity is conveyed to booking executive at the time of booking and all details along with passport copies are handed over to the booking executive.
Standard Check-in and check-out time of hotels in India is generally 1.30 PM and 10 AM respectively.
Affordable Journeys
We strive to make the world accessible for each and every one!
Guided Experiences
Hassle free journeys with the expertise of our in-house Tour Managers.
All Inclusive
Comfortable stay & transport, delicious meals and abundant sightseeing on every tour