Munnar Honeymoon
An ideal destination to relax and unwind on your honeymoon, the lush landscapes and the bounty of nature beckon you to come back for more.
A Munnar honeymoon package takes you to what is arguably the most popular hill station in Southern India and also the most romantic. Munnar is the amalgamation of the prettiest natural landscapes and rich colonial heritage. The drive up to the town is flanked by an expanse of tea plantations in the most beautiful shades of green that accompany you as you head towards your destination. The cool mountain air instantly fills you with the anticipation of a good time amidst nature. A honeymoon package to Munnar is an ideal way for couples to spend some quality time together as they admire the jagged peaks, the fluffs of mist, waterfalls cascading with abandon, and of course, experience the small-town vibe that doesn't rush you into anything. At Veena World, you can explore a range of special Munnar honeymoon packages.
With Veena World, you can find the best of Munnar honeymoon package rates for a honeymoon that is perfectly suited for you and your partner. And if you want to make it even more special, you can even opt for customised Munnar resorts honeymoon packages where you have even more control over the itinerary for your honeymoon.
You can depend on Veena World to offer you the best Munnar tour package for couples online at cost-effective prices. You can browse our vast range of itineraries to find the one that is as special as your new beginnings.
Munnar Honeymoon Travel Packages
| Munnar Honeymoon | Day/Night | Price |
| --- | --- | --- |
| Honeymoon Special Munnar Kumarkom Cochin | 6 Days | ₹48,000 |
1 Munnar Honeymoon Holiday Packages
Showing 1-1 packages from 1 packages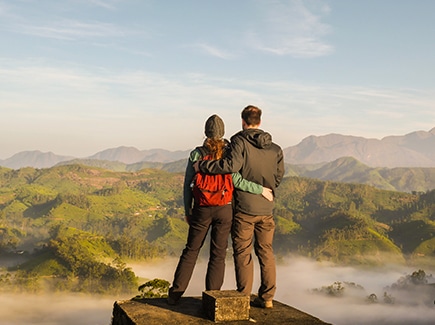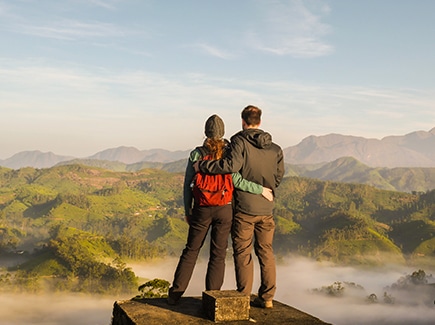 Honeymoon Special Munnar Kumarkom Cochin
SUPER DEAL PRICE
Starts from
per person on twin sharing
Veena World tour reviews
What are you waiting for? Chalo Bag Bharo Nikal Pado!
Honeymoon Special Munnar Periyar Kumarakom

"It was beyond expectations. All the hotels were good. Food was delicious. Special mention for the to...

Read More

Bhalesh

Travelled in Mar, 2023

Honeymoon Special Munnar Periyar Kumarakom

"It was my first trip with Veena world and I really enjoyed to the fullest, had a great and relaxing ...

Read More

Madhura

Travelled in Mar, 2023

Honeymoon Special Munnar Periyar Kumarakom

"KLHM180323/A - Feedback : Dear Team, We are writing this with abundance of joy. It was beyond our...

Read More

Bhalesh

Travelled in Mar, 2023

Honeymoon Special Munnar Periyar Kumarakom

"It's a great tour i have in my life. Thanks chetan and sanket. We enjoyed very good ☺️😊

Guruprasad

Travelled in Dec, 2022

Honeymoon Special Munnar Periyar Kumarakom

"We had a Honeymoon couple tour for Kerala from 10 Dec 2022 to 16 Dec 2022. We had a great time with...

Read More

Gaurav

Travelled in Dec, 2022
Munnar Honeymoon Frequently Asked Questions
We help you prepare for your trip and ensure an effortless and enjoyable travel experience.
Munnar offers spectacular views of the mountains and an equally pleasant climate that complements the aesthetic appeal of this lovely tea town. It's no surprise that it's known as the "Kashmir of South India" and the perfect destination for honeymooners. Any trip to Kerala's honeymoon destinations would be incomplete without a wonderful escape to Munnar! Because of the beauty and popularity of this hill station, many visitors are captivated and eager to visit this destination.
Yes, we offer customized Munnar honeymoon vacation packages. Veena World is recognized as India's best tour operator, offering incredible same-day Munnar honeymoon tour packages that can be customized to meet your specific travel requirements. You can discuss your preferences for the places you want to include in your Munnar honeymoon tour package. You can also look at our special Munnar resorts honeymoon packages and speak to our travel experts if you want to include or exclude any specific places.
A honeymoon vacation in Munnar must have a comprehensive itinerary that includes popular tourist spots such as Munnar Top Station, Lakkam Waterfalls, Echo Point, Tea Museum, etc. Along with this, a visit to any of the tea estates in this hill station should also be included in a tour package. Veena World offers honeymoon packages to Munnar at affordable rates for our customers. Our goal is to ensure that newly married couples can enjoy their vacation without missing out on any fun activities and tourist attractions.
Yes, Munnar is one of the safest travel destinations for couples in the country. We provide exciting honeymoon packages to Munnar with a boathouse stay and sightseeing tour included in them. We ensure that newly married couples get to explore the beauty of this hill station in the best possible way. From visiting the Eravikulam National Park to spending an entire day on a boathouse, our honeymoon packages to Munnar have well-planned itineraries. Veena World takes the safety of every traveller very seriously. Thus, safe accommodations and transportation facilities are provided throughout the journey.
Depending upon your priorities, there might be several ideas for planning your Munnar honeymoon. One can enjoy nature walks in the tranquility of Eranuvelum National Park. You can also experience exotic tea tasting of Munnar along with tea gardening and plucking. Ayurveda massages or therapies for couple relaxation are also provided.
Munnar is one of the mesmerising hill stations located in the western ghats of India at an altitude of 6000 ft. Famous for its scenic views, Munnar is amongst the best-selling destinations for honeymooners and nature lovers. In case you are planning to visit Munnar as a honeymoon destination, then the tea gardens of Munnar, Eranuvelum National Park, jeep safari and romantic dinners are certainly not to be missed. In case you are visiting Munnar for the first time and are still not sure about what to visit and what not to, then opting for a Munnar resorts honeymoon package is the best decision.
Munnar is known as the 'Kashmir of South India' due to its beautiful landscapes and impeccable surroundings. This romantic destination in South India has all types of scenic attractions, including tea plantations, valleys, waterfalls, lakes, hills, and more. Though the romantic vibes and natural beauty of Munnar can be experienced in any season, the months from September to March are considered ideal for visiting Munnar. The pleasant charm of the winter months makes this place perfect for honeymooners. You can book any one of our honeymoon packages to Munnar in South India and explore the best of this tourist destination.
With the best honeymoon packages for Munnar in South India, you can enjoy a great holiday in a pocket-friendly manner. The trip cost will depend on the places you wish to visit, the number of days, and the type of accommodation you select. You can choose reasonably-priced Munnar Honeymoon packages from Veena World and enjoy a memorable trip to this beautiful destination. You can also customize a trip package as per your preferences. Please get in touch with our travel experts and explain your preferences about the places you want to include in your honeymoon package to Munnar.
Munnar is a great place for adventure as well as honeymoon. If you want to do adventurous things in Munnar, you can start with rock climbing. You can also hike to the Anamudi peak. In Munnar, you can also experience ATV bike riding. And when you want to visit romantic places, you can visit Mattupetty Lake, Marayoor sandalwood forest, Thattekad bird sanctuary, Lakkam waterfalls, and more. It's this perfect blend of adventure and romance that makes Munnar a honeymoon destination in India excellent for couples.
Munnar is one of the best honeymoon destinations in India that promises an excellent experience. This is why people go to Munnar for a honeymoon in South India. At Veena World, the honeymoon package starts from Rs 33,000. This is a 6-day tour that includes a visit to 3 cities - Munnar, Kumarakom, and Cochin. You will get to stay at the best hotels and have the best authentic food in Kerala.
About the Destination
A hill station located in the Idukki district of Kerala, Munnar has for long been a preferred choice for newlywed couples. Idukki is the second largest district in Kerala. It is located at the confluence of the Mudhirapuzha, Nallathanni, and Kundaly rivers and is situated at around 1,600 metres (5,200 ft) above sea level. Surrounded by the mountains of the Western Ghats, the geography of the place makes it an ideal destination for planning a honeymoon. With Veena World, you will also have the choice of customising your trip with the various resorts in Munnar for your honeymoon package. Justifiably called the 'Kashmir of Kerala', Munnar offers the perfect experience for marking the beginning of your married life together.
The history of Munnar can be traced back to prehistoric times. In the earlier centuries, the British colonial rulers saw the potential of tea production in the area and bought land from the Poonjar chief, a subordinate of the Maharaja of Travancore and started planting tea saplings. Munnar today has some of the largest tea plantations in the world. Munnar is one of the top tourist destinations in Kerala and the fantastic resorts in Munnar for honeymoon packages are quite sought after.
Experience Munnar on a Honeymoon
Munnar packages for couples take you to the slopes of the Western Ghats, its misty peaks play hide and seek as rows of tea shrubs entice you to take a walk in their midst. The aroma of spices wafts in the air as your Munnar honeymoon tour package welcomes you with a warm embrace. As if nature wasn't satisfied with beauty alone, this town and its surroundings are blessed with several species of flora and fauna as well. No matter which way you turn, you will be instantly mesmerized with what you see. A steaming cup of filter coffee, holding hands with your special someone, looking out of the window at the beautiful landscapes surrounding your resort, a honeymoon package to Munnar has a lot to offer. The unmistakable hum of a tea factory, the serene vistas by the lake, or the hustle and bustle of a tiny market, everything comes together to make for a superlative time on your Munnar honeymoon package. The salubrious climate of the place attracted the erstwhile British Rulers in Southern India to set up their summer retreat here. And that was around the time when the tea plants were introduced to the region, which has today become one of the most alluring features for couples on Munnar tour packages.
Another reason that has made honeymoon packages to Munnar quite popular is the houseboats and houseboat tours the region has to offer. It is a cruise experience that you won't forget in a hurry. You have several options, from an overnight stay to taking a round trip. If a quiet time in serene environs, travelling through calm waters is something that interests you, then you should definitely go through the boathouse honeymoon packages for Munnar at Veena World. With Veena World, you can rest assured that you will have the experience of a lifetime.
You can check out the rates for Munnar honeymoon packages online at Veena World to find the package that is perfect for you. Veena World has made a niche for itself in the travel industry and can assure that you will be able to enjoy a great time with your significant other. At Veena World, you can rest assured that your needs and preferences will be met with finesse when you choose a Munnar honeymoon package. The best part is that you have a lot of options in a number of days covered, destinations and attractions included in the itinerary, and even in the budget. You can choose a Munnar couple package based on the price/cost that is comfortable for you.
Things to Do in Munnar during your Honeymoon
Munnar honeymoon packages offer you a welcome respite from the agonizing banality of city life. Honeymooners usually seek some quiet time to celebrate their togetherness after a frenzied wedding, and a romantic visit to this destination with the best Munnar honeymoon packages is quite an ideal way to start a new life.
• Attukad Waterfalls: The gushing sound of the Attukad Waterfalls will make you want to spend hours just listening to the hypnotizing cascade of water. Your Munnar honeymoon tour package can include a trek to the waterfalls, which will take you through a dense jungle path and hill slopes, which is quite a thrill in itself. But what really attracts honeymooners to the waterfalls are the romantic spots here where you can sit and relax in serenity. A visit to the place is highly recommended during the monsoon season as the surrounding vistas become quite romantic after the rains.
• Eravikulam National Park: This National Park, sprawled over 97 square kilometres, is a popular addition for Munnar honeymoon packages and is famous for its endangered inhabitant, the Nilgiri Tahr. It is a UNESCO World Heritage Site and houses a rich variety of flora and fauna. In addition to the above, there are Elephants, Nilgiri langur, Nilgiri marten, Atlas moth (largest in the world), lion-tailed macaque, and small-clawed otter to be found here. And if you are extremely lucky you could witness the Neelakurinji flower that blooms every twelve years.
• Mattupetty Dam: The Mattupetty Dam is built over the Mattupetty Lake to generate hydroelectricity. The lake and its spectacular surroundings are home to many varieties of birds and animals owing to the perennial supply of fresh water. A romantic boat ride on the lake is a fantastic way of enjoying your excursion. Just 3 km away from Mattupetty Dam is the Mattupetti Dairy Farm, which was started in 1963 under the Indo-Swiss project in Kerala. This 'cattle village' is quite charming with its lush grasslands and surrounding forests. Also, make sure you do not miss the Photo Point on your way to the dam. True to its name, this small area of land is quite photogenic, filled with wooded stretches, sparkling streams, and surrounded by the greenest of green tea plantations. You are sure to carry back loads of memories.
• Pothamedu ViewPoint: Pothamedu View Point is a must-visit on any Munnar tour package for a couple. It offers gorgeous views of the valley below, pregnant with tea, coffee, cardamom, and pepper plantations, and the sight of the Muthirapuzha River and Idukki Arch Dam. An energizing cup of ginger tea as you gaze at the panoramas as the sun goes down is surely a fantastic way to celebrate your togetherness.
• TATA Tea Museum: The British are credited with introducing tea shrubs in this region, making it one of the largest tea-producing regions in India today. The Tea Museum is dedicated to the history of tea cultivation in Munnar. There are many tools, pieces of machinery, and other memorabilia like telephones, manual calculators, typewriters, etc on display here. A documentary depicting the earliest days of tea production, the lives of the tea workers, and the process involved in tea production is played here to create awareness among tourists.
• Kundala Lake: Bask in the beauty of the tranquil Kundala Lake on your Munnar honeymoon package. Set against the backdrop of the majestic hills, pink clouds of cherry blossoms, and the sapphire beauty of the Neelakurinji flowers that bloom once every twelve years, this lake is quite a romantic attraction for couples.
Best Time to Visit Munnar
The period from September to March is ideal to book your Munnar honeymoon packages at good rates because of the pleasant weather. April to June could prove to be a little warm but is still manageable. The monsoon period from July to August is best avoided due to heavy rainfall, especially if you plan to book boathouse honeymoon packages to Munnar.