Andaman and Nicobar Family Tour Packages
If you love the sounds of gushing water and spending endless hours admiring the vastness of the ocean, the Andaman and Nicobar Islands are just what you need.
When you need some time away from the hustle and bustle of fast-paced city life, there can be no better idea than planning a vacation with your family. With those picturesque, sun-kissed beaches with crystal clear waters and soft sand, Andaman and Nicobar Islands are the perfect place for a rejuvenating trip. Other than the stunning beaches that they boast of, this archipelago in the Indian Ocean is known for a lot of other things, be it those exotic mangrove forests, a number of historical places or vibrant local markets. From guided tours to historical places to a plethora of water activities, Andaman has something for everyone. This beautiful cluster of islands makes it the perfect tourist destination for family, a group of friends or couples.
At Veena World, you can explore the wide range of family tour packages for Andaman and grab some exciting deals. Whether you want to pick one of our pre-designed Andaman and Nicobar family packages or go for a Customised Holiday, we take the complete responsibility of making your trip a memorable affair. While opting for Andaman and Nicobar Islands family tour packages, you get the flexibility to choose things like a travel itinerary, mode of travel, type of accommodation, etc.
Andaman And Nicobar Family Travel Packages
| Andaman And Nicobar Family Packages | Day/Night | Price |
| --- | --- | --- |
| Best of Andaman | 7 Days | ₹87,000 |
1 Andaman and Nicobar Family Holiday Packages
Showing 1-1 packages from 1 packages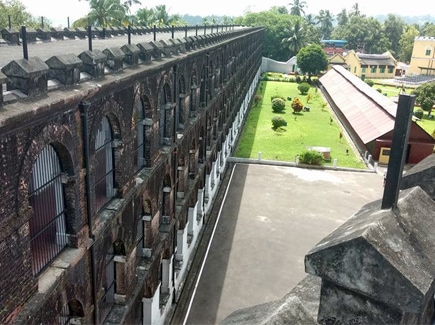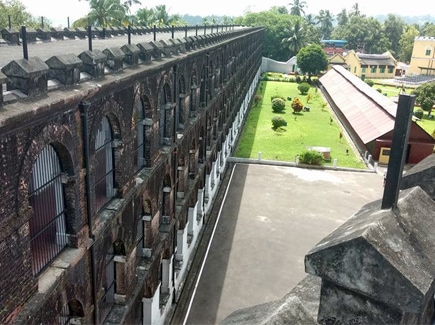 SUPER DEAL PRICE
(30 Dec 2023)

Last 3 Seats

Starts from

per person on twin sharing

from ₹4,931/month
Popular Andaman & Nicobar Islands City Packages
Veena World tour reviews
What are you waiting for? Chalo Bag Bharo Nikal Pado!
About Andaman and Nicobar Islands
Andaman and Nicobar Island is an Indian archipelago situated in the Bay of Bengal and consists of nearly 300 islands. A few of them have been commercialised and are now popular tourist destinations, while many of them still remain uninhabited. Port Blair is the capital city of Andaman and Nicobar Islands, which houses the majority of mainland settlers on the island.
With an endless stretch of stunning beaches, Andaman is an ideal destination for every kind of tourist. Here you can find places which are known for their tranquillity and serenity, and on the other hand, there are a number of lively places bustling with energetic and fun-loving people. And if you are a history buff, there are so many places that will help you relive different eras. If you are planning a rejuvenating trip with your loved ones, you should definitely choose from our range of Andaman and Nicobar tour packages for the family.
Places to Visit Andaman and Nicobar on Family Tour
No matter how many days you are planning a trip for, Andaman has plenty of things to keep you engaged. Here are a few must-visit places that you should cover on your trip if you have booked an Andaman and Nicobar family package to spend your vacation: -
Cellular Jail
It is an old colonial prison located in Port Blair. Also known as 'Kaala Pani', this prison was built during the British Raj and was used to exile Indian political prisoners. It housed a few notable freedom fighters including Batukeshwar Dutt and Vinayak Damodar Savarkar.
Elephant Beach
On this beach, you get a chance to explore marine life first-hand through a number of activities like scuba diving and fishing. You can also enjoy other water activities like snorkelling and undersea walking.
Samudrika Naval Marine Museum
Samudrika Naval Museum, located in Port Blair, is a project by the Indian Navy. It exhibits a rich collection of marine life found in the deep waters of Andaman and its surroundings. Here you get a chance to learn about some rare things about the environment of the ocean, its ecosystem and its biodiversity. Apart from this, this museum is a great source of information about the history and culture of the place.
Anthropological Museum
Another popular museum, located in Port Blair is all about the lives and cultures of different tribes of the Andaman and Nicobar Islands. Here you can find a wide collection of artefacts, tools, clothes, boats and weapons representing a number of tribes from different eras.
Chidiya Tapu
This picturesque island is located approximately 25 km away from Port Blair. As you must have guessed by its name, people mainly come here for bird watching. Apart from that, you can indulge in some fun water activities like snorkelling, scuba diving, pearl hunting, etc.
Mount Harriet National Park
Undoubtedly, this is the most famous and beautiful one out of the 9 national parks Andaman houses. Located in Ferrargunj, Port Blair, Mount Harriet is the third highest peak of this archipelago with a height of 365 meters.
Viper Island
Before Cellular Jail's construction, Viper Island was used by the British government to exile freedom fighters during their colonial rule. The remnants of the jail built in 1867, can still be found there. If you have an interest in Indian history, you should definitely cover this island on your trip.
Howrah Bridge (Natural Bridge)
Located on the Laxmanpur beach of Neil Island, this bridge-like formation allures a number of nature lovers. This bridge has been formed by two living corals.
Radhanagar Beach
This beach has been recognized as 'Asia's Best Beach' by the TIMES magazine in 2004. Located on Havelock Island, this beach is absolutely synonymous with heavenly beauty. When you witness turquoise waters meeting powdery white sand, it is enough to de-stress you completely.
Limestone Caves
Near Baratang Island of Andaman, you can find a number of limestone caves which have been naturally formed. These caves enthral a number of adventure-seekers as reaching there requires a small trek and a long boat journey.
How to Reach
Being situated in the Indian Ocean, Andaman and Nicobar Island does not have road connectivity from other parts of the country, so you can reach there via flight or ship.
By Air: You can take a flight to Veer Savarkar International Airport, Port Blair. This is the only airport in the Andaman and Nicobar Islands and it caters to all inbound tourists flying to this archipelago.
By Waterway: Port Blair offers good connectivity to the major ports of Kolkata, Chennai and Vizag. However, you will take 3-4 days to reach via ship, so it is a suitable option only when you have enough time and want to experience the charm of a ship journey.
Best Time to Visit
This place sees the highest visitor influx during the winter months (October to February). With temperatures ranging between 15 to 34°C, this is the peak season for tourism, and you can book an Andaman family tour package around this time. The weather gets just perfect to engage in beach activities and other water sports.
With temperatures ranging between 24°C to 30°C, summer is the shoulder season. The weather gets relatively hotter but remains suitable for sightseeing and other activities.
The monsoon season (June to September), on the other hand, is not the best time to book Andaman and Nicobar Islands family tour packages. During these months, this place experiences moderate to heavy rainfall, which is not the best thing to happen, especially on a beach vacation.