Tirupati Tour Packages
Let the spirituality and divinity of Tirupati sweep over you as you fold your hands in prayer and bow your head in obeisance
Few religiously prominent places in India can come close to the devotion shown by the devotees towards Sri Venkateshwara at Tirupati. Tirupati is situated in the Chittoor district in Andhra Pradesh and although there are many important temples, most of the devotees flock to Sri Venkateswara Temple. This temple city is home to seven majestic peaks of the Tirumala Hills. You can experience all these and more with Veena World's Tirupati Balaji Package. As soon as you land in Tirupati, the atmosphere around reverberates with the chanting of Om Namo Venkatesaya. Om Namo Venkatesaya. Om Namo Venkatesaya.
The chants charge you with positive vibrations as if assuaging your doubts and filling you with self-belief. Such is the aura of this place that millions of devotees throng to Tirupati each year. If you find your calling to this divine destination, you can opt for Veena World's Tirupati Balaji tour package. Not only for Sri Venkateshwara Temple but Veena World can curate a Tirupati darshan package for you so that you do not miss out on any of the other Tirupati tourist places. Have a look online at the price and cost of Tirupati package trip available at Veena World and get prepared for some divine intervention.
Tirupati Travel Packages
| Tirupati Packages | Day/Night | Price |
| --- | --- | --- |
| Tirupati Escape | 3 Days | ₹23,000 |
1 Tirupati Holiday Packages
Showing 1-1 packages from 1 packages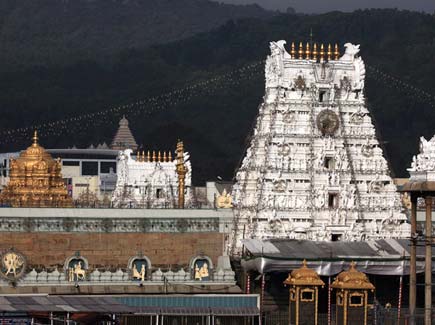 Starts from
per person on twin sharing
Get to know more about Tirupati before booking your tour packages
The holy town of Tirupati lay at the foothills of the Tirumala Hills. It is considered one of the holiest Hindu pilgrimage cities in the world. Veena World makes the most comprehensive and customized Tirupati tour package so that you make the most of your Tirupati tour. In addition to the famed Balaji temple, our Tirupati package gives you an array of options to choose from. You may include other temples such as Silathoranam, Sri Varahaswami Temple, Sri Kapileswara Swamy Temple, TTD Gardens, Sri Venugopalaswamy Temple, Sri Venkateswara Museum, Gurramkonda Fort and Sri Venkateswara Zoological Park in your Tirupati tour. Tirupati Tourism relies heavily on the faith shown by millions of devotees, and hence there is a great demand for a Tirupati Balaji package.
Experience Tirupati
Owing to the millions of people visiting this holy town, Tirupati is well-connected by rail, road, and air. With Tirumala Hills overlooking this quaint little town, it looks like as if it is protected by the gods. If you want to experience the destination, you can easily check out our Tirupati tour packages and their prices/costs online to plan your trip.
The history of Tirupati is quite fascinating. It is believed that this town was home to Lord Rama and Sita when they returned from Lanka. Over the centuries, this place has sealed its place as an important centre of Vaishnavism. Through the ages, Tirupati survived many invasions and the temples kept getting modified and upgraded.
People of many faiths live peacefully and make sure the devotees have a great divine experience. The main economy of the town is fuelled by the Tirumala Tirupati Devasthanams, also known as TTDs. The friendly populace put forth their best hospitality for the tourists. Since Tirupati is situated in Andhra Pradesh, Telugu is the most widely spoken language. As the devotees visit from all over the country Hindi, Tamil, and Kannada languages are also spoken and understood by many.
It is the loyalty and devoutness of the people that have made the Tirumala Tirupati Devasthanam the richest religious temple trust in India. Since there is always a rush for booking a Tirupati package, make sure you book your Tirupati tour package well in advance.
Things To Do In Tirupati
It is no secret that Tirupati and Tirupati tourism is dedicated to temples, but you could include other Tirupati tourist places in your Tirupati tour by booking a Tirupati package from Veena World.
Sri Venkateswara Temple: Tirupati tourism is incomplete without the Sri Venkateshwara Temple visit and you can opt any of the many Tirupati Balaji darshan packages available at Veena World. This temple,
, is a magnificent specimen of Dravidian architecture atop the Tirumala Hills, devoted to Lord Vishnu. Legend has it that Lord Vishnu took on the form of Sri Venkateswara to save mankind from the adversities of Kali Yuga. The Tirumala Hills is a part of Seshachalam range. The seven peaks of the hills represent the seven heads of Adisesha. Adisesha or Seshnaga is the king of all snakes. Sesha finds a mention in the Puranas and is believed to hold all the planets of the universe on his hood. It is the same Seshanaga Lord Vishnu rests and reclines on.
The building of the temple is built in the Dravidian style and construction started sometime in 300 AD. Subsequent rulers of the region such as the Pallava and Chola dynasties were ardent devotees of Lord Venkateswara. They made sizeable donations towards the upkeep and construction of additional structures to the existing temple. There are three entrances to the temple called Dwarams. The first entrance is called the Mahadwaram or Padikavali, the second one is called Vendivakili or Nadimipadikavali, and the third one is called Nadimipadikavali. The sanctum sanctorum or Garbhagribha is where the lord resides along with other deities. There are strict rules to be followed by devotees wishing for a darshan. The prasadam, also known as 'naivedhyam,' is much-sought-after and pilgrims often carry it for their loved ones back home.
The temple receives 50,000 to 1,00,000 pilgrims each day and on special occasions such as Brahmotsavams, the number can shoot up to 5,00,000. Since there is a significant number of visitors, Veena World's thoughtfully designed Tirupati darshan package that can save you the trouble of planning Tirupati tour on your own.
Silathoranam: This natural wonder should definitely be included in your Tirupati package trip. Silathoranam is one of the only three such natural rock formations in the world. Due to its archaeological significance, it has been declared a protected site and the state government takes care of it.
Padmavathi Temple: This temple is dedicated to Lord Vishnu's consort – Padmavathi, Lakshmi or Alamelumanga. It is located about 4 kms from Tirupati at a place called Tiruchanur. Even this temple is administered by Tirumala Tirupati Devasthanams. The temple complex houses the temple tank known as the Padmasarovaram. Scores of devotees take a dip in the sacred pond on the last day of Annual Padmavathi Brahmotsavams (Panchami Teertham).
Swami Pushkarini Lake: When you decide on a Tirupati package, try not to miss out on a visit to Swami Pushkarini Lake. It neighbours the Swami Venkateswara Temple and is considered sacred as it is believed that this lake belonged to Lord Vishnu and was located in Vaikuntham. Pilgrims usually take a dip in the holy waters before proceeding to the Balaji Temple.
Vedadri Narasimha Swamy Temple: Situated about 70 km from Tirupati, this temple is of great mythological importance. It is believed to be the site where Lord Vishnu defeated Rasksash Somakadu in a fierce battle and took over the vedas from him.
Akasaganga Teertham: Tirupati is not only a temple town but a place with natural and scenic surroundings. The waterfall of Akasaganga Teertham is no ordinary waterfall but has deep religious meaning and is visited by almost all pilgrims on a Tirupati tour. The water from the waterfall is used in many pious duties such as Lord Venkateswara's abhishekam and bath. Akasaganga Teertham finds mention in our ancient texts and is believed to have originated from the lotus feet of Lord Vishnu. Apart from the religious aspect, the gushing waters of the waterfall provide some respite and tranquillity to the pilgrims and tourists alike.
Best Time To Visit Tirupati
Although the weather is hardly a constraint for the millions of devotees visiting Tirupati, the best time to visit is from September to February. The summer months can be very hot and humid but that could also mean you could find an online Tirupati darshan package at a really attractive price/cost. If you are keen to witness the grand Brahmotsavam in September, make sure to book your online Tirupati package well in advance.